Fluoroscopy Continuing Education Course for Technologists – 8 CE Credits
An online CE course in fluoroscopy, covering everything from radiation safety to equipment and common fluoroscopy procedures
---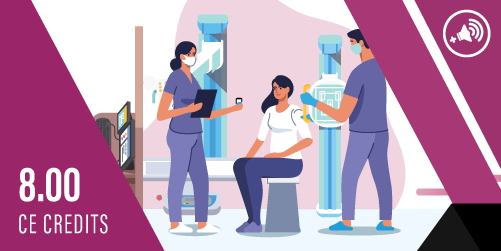 Our online fluoroscopy continuing education (CE) course covers topics related to radiation safety of the patient and staff, patient care and management as it relates to fluoroscopy, contrast media used in fluoroscopy and finally the equipment used in fluoroscopy and common fluoroscopic procedures.
This CE course covers all of the topics that appear on the ARRT® Fluoroscopy Examination, and is suitable as a study guide for those preparing to take the exam. This course will also satisfy technologist's fluoroscopy-related ARRT® CQR requirements.
This course also meets California Department of Public Health – Radiologic Health Branch (CDPH-RHB) requirements and can be taken by California radiologic technologists to meet their continuing education requirements of 4 CE credits in fluoroscopy.
| | |
| --- | --- |
| ✔ | Approved by the ASRT (American Society of Radiologic Technologists) for 8 Category A CE Credits |
| ✔ | Subscription duration: one year from purchase date |
| ✔ | Voiceover available |
| ✔ | Downloadable transcript available |
| ✔ | Meets the CE requirements of the following states: California, Texas, Florida, Kentucky, Massachusetts, and New Mexico |
| ✔ | Meets ARRT® CE reporting requirements |
| ✔ | Hassle-free 30-day full refund policy* |
Objectives
Explain the difference between verbal consent and informed consent and provide examples for both
Describe the methods used to reduce patient radiation dose in fluoroscopy
List and explain the types of contrast media used in fluoroscopic procedures
Define HIPAA and explain the consequences of violating HIPAA
Describe how X-ray photons are produced and X-ray beam characteristics
List and explain photon interactions with matter and the radiation units of measure
Define and explain somatic and genetic effects to radiation exposure
List and explain the exposure factors contributing to patient dose
Explain radiation protective shielding and define beam restriction
List and explain features of equipment designed to minimize radiation exposure
Explain special considerations for pediatric patients
List and explain the sources of radiation exposure to personnel
List and explain the three cardinal rules of radiation protection
Protective devices used in fluoroscopy to provide protection to personnel
Discuss various types of personnel monitoring dosimeters and the proper use of each
List, define and discuss the technical factors associated with fluoroscopy including kVp, mA, SID, OID, magnification, intermittent fluoroscopy, ABC and AERC
List and describe digital image characteristics
Define and explain image signal and how it relates to signal to noise ratio and contrast to noise ratio
Define bit depth and explain modulation transfer function
Explain the process for reporting equipment issues related to quality assurance
Explain the process of reporting over exposure to patients
Define and explain the procedures for different fluoroscopic procedures
Topics covered
Patient Care and Management
Radiation Physics and Radiobiology
Radiation Protection for the Patient
Radiation Protection for Personnel
Fluoroscopic Equipment Operation
Image Evaluation and Quality Control
Fluoroscopic Procedures
| | | |
| --- | --- | --- |
| Discipline | Major content category & subcategories | CE Credits provided |
| CI-2017 | Patient Care | |
| | Patient Interactions and Management | 0.50 |
| RA-2017 | Patient Care | |
| | Patient Interactions and Management | 0.50 |
| | Pharmacology and Anesthetics Guidelines | 0.50 |
| RA-2018 | Patient Care | |
| | Patient Management | 0.50 |
| | Pharmacology | 0.50 |
| RAD-2017 | Patient Care | |
| | Patient Interactions and Management | 1.00 |
| RAD-2022 | Patient Care | |
| | Patient Interactions and Management | 1.00 |
| VI-2017 | Patient Care | |
| | Patient Interactions and Management | 0.50 |
| RA-2017 | Safety | |
| | Radiation Protection and Equipment Operation | 4.00 |
| RA-2018 | Safety | |
| | Patient Safety, Radiation Protection, and Equipment Operation | 4.00 |
| RAD-2017 | Safety | |
| | Radiation Physics and Radiobiology | 1.00 |
| | Radiation Protection | 2.00 |
| RAD-2022 | Safety | |
| | Radiation Physics and Radiobiology | 1.00 |
| | Radiation Protection | 2.00 |
| CI-2017 | Image Production | |
| | Image Acquisition and Equipment | 3.00 |
| RAD-2017 | Image Production | |
| | Image Acquisition and Technical Evaluation | 1.00 |
| | Equipment Operation and Quality Assurance | 1.00 |
| VI-2017 | Image Production | |
| | Image Acquisition and Equipment | 3.00 |
| RAD-2017 | Procedures | |
| | Head, Spine and Pelvis Procedures | 0.50 |
| | Thorax and Abdomen Procedures | 1.00 |
| | Extremity Procedures | 0.50 |
| RAD-2022 | Procedures | |
| | Head, Spine and Pelvis Procedures | 0.50 |
| | Thorax and Abdomen Procedures | 1.00 |
| | Extremity Procedures | 0.50 |
You might also be interested in