The Contributions of MRI in Epilepsy – 2 CE Credits
---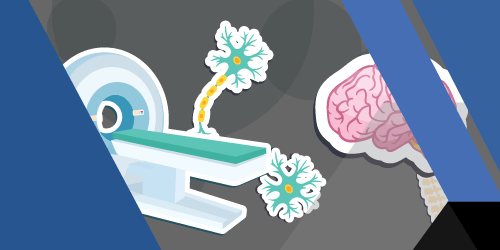 Expiry date: February 1, 2023
Course content

✔

Accessible for free

✔

No credit card required, no registration

Post-Test purchase

✔

Approved by the ASRT (American Society of Radiologic Technologists) for 2 Category A CE Credits

✔

Access to the accredited interactive course

✔

License duration: 180 days from purchase date

✔

Meets the CE requirements of the following states: California, Texas, Florida, Kentucky, Massachusetts, and New Mexico

✔

Accepted by the American Registry of Magnetic Resonance Imaging Technologists (ARMRIT®)

✔

Meets ARRT® CE reporting requirements

❌

Refund Policy: Non-Refundable
Objectives
List the indications of MRI in the diagnosis and management of epilepsy
Appreciate the role of MRI in the differential diagnosis
Indicate the benefits and limitations of the post-processing techniques
Recognize the role of advanced MRI techniques in presurgical planning
Identify the typical and atypical clinical presentations of epilepsy
Explore the new advancements in epilepsy imaging
Description
This course covers the role of MRI in the diagnosis and management of patients with epilepsy. It includes a discussion of the protocols and their limitations, focusing on MRI in the differential diagnosis and presurgical evaluation of the disease. The clinical evidence supporting the application of many anatomic and functional imaging approaches is also described. The course will conclude with an assessment of future developments, including new technologies and potential new applications. This article is accredited by the ASRT for 2 Category A CE Credits.
| | | |
| --- | --- | --- |
| Discipline | Major content category & subcategories | CE Credits provided |
| MRI-2016 | Procedures | |
| | Neuro | 1.75 |
| MRI-2020 | Procedures | |
| | Neurological | 1.75 |
| RA-2017 | Procedures | |
| | Neurological, Vascular, and Lymphatic Sections | 1.75 |
| RA-2018 | Procedures | |
| | Neurological, Vascular, and Lymphatic Sections | 1.75 |
Post-Test & CE Certificate:
Chapter selection
CHAPTER 1
Introduction
We will begin with a brief introduction in which we define epilepsy, highlight its causes, and identify its classification.
Definition of Epilepsy
Epilepsy is a chronic disease characterized by recurrent and unprovoked seizures. It is one of the most common neurological diseases. It is estimated that in developed countries, epilepsy affects approximately 50 out of 100,000 people every year. If a person has two unprovoked seizures (or one unprovoked seizure with the likelihood of more), that are not due to a known and reversible condition, such as abstinence from alcohol or very low blood sugar, they are diagnosed with epilepsy. Although the symptoms of seizures may affect any part of the body, the electrical events that produce the symptoms occur in the brain.
Causes of Epilepsy
What causes epilepsy?
Many pathogenic factors have been identified, including cerebrovascular disease and congenital neurological deficits, but most cases are considered idiopathic (the cause is completely unknown). Therefore, being able to determine the underlying cause of seizures will depend on the patient's clinical manifestations, including age, type of seizure, presence of comorbidities, history (or lack thereof) of progressive or static motor and cognitive dysfunction, as well as other metabolic, environmental, and genetic factors.
Classification of Epilepsy
As a result, current classification methods choose to classify epilepsy as genetic, structural, metabolic, or of unknown origin.
Indications of MRI in the diagnosis and management of epilepsy
Now that we know some basics about epilepsy, we will highlight the role that MRI plays in the diagnosis and management of epilepsy. What are the indications of MRI in the diagnosis and management of epilepsy?
In view of the diverse etiologies and types of epilepsy, neuroimaging technology, especially MRI, has become an important tool in the treatment of patients with epilepsy by helping to confirm the diagnosis and to determine the possible causes. In addition, by determining the existence and precise location of structural lesions, MRI has become invaluable in the surgical and subsequent treatments of this disease. It has been shown that MRI has the ability to identify and characterize epileptogenic lesions that can then be treated appropriately, and to confirm that there are causative factors, such as mesial temporal sclerosis. More than 70% of all epilepsy patients are diagnosed with mesial temporal sclerosis, and 5 to 20% of them are found with cortical dysplasia.
Advances in imaging technology in the past 15 years have basically eliminated the "unknown" category, because many negative MRI studies can now be characterized as subtle cortical dysplasias, histologically confirmed after resection. A tertiary medical center reported that between 1988 and 1992, more than 80% of mesial temporal sclerosis cases were undetected on MRI. The following year, the percentage dropped to 50%, and now it is less than 10%. These technological breakthroughs have changed the management of epilepsy.
Current practice recommends using MRI as early as possible in the clinical course of every patient with epilepsy. There are 3 indications for MRI imaging: differential diagnosis, completion of preoperative evaluation, and monitoring follow-up. First, MRI can confirm and expand clinicians' understanding of underlying pathology. It can also provide a map of the clinical course and response to treatment. Finally, MRI can be used to confirm the presence of epileptogenic lesions, and once that is determined, whether these lesions can be surgically resected. Providing absolute evidence of epilepsy is not within the capabilities of MRI. For this confirmation, electrophysiology is necessary. However, once the epileptogenicity of the lesion is determined, if anticonvulsant therapy proves ineffective, anatomical and functional MRI will be very valuable in determining the location of the lesion and then determining the feasibility and risk-benefit of potential surgical interventions. Early identification of resectable brain lesions through MRI can affect the establishment of appropriate treatments, especially if the case is not too complicated.
CHAPTER 2
Differential Diagnosis
Now, we'll explore the importance of MRI in differential diagnosis. Who should be referred for MRI, and how does MRI help detecting the nature of the lesion?
Who Should Get an MRI?
MRI, combined with electroencephalogram (EEG), is essential to confirm the diagnosis of epilepsy. The International League Against Epilepsy recommends that, with a few exceptions, all patients with this disease should undergo MRI or CT. However, MRI is preferred because it provides more soft tissue details than CT. Patients with typical forms of primary generalized epilepsy or benign focal epilepsy in children with characteristic EEG features usually do not benefit from imaging. Those who respond to antiepileptic drugs (AED) may also be excluded.
There are two clinical conditions that should prompt imaging examinations in patients with seizures: newly diagnosed patients, and patients with long-term epilepsy who have not undergone MRI for a long time, especially those with refractory seizures or those who are unresponsive to antiepileptic drugs. This recommendation also applies to patients with long-term epilepsy of unknown etiology. Anecdotal evidence supports this understanding: for patients with epilepsy that lasts for decades, surgically treatable lesions can be identified on MRI, including low-grade indolent tumors. Patients with key findings in neurological examinations, including patients with seizures, fever, persistent headaches, cognitive changes, and recent history of head trauma, should undergo MRI as soon as possible. Focal epilepsy in adults should be regarded as a clear basis for emergency neuroimaging.
MRI

No MRI

Newly diagnosed patients

Very typical forms of primary generalized epilepsy

Patients with longstanding epilepsy who have not previously undergone MRI

Benign focal epilepsies in children with characteristic EEG features

Patients with longstanding epilepsy of unknown etiology

Patients who respond to antiepileptic drugs (AEDs)

Patients with focal findings on the neurologic exam

Focal seizures in an adult
Emergency!
Nature of the Lesion
An important function of MRI is to define the cause of epilepsy and characterize the nature of the lesion. By doing so, MR images enable clinicians to determine whether the lesion is static or ischemic, or the product of congenital malformations or progressive diseases, such as malignant tumors or diseases related to Rasmussen's encephalitis. This information is essential for clinical decision-making; it can help with prognostic consultation, and determine potential treatment strategies and surgical planning.
MRI Protocols
Now, let's define the protocols to be applied during MRI when epilepsy is suspected.
After finding the diseased area through clinical and EEG examinations, MRI should be performed. A well-designed protocol for patients with epilepsy will generate information, which in most cases will show optimal volumes for visual assessment and maximized input data for post-processing. Two types of epilepsy patients are usually referred for MRI: patients suspected of having temporal lobe disease and patients with extratemporal lobe or neocortical epilepsy. According to the relative specificity and consistency of clinical, imaging, and pathological findings, the first group is larger and more uniform. In contrast, neocortical epilepsy presents differently in clinical and imaging methods, and pathological substrates include multiple causes. Current recommendations indicate that both groups of patients should undergo 3-dimensional T1-weighted volumetric imaging and 3-dimensional fluid-attenuated inversion recovery (FLAIR) sequencing. Three-dimensional acquisitions can more accurately assess discrete structural lesions by simultaneously evaluating different sections of the brain. This multi-planar analysis can enhance the measurement of hippocampal volumes and detect abnormalities that suggest focal cortical dysplasia (FCD), which may be subtle, but can be identified if there is thickening of the cortex, abnormal gyri, and poor boundary recognition between white and gray matter.
In most clinical situations, 3D images should be run after locating the hippocampus, because the resulting volumes may be beneficial for setting the angle of subsequent 2D anatomical MRI sequences. The latter should include axial and coronal imaging; for patients with suspected temporal lobe epilepsy, the coronal slices should be angled perpendicular to the long axis of the hippocampus, and the axial slices should be in line with it. In the case of extratemporal epilepsy, the 2D imaging sequences should be angled along the anterior commissure-posterior commissure axis. In addition, 2D volumes must be acquired with an in-plane resolution of less than 1 mm to locate and characterize small and subtle lesions. This orientation accuracy is critical because the volumes are not obtained isotropically. For example, only by analyzing 2D imaging sequences accurately angled along the long hippocampus axis can the morphological structure of the hippocampus be thoroughly evaluated.
It is important to remember that although contrast enhancement may be helpful in the initial assessment of adults with possible malignant tumor-related epilepsy, there is usually no need for routine contrast enhancement in patients with epilepsy. A still ambiguous anomaly in unenhanced imaging could be a reason to use contrast; however, potential hippocampal sclerosis (HS) is an absolute exclusion factor for contrast MRI.
Many pathologies are causally related to epilepsy, and pathognomonic findings on MRI may help support the differential diagnosis. Even a negative scan may indicate that idiopathic generalized epilepsy could be diagnosed. For example, focal cortical dysplasia (FCD) can be identified by cortical thickening, abnormal gyri, and poor white and gray matter boundary recognition, and the epilepsy caused by limbic encephalitis may be manifested by an enlarged and hyperintense amygdala.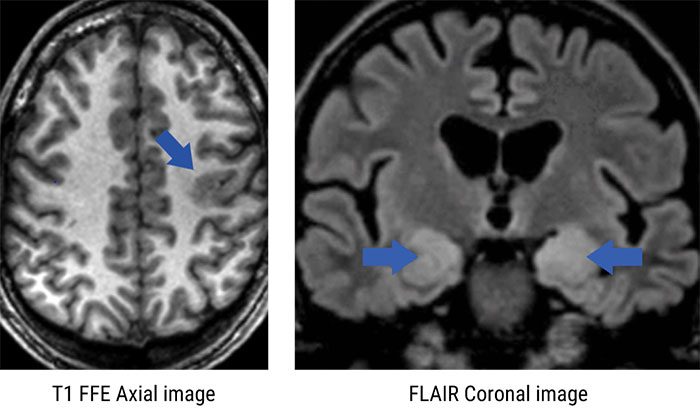 Let's see some examples of images acquired with sagittal T1 FSE and axial T2 FSE sequences.
Sagittal T1 FSE
Axial T2 FSE
Here, we have two sets of images: the first one acquired with an axial T2* sequence, and the second one with an axial diffusion sequence.
Axial T2*
Axial diffusion
Now we can see examples of images acquired with axial STIR and axial T2 FLAIR sequences.
Axial STIR
Axial T2 FLAIR
And finally, we see below a first set of images acquired using a coronal T2 FLAIR sequence, a second set of images acquired with coronal STIR sequence, and a final set acquired using a coronal T1 3D sequence.
Coronal T2 FLAIR
Coronal STIR
Coronal T1 3D
Optimized Model
The experience of the Department of Epilepsy at the University of Bonn Medical Center can be used as a model for the establishment of a community-based epilepsy MRI protocol. It meets the guidelines for clinically meaningful epilepsy evaluation. This 6-sequence protocol that includes 3-dimensional T1, hemosiderin/calcification-sensitive, 2-dimensional FLAIR, and T2 short-tau inversion recovery (STIR) imaging sequences, helped in detecting 99.4% of all epileptogenic lesions visualized by MRI during the presurgical workup. The latter two sequences are angled along the long hippocampus axis and the anterior commissure-posterior commissure lines. The most sensitive sequence was 2D FLAIR, which detected 84.8% of epileptogenic abnormalities, while 3D FLAIR provided useful anatomical orientation and input data, very valuable in post-processing.
Optimized MRI protocol for patients with epilepsy
Department of Epileptology at the University of Bonn Medical Center

Sequence

Cut-plane orientation

Cut-plane angulation

Acquisition time (min)

Resolution (mm)

3D MPRAGE

3D

ac-pc

06:32

0.8 x 0.8 x 0.8

3D FLAIR

3D

ac-pc

06:42

1.0 x 1.0 x 1.0

T2/FLAIR

Coronal

ac-pc/lha*

07:59

0.4 x 0.4 x 2.0

FLAIR

Coronal

ac-pc/lha*

05:08

0.9 x 0.9 x 3.0

T2/STIR

Axial

ac-pc/lha*

04:50

0.9 x 0.9 x 4.0

FLAIR

Axial

ac-pc/lha*

01:26

0.7 x 0.7 x 4.0

Hemo/Calc

Axial

ac-pc

03:44

0.9 x 0.9 x 1.5

ac-pc: anterior commissure-posterior commissure line
Hemo/Calc: hemosiderin/calcification sensitive sequence
lha: long hippocampal axis
*: Temporal lobe epilepsy ➡ angulation of volumes oriented along the lha
Extratemporal lobe epilepsy ➡ angulation of volumes oriented along the ac-pc
CHAPTER 3
Post-processing
Now that we appreciate the role of MRI in the differential diagnosis, we will move on to the evaluation of the post-processing algorithms: what are their benefits and limitations when epilepsy is suspected?
Benefits and Limitations
In addition to the standard visual assessment provided by MRI scans, a variety of post-processing algorithms can also be used for standardized and operator-independent analysis of the acquisition volume. These computer-enhanced images can consider the structural characteristics from different slices at the same time, thereby adding new information to the abnormalities found on visual evaluation. One limitation of such post-processing software is the lack of standardization among manufacturers and the differences in application among epilepsy centers, which may also develop proprietary internal software. As a result, consensus guidelines for using them have not been formulated, and different methods cannot be promoted from center to center.
Parcellation
Parcellation is a useful post-processing strategy. What is it?
A standard post-processing technique is to perform parcellations and quantitatively evaluate the mesiotemporal structures in patients with limbic encephalitis. Parcellation is a technique for dividing the brain into regions, which can be used to build a network to study its structure and function.
Although there is evidence that limbic encephalitis is characterized by enlarged amygdala and hyperintensity on T2 and FLAIR imaging, these MRI features may be subtle and difficult to visually evaluate. However, the automatic parcellation of the amygdala and hippocampus followed by the volume and quantitative enhancement of the signal provides a more sensitive method of detecting limbic encephalitis.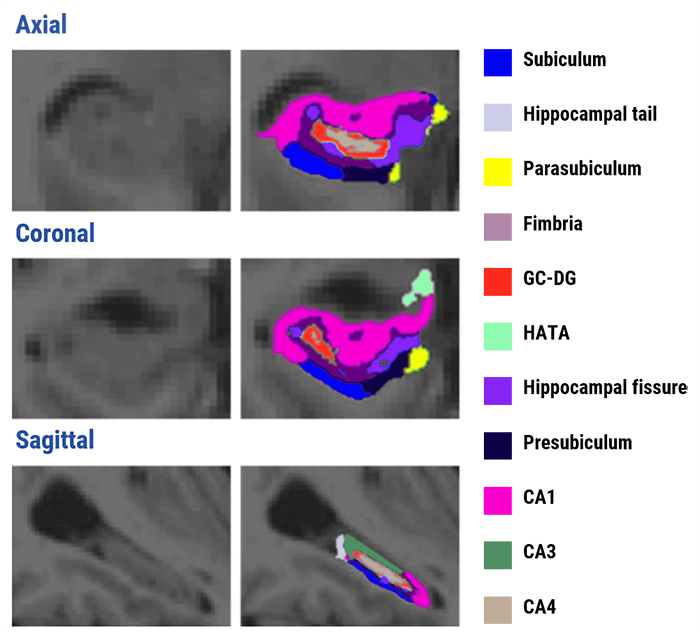 Morphometric analysis
Another post-processing strategy is morphometric analysis.
This strategy uses voxel-based morphometric MRI analysis to detect lesions in patients with MRI-negative focal epilepsy.
Compared with visual assessment alone, the combination of post-processing morphometric evaluation and visual analysis has been shown to be more sensitive to the detection of type II focal cortical dysplasia. Despite these powerful findings, it must be pointed out that morphometric analysis often produces false-positive results. Therefore, the reader must be alert to such signals and return to the original anatomical image to re-evaluate using the unprocessed volumes.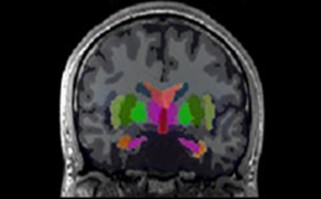 CHAPTER 4
Presurgical planning
Besides its important role in making the differential diagnosis, MRI is valuable for the presurgical planning thanks to the advanced techniques that are available. Let's learn more about those.
Advanced MRI techniques
The basis of presurgical planning is the application of advanced MRI techniques, the most important of which are diffusion tensor imaging (DTI) and functional MRI (fMRI). Diffusion tensor imaging provides key information about the structural anatomy of the white matter region, while functional MRI captures cortical areas that are critical for cognitive function. If those so-called "eloquence areas" (that is, signs of structural and functional anatomy) are removed, the result will be a decline or loss of cognitive ability.
Diffusion tensor imaging
The first advanced technique we will cover is diffusion tensor imaging, or DTI.
The purpose of diffusion tensor imaging (DTI) is to be able to visualize the microstructure state of white matter. In a preoperative setting, a potentially valuable modeling technique is tractography. Tractography uses DTI data to create 3D reconstructions of the white matter pathways. By delineating the architectural anatomy of white matter, tractography has the potential to characterize critical pathways, which can then be preserved during surgical resection. To be sure, one must be cautious when interpreting the tractographs, especially in the case of presurgical planning, because a misunderstanding of the data can have a serious impact on the patient.
For example, the current main challenge lies in our limited ability to verify the neuronal underpinnings of fiber bundles captured on tractography. Therefore, complementary visual methods and readers' knowledge of the brain's anatomy must be used to verify the findings. At present, the expectation of preventing visual field defects by identifying optic radiation during preoperative tractography has not been realized after the most common operation, temporal lobectomy. Also, the link between the findings of post-processed DTI and their anatomical origins remains to be described. One of the reasons is that high fiber complexity tracts are prone to present as false-positive (or "hidden") fibers due to common structural abnormalities such as crossing, kissing, and spreading. Indeed, 33% to 66% of all voxels in the DTI brain volume contain areas of high fiber complexity. In addition, the inherent resolution limitations of DTI and MRI techniques limit the current application of DTI as a physiological tool for preoperative decision-making. Further research is ongoing to clarify these issues and better define the potential utility of diffusion parameters and modeling techniques to detect epileptic lesions.
Functional MRI
Another advanced technique is functional MRI (fMRI).
In contrast, functional MRI sequences detect signals related to blood-oxygen levels in the brain, allowing readers to make meaningful inferences about neural activity. However, the absolute signal level itself is not clinically useful, so it is necessary to compare the fMRI examination results of a specific patient with the results of the parametric control in order to capture a single characteristic of relevance in which both differ. In presurgical planning, task-based functional magnetic resonance imaging is often used to determine eloquence areas, show language lateralization, and predict language and memory outcomes. Then, the target cluster unit derived from the functional MRI analysis can be input into the neurosurgery navigation system to locate brain lesions and prevent damage to vital structures.
Here, too, we must be cautious. Some critics claim that the functional MRI method based on statistical analysis of parameters is flawed, resulting in a high incidence of false-positive findings. Others reply that in epilepsy presurgical planning, fMRI studies can be cross-validated by other models not available in other conditions of clinical neuroscience, including the intracarotid amobarbital procedure, direct cortical stimulation, or postoperative outcome assessment. As a result of these studies and other supporting evidence, the American Academy of Neurology has issued guidelines to support the use of functional magnetic resonance imaging as a means of language lateralization and localization in the preoperative evaluation of patients with epilepsy, concluding that fMRI can replace other modes of planning in this clinical condition.
CHAPTER 5
Typical clinical presentations
Now that the role of MRI in differential diagnosis and presurgical planning has been highlighted, we will move on to the typical clinical presentations of epilepsy.
Mesial temporal lobe epilepsy
The first clinical presentation to cover is mesial temporal lobe epilepsy.
Hippocampal sclerosis (HS) is the most common pathological substrate of mesial temporal lobe epilepsy (MTLE), although other causes have been found, including tumors, dysplasia, vascular malformations, and other pathologies. In most cases, MTLE with HS may cause severe injuries or trauma, such as complex febrile convulsions, birth trauma, meningitis, or head injuries early in life. These may have been present for many years before the onset of seizures.
In the diagnosis of hippocampal sclerosis, high-resolution MRI optimized by post-processing is a highly sensitive and specific non-invasive method that can visualize the signs of the disease. In order to accurately read the hippocampal pathology, coronal slices must be obtained on a plane that is perpendicular to the long axis of the hippocampus. These slices must be very thin (3 mm or less) to clearly capture the fine details of hippocampal anatomy. High-resolution T1-weighted images, especially those with inversion recovery (IR), are the preferred method for evaluating volume, shape, orientation, and internal structure. Qualitative evaluation is best performed using T2 weighting or FLAIR sequences. Indeed, relative to histopathology, FLAIR images show 97% accuracy in identifying HS-related abnormalities. In addition, the presence and severity of HS in both hippocampi can predict future seizure control following surgery and memory outcome.
Although the sensitivity and specificity of qualitative MRI using volumetry and T2 signaling are very high, it is important to remember that simple qualitative visual analysis of high-quality MR images is also quite reliable, especially if gross abnormalities are present in only one hippocampus. When the patient has symmetrical bilateral or mild unilateral disease, the effectiveness of pure visual analysis will be more limited. In these cases, absolute quantitative measurements are critical to accurately determine the presence and severity of atrophy in the hippocampi, which may involve the mesial temporal and other structures interconnected with the limbic system, such as the amygdala, entorhinal, perhinal, and parahippocampal cortices, and the thalamus.
Here, we see T2WI and FLAIR images that demonstrate a right-sided mesial temporal sclerosis.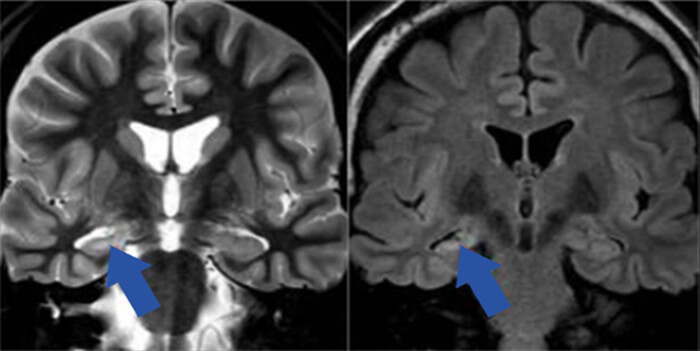 Coronal T2WI and FLAIR – Right-sided mesial temporal sclerosis
Some limitations of MRI in mesial temporal lobe epilepsy should be mentioned. Although it is effective in detecting hippocampal sclerosis in vivo, qualitative and quantitative MRI may not show mild HS, which can be identified later on histopathology. In addition, brain MRI can also capture volume abnormalities and signals that indicate atrophy in structures outside the hippocampus, usually on the same side as the sclerotic hippocampus. These findings must be carefully considered.
Neocortical epilepsy
The second clinical presentation is neocortical epilepsy.
MRI can detect the most common causes of neocortical epilepsy, including cortical malformations, indolent tumors, post-traumatic and post-ischemic lesions, and inflammatory infections.
The recommended protocol for acquiring MRI in neocortical epilepsy is based on T1 and T2 weighted sequences covering the entire brain in at least two orthogonal planes. The smallest thickness available on the scanner should be used. It is not recommended to use gadolinium unless the details provided on non-contrast images are insufficient. Moreover, gadolinium is necessary if tumors or inflammatory lesions are suspected. Patients with focal epilepsy should undergo 3D FLAIR with slices of less than 2 mm, to allow the necessary image reconstruction on any plane and to more accurately characterize each structural lesion.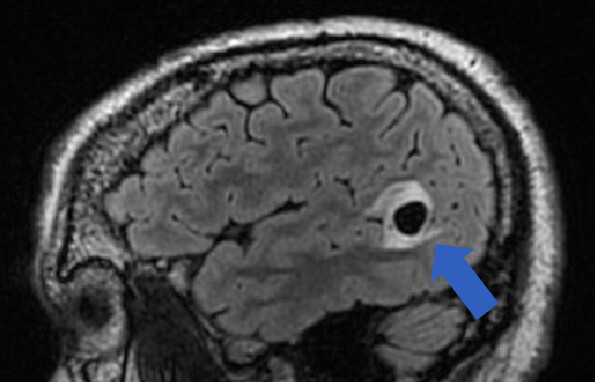 Sagittal T2 FLAIR showing left posterior temporal neoplasm
Conventional MRI is not always effective in detecting subtle changes, especially those caused by abnormal cortical development. In these cases, multimodal imaging, such as fluorodeoxyglucose positron emission tomography (FDG-PET), single-photon emission computed tomography (SPECT), or PET/MRI using multiplanar reconstruction and curvilinear reconstruction, can assess patients with focal seizures more accurately. In addition, if a proper protocol is not used, the subtle structural lesions in patients with neocortical TLE may be missed. Even then, as mentioned earlier, MRI results should be correlated with semiology, EEG, and functional imaging data during evaluation.
Focal cortical dysplasia
We will now cover the third clinical presentation, focal cortical dysplasia.
Patients with refractory epilepsy often have cortical malformations, especially focal cortical dysplasia (FCD). FCD is characterized by a disorder of cortical lamination caused by dysplastic neurons or eosinophilic cytoplasmic cells; as mentioned above, it may be captured on the T2/FLAIR sequences as a high-intensity signal, indicating cortical thickening, focal atrophy, and rupture of the interface between white and gray matter. The disease is divided into 3 categories: type 1 (no dysmorphic neurons or balloon cells), type 2 (dysmorphic neurons with or without balloon cells), and type 3 (FCD due to another disease). Each type has its own subdivision.
In FCD type 1 patients, mild white matter hyperintensity and loss of white-gray matter differentiation may be evident in the T2/FLAIR sequence, although many patients with this diagnosis do not show signs of white matter abnormalities. FCD type 1 may also be manifested as a mild focal increase in cortical thickness, as well as abnormal shapes of gyrus and deep sulci. In other patients, the disease may be related to focal volume reduction and thin cortex, especially when the temporal lobe is involved. When evaluating MR sequences, these distinctive imaging patterns should be kept in mind.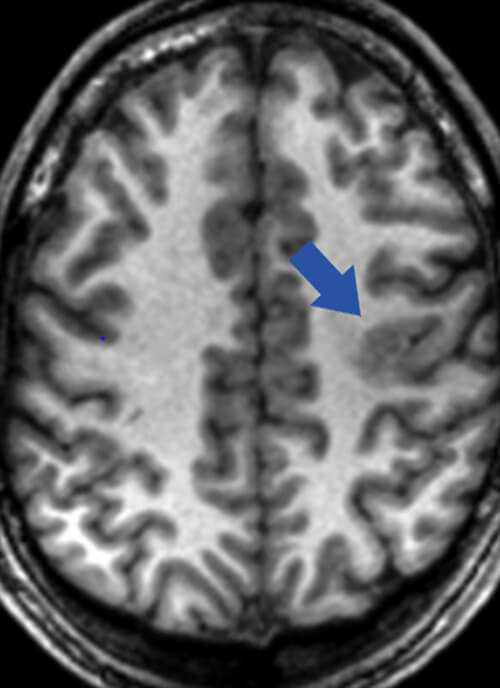 T1 FFE Axial image
In contrast, FCD type II shows a series of morphological changes, including dysplastic lesions, easy to find on conventional MRI, and smaller structural abnormalities, such as small areas of cortical thickening, that are difficult to detect. The diagnosis may appear as a weak hyperintense T2 signal in the subcortical and deep white matter. In case of type IIa FCD with histopathological features of neuronal malformations without balloon cells, MRI changes are usually subtle and do not show a hyperintense signal on the FLAIR sequence. Alternatively, FCD type IIb, or Taylor-type dysplasia, is defined by thickened cortex areas, blurred white-gray material interface, deep sulci, and abnormal cortical gyration. On MRI, the main distinguishing feature is the hyperintense T2 FLAIR signal in the subcortical white matter, and the unique wedge shape that extends to the ipsilateral ventricle ependymal surface.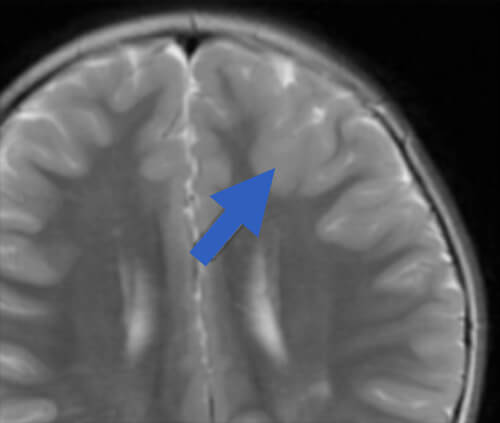 T2 image – FCD type IIa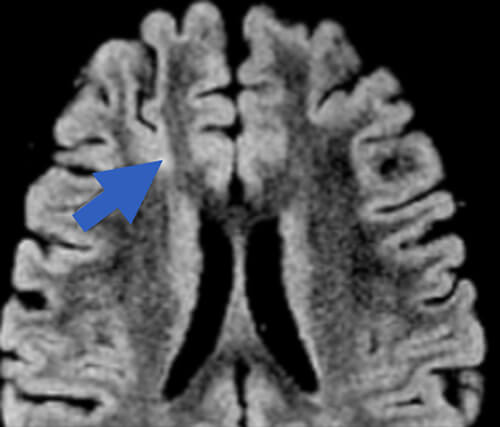 FLAIR image – FCD type IIb
In some cases of type II focal cortical dysplasia, the lesion is located at the bottom of the sulcus, complicating the diagnosis and re-emphasizing the need for professional interpretation of epilepsy neuroimaging.
Malformations of cortical development
Finally, we will discuss malformations of cortical development.
Polymicrogyria is a condition characterized by small, prominent convolutions separated by shallow sulci. Many patients with this disease do not have epilepsy. For those who do, drugs can usually control seizures. Polymicrogyria can be visualized on anatomical MRI scans, which can be acquired with low resolution and thick cuts. It manifests as an abnormal distribution of cortical neurons that cause small gyri, which present as a thickened cortex.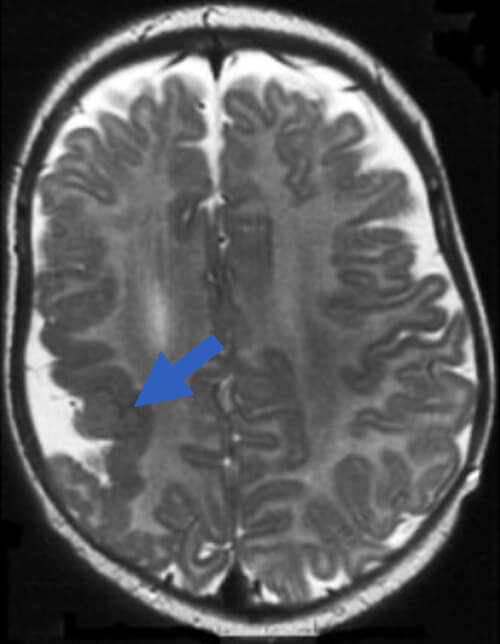 The second malformation of the cortex, hemimegalencephaly, is a disease defined by the growth of hamartomas in the cerebral hemispheres. On MRI, hemimegalencephaly presents as an enlargement of the hemisphere and may be related to ipsilateral ventricular dilation and an abnormal white matter signal that appears hyperintense on T2/FLAIR and hypointense on T1-weighted scans. Areas of pachygyria, polymicrogyria, heterotopia, FCD, and white matter gliosis may also be obvious.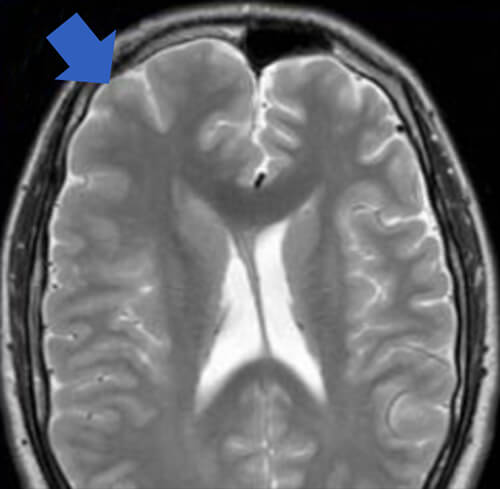 Finally, on MRI, schizencephaly is characterized by a cleft connecting the surface of the cortex to the ventricular lumen. Sometimes, the edges of the left cleft seem to be juxtaposed with the lumen (closed-lips schizencephaly), while in other images, the edges are separated (open-lips schizencephaly).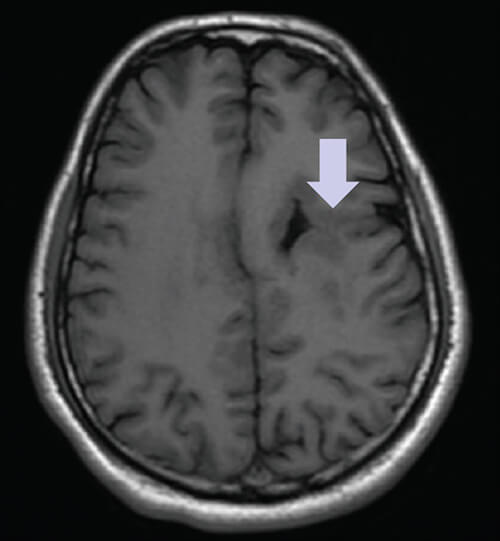 CHAPTER 6
Atypical clinical presentations
In addition to the clinical presentations listed above, epilepsy has many uncommon presentations. Let's shed light on those.
Brain tumors
We begin with brain tumors. Although brain cancers account for only 4% of all epilepsy cases, the highly epileptic nature of central nervous system (CNS) tumors makes them a common cause of adult onset epilepsy – accounting for approximately 10% to 15% of all cases. The possible reason for this association is that brain tumors are known to lower the seizure threshold by interfering with normal metabolic processes and disrupting cell connections. The relative risk of epilepsy for supratentorial brain tumors is 40, the highest of all acquired diseases. In general, the frequency of ictal events with brain tumors ranges from 100% for dysembryoplastic neuroepithelial tumors, to 29% – 60% for glioblastoma and meningiomas, to 10% for primary CNS lymphoma.
Most tumors associated with epilepsy are indolent, including ganglioma and low-grade astrocytoma, the two most common types, as well as dysembryoplastic neuroepithelial tumors and angiocentric gliomas. Gliomatosis cerebri, a less common type of central nervous system tumor, can cause cellular infiltration to two or more brain lobes. It manifests as an overgrowth, with or without focal masses on MRI, and can be distinguished from multifocal glioma by its continuous cellular infiltration pattern and clear distinction from adjacent normal tissues on the T1-weighted sequence.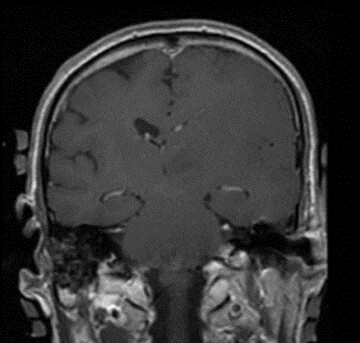 Gliomatosis cerebri – coronal T1
Limbic encephalitis
Another atypical presentation is limbic encephalitis.
Overexpressed inflammatory mechanisms are a possible etiology of seizures caused by autoimmune encephalitis. Limbic encephalopathy is an autoimmune disease, manifesting as an isolated autoimmune encephalopathy, or more commonly, a paraneoplastic syndrome secondary to malignant tumors, such as small-cell lung cancer, germ cell tumors, and teratomas.
The differential diagnosis is complex, including symptoms, the exclusion of alternative limbic-related conditions, the presence of paraneoplastic antibodies, neuropathological findings, and MRI. The characteristic FLAIR sequence that generally does not warrant contrast enhancement shows increased signal intensity in the mesial temporal lobes. In the case of paraneoplastic limbic encephalitis, the signal intensity can also appear in the limbic distribution.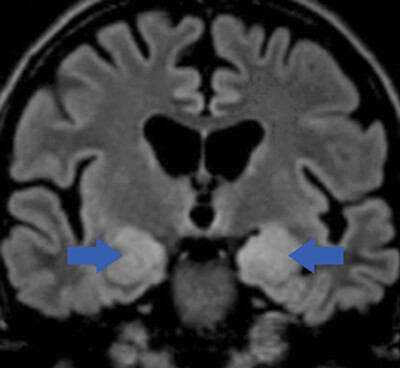 FLAIR Coronal image
Creutzfeldt-Jakob disease
Moving on to the next clinical presentation, we will talk about Creutzfeldt-Jakob disease.
Patients with rare central nervous system infections may report seizures or symptoms consistent with chronic epilepsy. One such condition is Creutzfeldt-Jakob disease (CJD), which is an incurable prion disease characterized by a prominent and rapid cognitive decline.
On MRI sequences, the most common findings are bilateral areas of T2 and FLAIR hyperintensity, with limited and highly specific diffusion in the caudate nuclei and putamen. Evidence of T2 hyperintensity may also be apparent in the cortex, globus pallidus, and thalamus, while a change in signal intensity in the cerebral cortex is less often visible. Diffusion-weighted sequences should also be considered, as they are the most sensitive tool for detecting the diffusion restriction associated with CJD.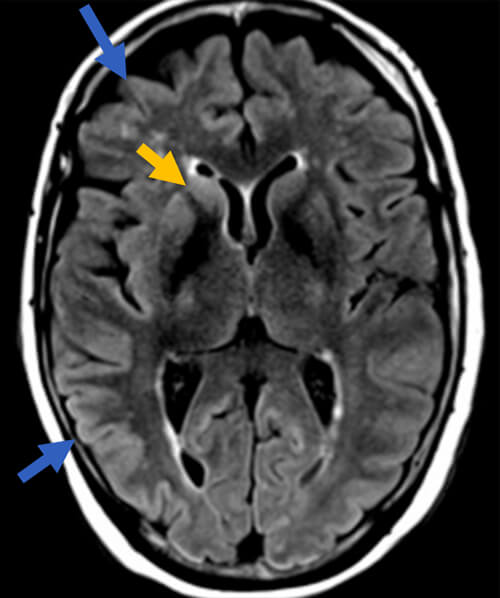 T2 – FLAIR image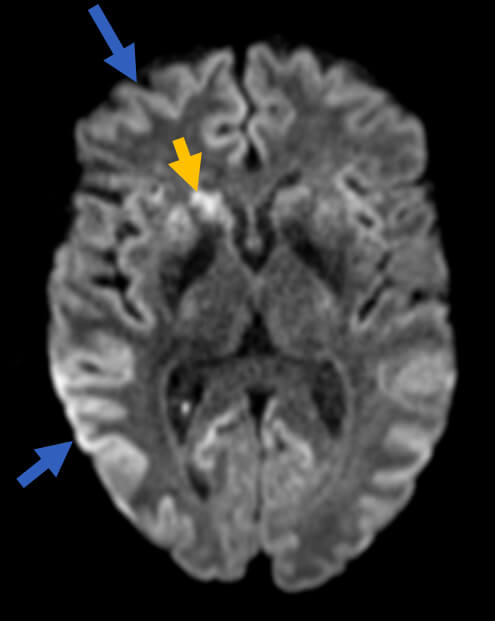 Diffusion-weighted image demonstrating asymmetrically increased signal in the entire neocortex (yellow arrows) and striatum (blue arrows)
Cingulate epilepsy
Another uncommon presentation is cingulate epilepsy.
Cingulate epilepsy is a controversial diagnosis closely related to frontal lobe syndromes. It is characterized by a series of symptomatic manifestations derived from cingulate projections into the motor system. Seizure onset has been traced to the cingulate gyrus, which is electro-clinically silent. However, the electrical activity originating there will spread to other symptomatogenic areas and produce various clinical symptoms, including hyperkinesia, changes in consciousness, and automatism. Cingulate epilepsy can be divided into anterior and posterior types. The anterior type is more common and can be identified by reports of fear auras and hyperkinetic episodes, while the posterior type usually exhibits EEG results consistent with pseudo-temporal ictal patterns and symptoms such as dyscognitive auras.
Because the manifestations of cingulate epilepsy are diverse and inconsistent, diagnosis is difficult and often delayed. Seizures usually occur during sleep and are often misdiagnosed as parasomnias. Without the results of MRI, the manifestations of the cingulate gyrus are difficult to locate clinically. Contrast T1-weighted and FLAIR imaging is important to identify possible causative and resectable lesions, although these are rare. Most focal cingulate epilepsies are cryptogenic or idiopathic. It is no exaggeration to say that the MRI evaluation of these epilepsies is essential to determine the possible existence of underlying and treatable lesions.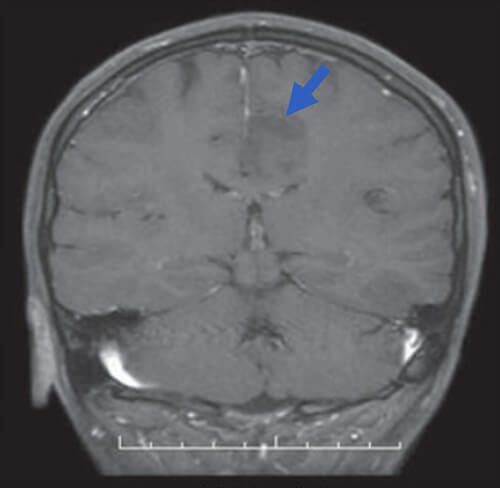 Contrast T1 image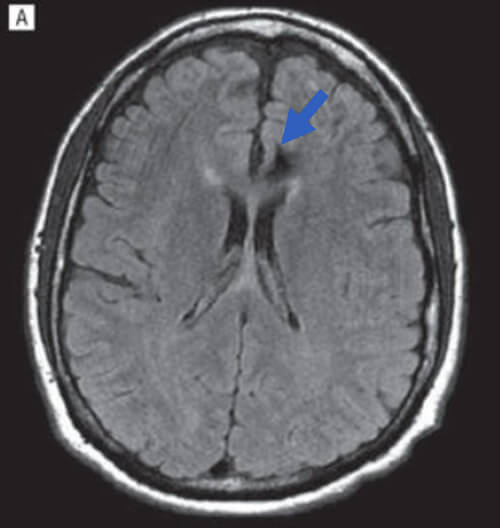 FLAIR image
Occult causes of epilepsy
We conclude this part of the course by talking about the atypical clinical presentations of epilepsy with occult causes.
Appropriate application of MRI protocols in the evaluation of epilepsy can detect most epileptogenic lesions. However, even for expert diagnosis personnel, it is difficult or impossible to identify several important causes. Many cases of epilepsy have no lesions that can be seen on MRI. These patients usually respond the worst to treatment, even after surgery. These findings emphasize the importance of recognizing the limitations of neuroimaging in the detection of occult lesions. Further research is essential to determine why certain epileptogenic lesions cannot be detected on MRI.
CHAPTER 7
New advancements
Our last topic is the new advancements in MRI technology and future developments.
7 Tesla MRI
First, we will shed light on the emerging 7 Tesla MRI.
Ruber and colleagues believe that new developments in imaging hardware, sequences, and data post-processing are the main driving force for the advancement of epilepsy MRI research. Regarding new technologies, the first ultra-high-field 7T MRI scanner was approved in 2017. It extremely improved resolution, increased signal-to-noise ratio, and reduced scan time. 7T MRI should be a boon for epilepsy imaging and evaluation. The key research supporting this application shows that, compared to 3T imaging, the advantage of 7T MRI is that it identified 6 out of 21 epileptogenic lesions in patients with focal epilepsy who were MRI negative on 3T sequences. However, these benefits come at a price. 7T MRI has its own unique challenges, that must be considered by clinicians, including distortions and artifacts that impair imaging accuracy. For example, FLAIR imaging which has shown the greatest utility in the evaluation of epilepsy, is especially hard to implement due to limitations in the absorption rate and long relaxation times.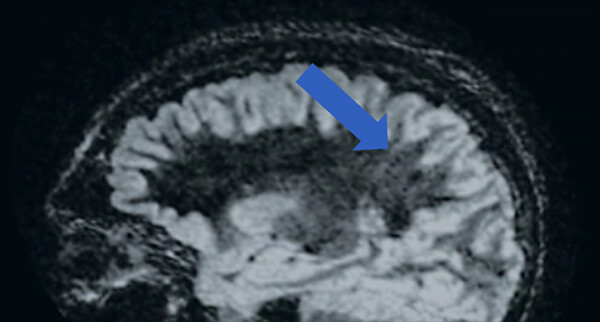 Focal Cortical Dysplasia in 3T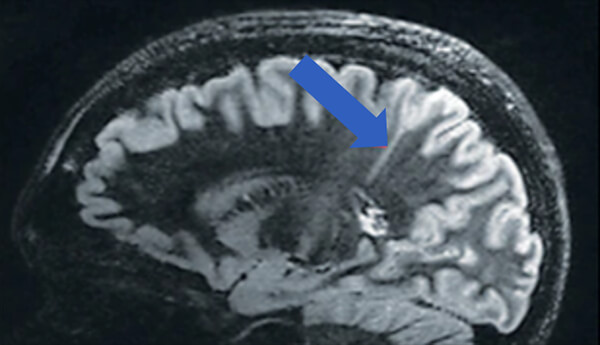 Focal Cortical Dysplasia in 7T
Quantitative MRI – relaxometry
The novel sequencing methods aim to standardize the evaluation of biological and physiological characteristics captured on MR images. An interesting recent development involves the use of quantitative MRI through a technique called "relaxometry." Relaxometry is a method of measuring relaxation times from MR images. It is performed by capturing a series of measurements of one variable parameter, such as flip angle or inversion or echo time. Relaxation times (T1, T2 , T*), proton densities, or susceptibility sources can then be analyzed as functions of the signal changes during the sequence, regardless of hardware differences and the operator's evaluation of the region of interest. Pilot studies of quantitative MRI using relaxometry succeeded in patients with epilepsy, showing that the automated protocol for determining hippocampal T2 values in hippocampal sclerosis patients is accurate, reliable, reproducible, and superior to manual evaluation.
Other sequencing strategies
Other sequencing strategies are also promising. Let's take a quick look at those.
Other new sequencing strategies that have shown promise in epilepsy include double inversion recovery, which improves the contrast of gray-white matter, and diffusion-weighted techniques. One such method, combining high-angular resolution diffusion imaging with innovative post-processing algorithms such as pixel-based morphometric analysis, produces encouraging results by increasing the sensitivity and interpretability of fiber densities in areas adjacent to the epileptic foci.
Future developments
Last but not least, we'll look at future developments in MRI.
Other post-processing strategies are also being explored. These methods replace the analysis of the volume and shape of the cortex and subcortical structures to assess morphology. The asymmetry of neuroanatomical shapes has been studied in cortical and subcortical brain regions, and it has been shown to predict neurological diseases, including epilepsy. A study used multimodal 3T MRI profile analysis, which combined morphology, intensity, diffusivity, and functional connectivity features to characterize focal cortical dysplasias of types IIA and IIB. The profile-based classifier predicted FCD subtypes with a sensitivity of 85% and a remarkably high specificity of 94%, relative to healthy and diseased controls.
Finally, in addition to trying to describe the anatomical features of epilepsy, researchers are also trying to picture the seizures as they are. Although in most cases it may be impossible to observe seizure events in real time, post hoc visualization of the microstructural processes activated during a particular seizure may be achievable using a sensitized MR signal that targets the neuronal correlate of transient seizure MRI features. In this regard, an interesting strategy involves the use of arterial spin labeling to map postictal hypoperfusion. Additional research may even produce "dysfunctional imaging" or the possibility of capturing seizure traces and its characteristic features long after the event. If this function is realized, the value of seizure imaging may become equal to that of epilepsy imaging itself.
Here, we reach the conclusion of our course, "The Contributions of MRI in Epilepsy." Please review the objectives before taking the quiz to make sure you got it all.
Thank you for choosing Medical Professionals as your continuing education provider.