Bone Densitometry Continuing Education
An online library of bone densitometry continuing education courses for your CE credits
---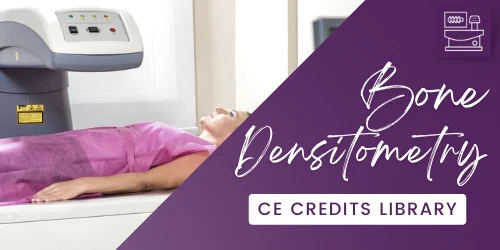 Welcome to Medical Professionals' Bone Densitometry Continuing Education library! All of our bone densitometry (also sometimes referred to casually as bone density) continuing education courses have been approved by the ASRT for category A CE credits.
Our courses are guaranteed to be accepted for ARRT® license renewal and by state registries in the USA for all licensed radiologic technologists holding a bone densitometry credential.
| | | | | |
| --- | --- | --- | --- | --- |
| | | Unlimited CE credits for your ARRT® & state renewal. Get unlimited continuing education courses to take you beyond certification. A CE plan that makes achieving excellence easier than ever. | | |
| | | The best Bone Densitometry package for ARRT® and state renewal! Get one-year access to our full Bone Densitometry continuing education library of 6 courses and meet all your CE and CQR requirements in one place. | | |
| | | This course covers dual-energy X-ray absorptiometry (DXA) scanners, osteology, and bone structures, as well as bone health and bone repair. In this course you will also learn about the many different types of osteoporosis, bone mineral density (BMD) measurement, diseases, and lifestyle factors. | | |
| | | This course covers DXA components and calculations, the quality of bone density measurements, and quality control. This course addresses the risk factors for osteoporosis and will provide the definition and applications of the Fracture Risk Assessment Tool (FRAX), when it is used in diagnosis and its role in making treatment decisions. | | |
| | | This course dual-energy X-ray absorptiometry (DXA) total body composition, indications, patient instructions and preparation, as well as DXA contraindications, limitations, scan preparation, patient positioning, and artifacts. In addition, it emphasizes scanning parameters and analysis, documentation, and data protection. | | |
| | | This course covers spine, femur, and forearm anatomy and their radiographic appearance and measurements. This course will also address patient positioning and preparation for a DXA scan. In addition, it includes a "work at the console" section, featuring clinical cases aimed at helping technologists understand how DXA is used to detect specific diseases. | | |
Radiologic Technologists Recently Asked
Do all of the courses in this library meet ARRT® CE requirements?

Yes! All of the bone densitometry continuing education courses in this library have been approved by the American Society of Radiologic Technologists (ASRT) for Category A CE credits and are therefore accepted for the ARRT® recertification, guaranteed.
Can I use your bone density continuing education courses to earn CQR CE credits?

Yes! Each course has been awarded an ARRT

®

CQR distribution. You can find the breakdown of CQR categories and credits for each course on the individual course pages under the CQR Distribution tab. You can also use our

CQR Simulator Tool

to find which combination of courses will meet your specific requirements!
I'm an RT licensed by the state of Florida: do you report my CE credits to the state of Florida for me?

Yes! Medical Professionals is a proud Florida-approved CE provider, and as such, we'll report your continuing education activities to the state of Florida on your behalf on the 1st of each month.
Is there a downloadable transcript?

Yes! All of the courses in this library have a PDF transcript you can download, allowing you to read and learn offline, if you prefer that method. You will still need to go online to take the post-test and earn your bone density continuing education (CE) credits and CE certificate, though.
Can I take your courses on my phone?

Yes! You can complete our courses on any device you like—computer, phone, or tablet. All you need is an internet connection.
What's your refund policy?

We strive for customer satisfaction at all times. Our refund policy is no different. If, within 30 days of your purchase, you are not satisfied with your course for any reason, and you have not passed a post-test nor generated a CE certificate, you are eligible for a full refund. Just send us a message requesting a refund, and we'll quickly confirm your eligibility and issue your refund straightaway. It's that simple.
I lost my CE certificate! Can you send me another one?

Of course! We know that sometimes stuff gets misplaced. You can always retrieve another copy of your CE certificate from your account, or email us and we'll send you another one. No worries!
Do your bone densitometry continuing education courses meet the CE requirements for California radiologic technologists?

Yes, they do! The California Department of Public Health-Radiologic Health Branch (CDPH-RHB) require CE courses to address the application of X-rays to the human body and to be approved by an ARRT® credentialing body. All of the CE courses in this library are approved by the American Society of Radiologic Technologists (ASRT)—an ARRT® credentialing body—and so all the bone density CE credits you earn will therefore accepted by the CDPH-RHB, guaranteed.