Radiation Safety CE Courses
Everything that you need to know laid out in our radiation safety CE courses to protect yourself and your patients while earning CE credits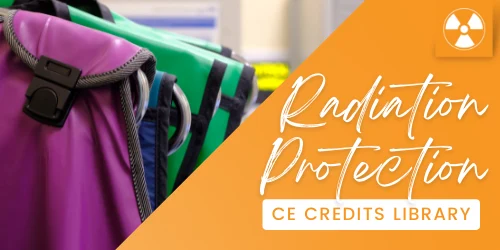 Refresh your knowledge and fulfill your CE & CQR with our simple and practical library of radiation safety courses. All the radiation safety CE credits you earn are guaranteed to be accepted by state registries in the USA and Canadian territories for all licensed radiologic technologists, as well as for ARRT® certification renewal and the NMTCB®.
All of the radiation safety CE courses online in this library are approved by the American Society of Radiologic Technologists (ASRT). Therefore, we have got you covered on your Radiation Safety CE credits and your CQR requirements.
Looking for some free references and articles (non-CE)? Check out our news and articles section and our reference guides.
Read more

Our radiation safety in radiology is a complete course that takes you from the basic principles of radiation interaction with matters, to the actual practices that you would need to deploy in your daily practices as rad tech in a radiology or CT scanner department.

The radiation safety in the operating room is a specialty course designed for RTs in operating theaters. Whereas, the pediatric radiation safety course deals primarily with best practices related radiation protection in pediatric imaging and dose reduction.
| | | | | |
| --- | --- | --- | --- | --- |
| | | Unlimited CE credits for your ARRT® & state renewal. Get unlimited continuing education courses to take you beyond certification. A CE plan that makes achieving excellence easier than ever. | | |
| | | This course is designed to help RTs understand the quality principles used to ensure the safe and appropriate use of digital radiography in children. | | |
| | | This interactive course covers everything a technologist in the operating room needs to know about radiation safety and protection practices. | | |
| | | This course covers different topics in radiation safety and protection procedures, along with the standards & international radiation safety applications. Suitable for healthcare providers and patients. | | |
FAQs
Are these radiation safety continuing education online courses approved for Florida radiologic technologists?

Yes! Each of the radiation safety CE courses in this library has been approved by the Florida Department of Health (DOH). Not only that, but as Medical Professionals is an approved CE provider for the state of Florida, we will report the CE credits you earn from any of these radiation safety courses to the Florida DOH on your behalf on the 1st of each month.
Are your radiation safety courses accepted by the state of California?

Yes! All of the radiation safety courses in this library have been approved by the California Department of Public Health–Radiologic Health Branch for radiologic technologists licensed by the state of California.
Can I use these course to complete my ARRT® CQR?

Yes! Each radiation safety CE course in this library has a CQR distribution table on the course page. You can even use our new

CQR Simulator Tool

to find which course is the best fit for you to earn the CQR credits you need in specific content areas. Just choose the modality, put in your requirements, and the tool will tell you which course is the best match for your CQR needs!
What's your refund policy?

Our refund policy is simple: if you are not satisfied with a course within 30 days of purchase, and you have neither passed a post-test nor downloaded a CE certificate for the course, you are entitled to a full refund. Just send us a message requesting a refund. We'll quickly confirm that you haven't passed a post-test or generated a certificate for the course, and then issue your refund right away.
Can I take my courses on my phone?

Yes! You can take these courses on any device you like—tablet, computer, or phone.
Can I use these courses for my ARRT® Renewal?

Yes! All of our radiation safety CE courses are approved for CE credits by either the American Society of Radiologic Technologists (ASRT), and are therefore guaranteed to be accepted for your ARRT® renewal.