Radiation Protection and Safety in Pediatric Imaging Continuing Education Course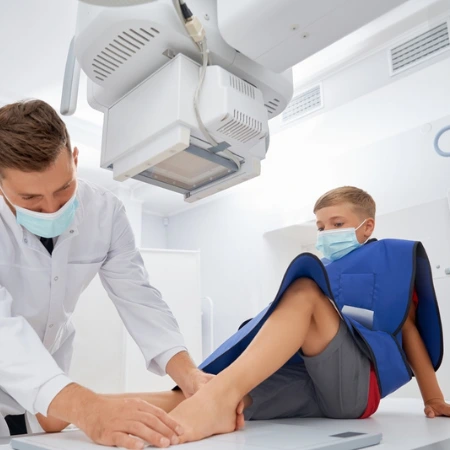 Pediatric Radiation Safety
1.25 CE Credits
Expiry date: July 1, 2025
---
Our pediatric radiation safety is a CE course designed to help understand radiation protection in pediatric imaging.
---
Approved by the ASRT (American Society of Radiologic Technologists) for 1.25 CE Credits
Subscription duration: 365 days from purchase date
Voiceover available
Downloadable transcript available
*NEW* Video format available with subtitles
Meets the CE requirements of the following states: California, Texas, Florida, Kentucky, Massachusetts, and New Mexico
Meets ARRT® CE reporting requirements
Accepted by the NMTCB®
Pediatric Radiation Safety is an online continuing education course designed to help radiologic technologists understand the quality principles used to ensure the safe and appropriate use of digital radiography in children. Because radiography procedures represent 85% of all ionizing exposure in children, because pediatric patients are up to 10 times more sensitive to ionizing radiation than adults, it is critical for technologists to have a firm grasp of radiation safety and protection when performing pediatric imaging examinations.
With that in mind, this course covers the basic principles of digital radiography (DR) and its advantages over analog film screening and computed radiography in reducing the pediatric patient dose. It also highlights the challenges presented in acquiring DR diagnostic images in the pediatric population, including proper immobilization, addressing family concerns, and childrens' responses to verbal direction. You will also learn about the proper use of shielding, balancing ALARA, lead aprons and half shields, short exposure times, limited views, and close collimation as these apply to imaging children.
Pediatric Radiation Safety is a suitable course for novice and veteran technologists technologists alike, and is both accessible to and appropriate for students in radiologic technology programs who want to enhance their understanding of radiation protection practices when dealing specifically with pediatric imaging.
| | | |
| --- | --- | --- |
| Discipline | Major content category & subcategories | CE Credits provided |
| RAD-2017 | Safety | |
| | Radiation Protection | 0.50 |
| RAD-2022 | Safety | |
| | Radiation Protection | 0.50 |
| RAD-2017 | Image Production | |
| | Image Acquisition and Technical Evaluation | 0.25 |
| | Equipment Operation and Quality Assurance | 0.25 |
| RAD-2022 | Image Production | |
| | Image Acquisition and Evaluation | 0.25 |
| | Equipment Operation and Quality Assurance | 0.25 |
Section 1: Optimizing Pediatric Radiation Dose

Introduction
Digital Radiography Basics
Digital Radiography and Feedback
Standardized Terminology
Estimating Patient Dose
Reducing Radiation Exposure
Noise Level and the Clinical Question
Quality Assurance and Quality Control Programs
Guidelines
Safety Checklist
Conclusion
Testimonials
Great service, thank you!
Relevant and practical course for CE credits for ARRT.. Thank you.
Well organized and Informative!
Get it now!
One-time payment. No hidden fees. No extra charges per credit.