X-Ray CE Credits
A robust library of interactive X-ray CE courses covering a variety of topics in the modality
---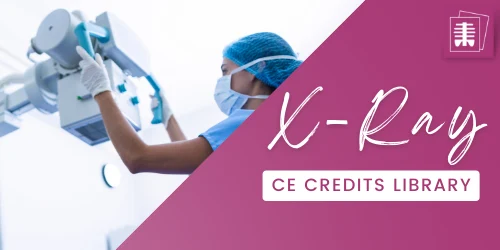 Welcome to Medical Professionals' X-ray continuing education (CE credits) library! All of our X-ray CE courses have been approved by the ASRT or by the CAMRT.
As such, we confidently guarantee that any and all courses you complete with us will be accepted by state registries in the USA and Canadian territories for all licensed radiologic technologists, by the NMTCB®, as well as for ARRT® license renewal for your CEUs.
| | | | | |
| --- | --- | --- | --- | --- |
| | | Unlimited CE credits for your ARRT® & state renewal. Get unlimited continuing education courses to take you beyond certification. A CE plan that makes achieving excellence easier than ever. | | |
| | | The best X-Ray package for ARRT® and state renewal! Get one-year access to our full X-Ray continuing education library of 12 courses and meet all your X-Ray CE and CQR requirements in one place. | | |
| | | This covers topics related to radiation safety of the patient and staff, patient care and management as it relates to fluoroscopy, contrast media used in fluoroscopy and finally the equipment used in fluoroscopy and common fluoroscopic procedures. | | |
| | | This course describes a range of immobilization techniques including immobilization techniques in a variety of settings and reduction of patient radiation exposure through the using proper immobilization methods. It also covers other important topics in patient care for the radiology technologist, such as signs and symptoms and procedures for handling various medical emergencies. | | |
| | | This course addresses the fundamental principles of mammography, as well as the anatomy, physiology, pathologies (benign and malignant), and epidemiology of the breast, mammary classifications, the male breast particularities, and the treatment of breast cancer. | | |
| | | Our digital breast tomosynthesis training course is an interactive online mammography course developed to help you understand how digital breast tomosynthesis works and know its clinical applications, advantages, limitations, and the main features of the various DBT units. | | |
| | | This course is designed to educate both healthcare staff and patients about the nature of radiation. It trains staff on issues related to patient protection against radiation and introduces international standards related to radiation. The course presents standard and international radiation safety applications in radiology, radioscopy, and CT scanning. | | |
| | | This course covers identifying components of an x-ray unit and a fluoroscopy unit, describing the parts of a fixed and a mobile fluoroscope, and recognizing varying quality control standards for imaging equipment and accessories. | | |
| | | This course covers the different clinical applications of digital radiography. It covers topics in radiographic measurements, including: measurements made on spinal radiographs, such as Cobb angle, Chamberlain and McGregor Lines, as well as lumbar lordosis angles, pelvic parameters, and weight-bearing dorsoplantar foot X-rays. | | |
| | | This course addresses infection control as it applies to radiologic technologists. Infection control refers to the policies and practices used by hospitals and other healthcare facilities to control and minimize the spread of infections. | | |
| | | This online mammography continuing education course was designed to help you understand how to communicate, prepare, and interact with patients before, during, and after the examination. It will as well tackle around 20 common myths about breast cancer. | | |
| | | This course presents the technical modifications that radiographers must apply to avoid any unexpected error caused by the anatomy of the patient. In addition, it describes the abdominopelvic image details that shall be clarified, allowing physicians to diagnose the cases of different patients. | | |
| | | A comprehensive course explaining the factors that affect digital image quality and demonstrate the importance of the deviation index and other parameters in evaluating image quality. | | |
| | | A comprehensive continuing education course covering a broad range of digital radiography topics to provide learners with an in-depth understanding of the physical principles, different technologies, and various techniques used in digital radiography. | | |
| | | In this course, we will show the breast anatomy, discuss different types of breast cancer, show how breast density may affect breast cancer diagnosis, explore different breast screening techniques, explain how radiation exposure can be measured, and discuss radiation dose with each of these breast imaging techniques. | | |
| | | PACS Systems and Quality Control is a digital radiography continuing education course that demonstrates the importance of common post-processing activities in improving the image quality, and explains the principle behind DICOM images, HIS, RIS, and PACS. | | |
| | | This course covers the basic principles of digital radiography (DR) and its advantages over analog film screening and computed radiography in reducing the pediatric patient dose. It also highlights the challenges presented in acquiring DR diagnostic images in the pediatric population including proper immobilization. | | |
FAQs
I'm an X-ray tech in California. Do your X-ray CE courses meet California's continuing education credits requirements?

Yes! The California Department of Public Health-Radiologic Health Branch (CDPH-RHB) regulations state that any CE course that covers the application of X-rays to the human body and is approved by an ARRT® credentialing body meets CDPH-RHB continuing education requirements. Our X-ray CE courses are approved by ARRT® credentialing bodies—the American Society of Radiologic Technologists (ASRT) or the Canadian Association of Medical Radiation Technologists (CAMRT)—and are therefore accepted by the CDPH-RHB.
Can I take these courses for X-ray continuing education (CE credits) if I have a Limited XT permit in California?

Yes! Our courses have been reviewed and approved by the CDPH-RHB as meeting California CE requirements for Limited XTs. We are also listed on the CDPH-RHB's list of approved X-ray CE providers for Limited XTs.
I'm an X-ray tech working in Florida. Do you submit my X-ray CEUs to the Florida Department of Health for me, or do I have to do it myself?

Yes, we do! As Medical Professionals is a Florida-approved CE provider, we submit your CE activity to the Florida DOH on the 1st of every month on your behalf.
Can I use these courses for my CQR?

Yes! Each course individual page in our X-ray CE library contains a CQR distribution table. If you need help choosing the right combination of courses to meet your CQR, you can check out our

CQR Simulator!

Just enter your CQR requirements, and the Simulator will tell you which courses best meet them!
I don't see my state in the list of states that accept your X-ray CE programs. Does this mean your courses won't be accepted by my state?

Not necessarily. We list several states (Florida, California, Texas, Oregon, Massachusetts, Kentucky, and New Mexico) only because these states have unique and specific CE requirements for radiologic technologists. If you're not sure about your state's requirements, you can check out our

list of state CE requirements

or

send us a message

, and we'll be happy to get you started on X-ray CEUs accepted by your state's licensing body.
I lost my certificate for a course I took. How can I get another copy?

Don't worry! We've got you. If you're still within the one year access period, you can simply login and go to your dashboard on the learning management system and download another copy. Or you can

send us a message

, and we will email you a copy of your certificate within 1 business day so you can get your X-ray CEUs reported on time.