CT CE Credits Library
A growing library of CT continuing education CEU courses for your CE credits
---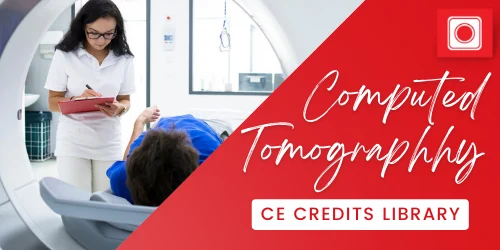 Welcome to Medical Professionals' CT CE Credits Library! Here you will find interactive CT continuing education courses developed specifically for radiologic technologists. All of the CT CEU courses in this library have been approved by either the ASRT or by the CAMRT, and are therefore guaranteed to be accepted for your ARRT® renewal.
In addition, these continuing education courses are also guaranteed to be accepted by state registries in the USA and Canadian territories for all licensed radiologic technologists, as well as by the NMTCB®.
| | | | | |
| --- | --- | --- | --- | --- |
| | | Unlimited CE credits for your ARRT® & state renewal. Get unlimited continuing education courses to take you beyond certification. A CE plan that makes achieving excellence easier than ever. | | |
| | | The most affordable CT scanner package for ARRT® and state renewal! Get one-year access to our full CT continuing education library of 10 courses and meet all your CT CE and CQR requirements in one place. | | |
| | | This course covers basic principles and advanced techniques of performing a cardiac CT scan. The course provides an overview of cardiac anatomy and physiology, as well as cardiac pathologies. It also focuses on optimization of the image quality to dose ratio and post-processing techniques for cardiac CT imaging. | | |
| | | This course covers the major areas of knowledge and practice in CT, including patient care and reducing patient radiation dose, CT scanner evolution, the impact of different factors on image quality and patient dose, key concepts in image acquisition, parameters, as well as post-processing techniques. | | |
| | | This course addresses CT protocols and applications for the head, spine, chest and neck, abdomen and pelvis, and musculoskeletal procedures. In addition, it covers biopsies, drainages, and aspirations, as well as how to minimize the radiation dose delivered to patients. | | |
| | | This course will address CT angiography protocols and applications for the head, neck, chest, abdomen, pelvis, and extremities procedures. | | |
| | | This course covers the potential dangers of the increased use of CT scan in children and how to minimize these risks. The course explains the effects of ionizing radiation on different levels and reviews the basic physics that impact the radiation dose a child receives from a CT scan. | | |
| | | CT image evaluation and archiving is an interactive online CE course designed for technologists that covers various topics from image display and quality to artifact recognition, teleradiology and image archiving. | | |
| | | The formation of CT images involves many steps: Data acquisition is the first of these steps. The term data acquisition refers to the collection of the measurements of x-ray transmission from the patient. In this course, acquisition modes and parameters, dosimetrix indexes and dose reference level will be discussed. | | |
CT Technologists Recently Asked
Can your CT CEU courses be used to complete my ARRT® CQR credits requirements?

Yes! Each course page has a CQR distribution table. And to make things even easier, we have just launched our

CQR Simulator Tool

, where you can put in your CQR credit requirements and find out which courses will best help you meet all your requirements for the lowest price, saving you precious time and money.
I'm a CT technologist in Florida: do you report my continuing education credits to the Florida Department of Health for me, or do I need to do it on my own?

As Medical Professionals is a Florida-approved CE provider, we submit your CE credits to the Florida DOH on the 1st of every month on your behalf. You still need to be sure that you download your certificate for each CT CEU course you successfully complete and retain them for your records.
Can I take your courses offline?

Yes! Most of our CT continuing education courses have a PDF transcript that you can download and read offline at your convenience—but you'll still have to login and take the post-test online in order to get your CE credits and certificate.
What's your refund policy?

Our refund policy is simple: you are eligible for a full refund within 30 days of your purchase so long as you did not pass a post-test or download a CE certificate for the course. Just

send us a message

requesting a refund. We'll do a quick check on your eligibility and then issue your refund straight away.
Do you offer discounts on your CT CEU courses to whole departments or large groups of CT technologists?

Yes, we do! If you have a department or large group of RTs who need CT continuing education credits, we are happy to offer our courses at a discounted rate. Discounts depend on the number of technologists in the department or group. Just contact us, specifying the number of RTs you wish to enroll, and we will get back to you within one business day.