Free and Affordable Online Radiology CE Credits for ARRT

®

Certification
Text-based CE courses for radiologic technologists: read, learn, and get free or affordably priced CE credits for your ARRT ® renewal
---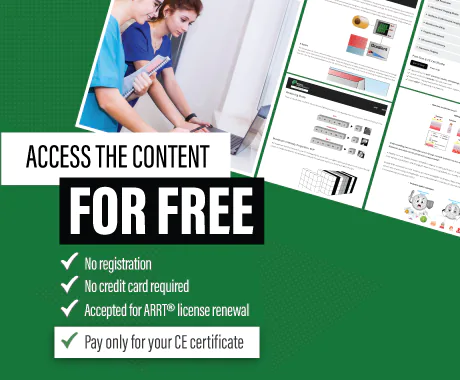 While online learning is leaning more and more towards interactivity for enhanced education—which we provide as part of our CE offerings—we figure that some of us still prefer text-based materials. Accordingly, we provide radiologic technologists with free, open access to the content of our text-based CE courses with the intent of granting a free learning experience with the option to pay for the CE credits certificate only if you need it. This also means that you get to check out the course content beforehand and decide afterward if you want to take the test or not. Totally your call. We even offer several courses with completely free post-tests, so you can try out the courses and test and grab a few free radiology CE credits online to put toward your ARRT

®

CE credits requirements.
*Just a quick note: continuing education terminology varies a bit from place to place, with some radiologic technologists referring to CE credits or CEs, and others using the term CEUs. Both of these terms refer to the same concept, and you can rest assured that whatever term you use, radiology CE credits, CEs, or CEUs for RTs, you're in the right place to get them for free.
---
Free CE Credits for ARRT
®

Renewal
---
Text-Based Courses: Access the content for free and pay only for your certificate
X-Ray
CT
MRI
Radiation Protection
Ultrasound
Purchase With Confidence
We know RTs need assurance when it comes to getting free radiology CE credits from online providers. You've got requirements to meet. We get that. You can rest assured that when you earn your CE credits with us, whether free or paid, you're getting CE credits that will meet your ARRT

®

and state CE requirements.
All of our courses, including those with free CE credit post-tests, are approved by the American Society of Radiologic Technologists (ASRT) and are guaranteed to meet ARRT

®

CE reporting requirements. They are also accepted by the below state registries in the USA and Canadian territories for all licensed radiologic technologists. All courses are accepted by the Nuclear Medicine Technology Certification Board (NMTCB

®

), and all MRI courses are accepted by the American Registry of Magnetic Resonance Imaging Technologists (ARMRIT

®

).
All our courses meet the CE requirements of the following states:







Not a text-based type of learner? Prefer something interactive?