Text-based, Affordable, Quick and Free Radiology CE Credits for ARRT® Certification
Earn free and affordable Radiology CE Credits
---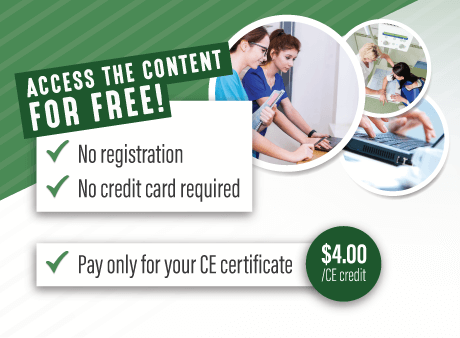 The above-listed courses are approved by the American Society of Radiologic Technologists (ASRT) and guaranteed to be accepted by the below state registries in the USA and Canadian territories for all licensed radiologic technologists. Furthermore, our Radiology CE Credits meet the ARRT® CE Credits reporting requirements and they are accepted by the Nuclear Medicine Technology Certification Board (NMTCB). In addition, all MRI courses are accepted by the American Registry of Magnetic Resonance Imaging Technologists (ARMRIT).


All our courses meet the CE requirements of the following states:







*It is the responsibility of each imaging professional to ensure that CE course topics satisfy any specific requirements that may exist for the individual state(s) in which they practice.
We provide free access to the full content of all the RT Continuing Education Units (CEUs) offered here. You can access the free RT CEUs anytime to sharpen your skills, or choose one of our post-tests to earn free CE Credits for ARRT® Certification at affordable prices.
For full interactive e-learning courses, check out our CE credits e-learning store for ARRT® Certification. With the interactivity and animations provided in these courses, you will have a more engaging learning experience and earn CE Credits at affordable pricing.