Whether you have a specific question or need assistance, we're here for you. What would you like to know?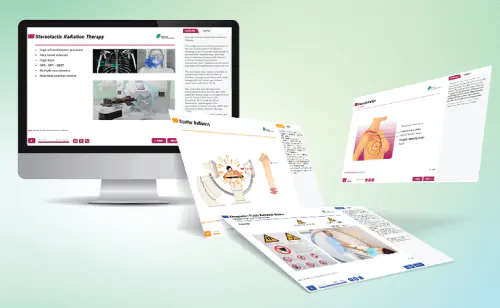 All-Access Pass Key Highlights
Access to full library (170+ radiology CE credits)
Meets state CE requirements (California, Texas, Florida, Kentucky, Massachusetts, and New Mexico).
CE courses accepted by NMTCB®. MRI CE courses accepted by ARMRIT®.
Courses can be used to meet your ARRT ® continuing education (CE credits or CEUs) & CQR requirements
Courses approved by ASRT or CAMRT
One-time payment. No hidden fees. No extra charges per credit.
Interactive, animated, online CE courses on a broad range of topics
---
WHAT'S INCLUDED
A one-of-a-kind radiology CE credits subscription plan for RTs.
---
ADDITIONAL FEATURES

Get started on any device: mobile, tablet, or laptop, and complete CE credits at your own pace.

Subscription duration: 180 days from
purchase date.

Absolutely no limits on the number of CE credits you can earn. Get as many as you want as quickly as you want.

---
Get Answers and Get Started
FAQs
Are your continuing education courses accepted for ARRT ® renewal?

Yes! All of our courses are approved by an ARRT

®

Recognized Continuing Education Evaluation Mechanism (RCEEM)—either the ASRT or CAMRT—and therefore your CE credits or CEUs are guaranteed to be accepted for

ARRT® license renewal

.
How does the 30-day refund policy work?

Our refund policy is straightforward. If you are not entirely satisfied with your purchase of this subscription, and you have neither passed a quiz nor generated a certificate for one of our CE courses, you can easily claim a full refund within 30 days of the date of your purchase. After receiving your email requesting a refund and doing a basic check, we will issue a full refund right away.
How many courses does the subscription include?
Do you report my CE credits to the ARRT ® organization for me, or do I have to report them myself?

While we would love to offer this service to RTs who take our courses, we cannot track or report your continuing education credits to the ARRT ® organization on your behalf. You'll have to download your certificate when you successfully complete a course and report your CE credits through your online ARRT ® account. Not sure how to do that? Check out our easy guide to reporting your CEUs to the ARRT ® organization.
Is this one of those subscriptions that renews automatically?

Absolutely not. We don't play that game. When you purchase an All-Access Pass, you get our full library of interactive continuing education courses for 180 days. After that, your plan expires. The choice to renew is entirely yours and you'll never have to worry about remembering to cancel.
Is there any time limit on my plan?

Your All-Access Plan is valid for 180 days from the date of purchase — easily enough time to complete your ARRT ® and state CE credits requirement online at your own pace.
Are CE credits the same thing as CEUs?

Yes! CE credits stands for "continuing education credits," and CEUs means "continuing education units." Both terms refer to the same thing, and we use the terms interchangeably here. You can rest assured that with Medical Professionals you're getting what you need to meet your ARRT ® CE requirements, regardless of whether your call them online CE credits or CEUs.
Can I use the All-Access Pass for my Florida state CE requirements?

Yes! Medical Professionals is proud to be an approved CE provider for the state of Florida. All of our interactive courses, with the exception of CT Vascular and Mastering Breast Ultrasound, are approved by the Florida state Department of Health. As a Florida-approved CE provider, we report CE credits to the state of Florida on behalf of Florida radiologic technologist licensees on the 1st of every month.
Are there any extra costs or fees?

No. When we say only $39.99, we mean it. You will never pay any additional fees.
Can I complete my state CE requirements with this plan?

Yes! Our library has enough CE courses for you to meet your state-specific CE credit requirements. You can also contact us to help you plan which courses to take to earn CEUs that will count for both your state and ARRT ® renewal (and save you time and money in the process!).
Can I earn continuing education credits for my CQR requirements?

Yes! All of the continuing education courses in this subscription have an ARRT

®

CQR online CE credit distribution table listed for your convenience. You can also use our new

CQR Simulator

! Just enter your

CQR requirements

, and the CQR Simulator will tell you which courses best match your CQR needs in a matter of seconds.
Do you offer discounts for whole departments or groups of RTs who need CEUs for ARRT ® renewal?

Yes, we do! If you have a department or large group of RTs who need online CEUs for their state and/or ARRT ® renewal, we are happy to offer this plan at a discounted rate. Discounts depend on the number of RTs in the department or group. Just contact us, specifying the number of RTs you wish to enroll, and we will get back to you within one business day.
Do I have to pay anything to take individual courses after purchase?

No. Never. Once you purchase your All-Access Pass, you will get instant access to all of our interactive continuing education courses. The whole shebang. And, if we publish a new CE course during your subscription period, this course will automatically be added to your account, too.
Can I work on my courses offline?

Yes! Most of our continuing education courses have downloadable transcripts that you can read offline at your convenience. You will, of course, have to take the post-test online to earn your CE credits and certificate for your ARRT ® and state CE requirements.
Can I access the courses on multiple devices?

Yes! You can easily complete courses on your laptop, tablet, or mobile. Whatever works best for you.
I have a bunch of different CE requirements to meet. Can you help?

Yes! Our team will be happy to help you plan which courses to take to meet your state and/or ARRT

®

CE credits reporting requirements,

MQSA

, CQR, or any other combination of requirements. Just send us a message with your requirements, and our team will provide you with the combination of courses you can take to meet them all, helping you save valuable time and energy.
Ready to buy the most affordable plan to meet all your ARRT ® CE credits reporting requirements?