Radiology CE Webinars
Upcoming continuing education (CE) or CEU webinars on a variety of topics in multiple radiology modalities
---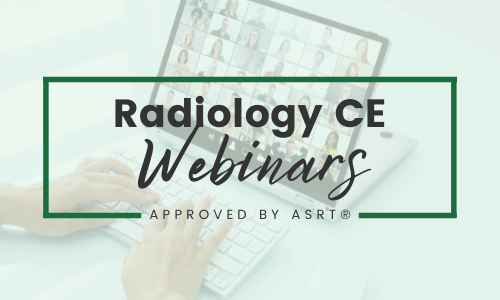 ---
FAQs
---
Are the CE credits I earn from your radiology CE webinars accepted for ARRT ® renewal?

Yes! All of our webinars have been approved by an ARRT ® Recognized Continuing Education Evaluation Mechanism (RCEEM), and are therefore guaranteed to be accepted for ARRT ® renewal.
How do I get my radiology CE certificate after the webinar?

We email a copy of your CE certificate to the email address you used to register for the webinar. Certificates are mailed to all eligible participants within two business days. Remember, as per the American Society of Radiologic Technologists (ASRT) regulations, you must attend the entire webinar, from start to finish, in order to receive your CE certificate.
Do I have to take a post-test at the end of the webinar to get my radiology CEU certificate?

No, there is no post-test at the end of the webinar. However, you do need to answer the questions posed in the polls during the webinar to indicate that you are present and participating. If you don't answer the questions, even if you attended the whole webinar, you will be eligible for a CE certificate.
What's the difference between a radiology CE webinar and a radiology CEU webinar?

Nothing. There is no difference. These two terms are just different ways of referring to the same thing. CE means "continuing education," and CEU means "continuing education unit." Whether you use the term CE credits or CEU when referring to radiology continuing education, our webinars will meet your needs.
Can I still take your radiology CE webinars even if I'm not required by my state or country to earn CE credits or CEUs to practice as an RT?

Absolutely! All of our webinars are designed by application specialists and expert radiologic technologists to provide high quality radiology continuing education regardless of where you live and practice. Even if you don't have specific CE requirements to meet, our webinars will help you grow your knowledge, enhance your competencies, and improve your clinical practice. In short: Yeah! Sign up!
I attended one of your radiology CE webinars a few days ago, but I haven't received my certificate yet. What do I do?

We're terribly sorry about that! We send out all CE certificates to eligible webinar participants within two business days of the webinar. If you didn't receive yours yet, do the following: First, make sure you're checking the email address you used to register. Be sure to check your spam/junk folder for emails from Medical Professionals. If you don't see an email from us in your spam/junk folder,

contact us

and we'll get your CE certificate to you right away!
Can I view the webinar again later?

Absolutely. We are offering our webinars to RTs on-demand after each webinar. However, if you opted to register an account with Medical Professionals during the webinar you attended, you do get access to the interactive course on which the webinar is based, absolutely free.
I have a question that wasn't answered here. How can I get in touch with you guys?

Just

send us a message!

We respond to all customer inquiries within 1 business day, so you can get answers and get registered quickly.
---
Join our newsletter
---