Mammography CE Credits
A growing library of online, interactive mammo CEUs for radiologic technologists
---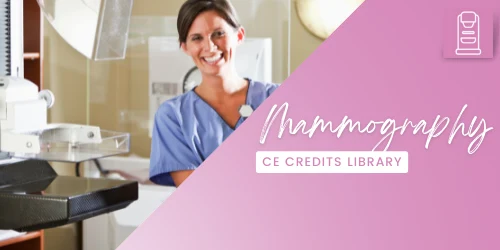 Welcome to our Mammography continuing education (CE Credits) Library, all of our mammo ceus are approved by the ASRT or by the CAMRT and guaranteed to be accepted by state registries in the USA and Canadian territories for all licensed radiologic technologists.
We also guarantee that all the mammo CEUs you earn will be accepted for ARRT® and the NMTCB® renewal.
| | | | | |
| --- | --- | --- | --- | --- |
| | | Unlimited CE credits for your ARRT® & state renewal. Get unlimited continuing education courses to take you beyond certification. A CE plan that makes achieving excellence easier than ever. | | |
| | | The best Mammography package for ARRT® and state renewal! Get one-year access to our full Mammography continuing education library of 11 courses and meet all your Mammography CE and CQR requirements in one place. | | |
| | | This course addresses the fundamental principles of mammography, as well as the anatomy, physiology, pathologies (benign and malignant), and epidemiology of the breast, mammary classifications, the male breast particularities, and the treatment of breast cancer. | | |
| | | Our digital breast tomosynthesis training course is an interactive online mammography course developed to help you understand how digital breast tomosynthesis works and know its clinical applications, advantages, limitations, and the main features of the various DBT units. | | |
| | | This course aims to help mammography technologists overcome the challenges that arise during the screening process. It focuses on required mammography positioning criteria and provides tips and tricks and practical suggestions for resolving many of the issues that you frequently encounter. | | |
| | | This online mammography continuing education course was designed to help you understand how to communicate, prepare, and interact with patients before, during, and after the examination. It will as well tackle around 20 common myths about breast cancer. | | |
| | | In this course, we will show the breast anatomy, discuss different types of breast cancer, show how breast density may affect breast cancer diagnosis, explore different breast screening techniques, explain how radiation exposure can be measured, and discuss radiation dose with each of these breast imaging techniques. | | |
Mammography Technologists Recently Asked
Can I use your mammography continuing education courses to meet my MQSA CE credits requirements?

Yes! Mammography Training Course and our Digital Breast Tomosynthesis course will provide you with the 15 mammography CEUs that you need to meet your MQSA continuing education requirements. And if you hold ARRT ® certification, don't forget that you can count those same 15 mammo CEUs toward your annual renewal!
Can I use your mammography continuing education courses to earn CQR CE credits?

Yes! All of the mammo continuing education courses in this library have a CQR credits distribution table on the individual course page. You can also use our new

CQR Simulator Tool

to find the courses that best match your CQR needs! Just put in your CQR requirements, and the tool will find you the courses that will help you meet them most efficiently.
Will the mammo CEUs I earn from your courses be accepted for ARRT ® renewal?

Yes! We guarantee it. All of our courses have been approved by an ARRT ® Recognized Continuing Education Evaluation Mechanism (RCEEM), and so you can report the mammography CEUs you earn from our courses to the ARRT ® organization with absolute confidence.
I'm a mammography technologist licensed by the state of Florida: do you report my CE credits to the state of Florida for me?

Yes, we do! Medical Professionals is proud to be a Florida-approved CE provider, and as such, we'll report your continuing education activities to the state of Florida on your behalf on the 1st of each month.
Can I take your mammo continuing education courses on my phone?

Yes, you can! You can complete our courses on any device you prefer—computer, phone, or tablet. All you need is an internet connection.
I want to work on my courses offline. Is that possible?

Yes! All of the mammography continuing education courses in this library have a downloadable transcript, so you can read and learn offline at your convenience. You will, however, have to go online to take the post-test and earn your mammography CEUs and CE certificate.
What's your refund policy?

We strive for customer satisfaction at all times. Our refund policy is no different. If, within 30 days of your purchase, you are not satisfied with your course for any reason, and you have not passed a post-test nor generated a CE certificate, you are eligible for a full refund. Just

send us a message

requesting a refund, and we'll quickly confirm your eligibility and issue your refund straightaway. It's that simple.
Do your mammo continuing education courses meet the CE requirements for California radiologic technologists?

Yes! The California Department of Public Health-Radiologic Health Branch (CDPH-RHB) require CE courses to address the application of X-rays to the human body and to be approved by an ARRT ® credentialing body. All of the mammography continuing education courses in this library are approved by ARRT ® credentialing bodies—the American Society of Radiologic Technologists (ASRT) or the Canadian Association of Medical Radiation Technologists (CAMRT)—and so all the mammography CEUs you earn will therefore accepted by the CDPH-RHB, guaranteed.
I lost my CE certificate! Can you send me another one?

Of course! Don't worry. We know that sometimes stuff gets misplaced. You can always retrieve another copy of your CE certificate from your account, or email us and we'll send you another one, so you can get those mammography CE credits reported on time!