Ultrasound CME Credits
A growing library of online ultrasound CME courses for your CE credits accepted for ARRT® and ARDMS® renewal
---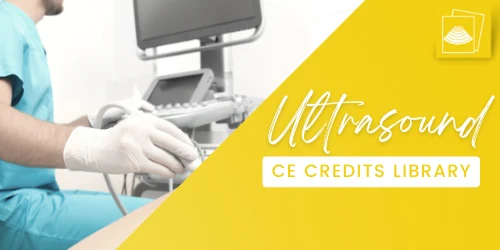 Welcome to the Medical Professionals' Ultrasound CME library! This library contains online ultrasound continuing medical education (CME) courses approved either by the ASRT or by the CAMRT.
We guarantee that all of the ultrasound CME credits will be accepted by state registries in the USA and Canadian territories for all licensed radiologic technologists, as well as for ARRT® renewal. All of the courses in this library are also accepted by the NMTCB®. Those courses that are ASRT-approved are also accepted by the ARDMS®.
| | | | | |
| --- | --- | --- | --- | --- |
| | | Unlimited CE credits for your ARRT® & state renewal. Get unlimited continuing education courses to take you beyond certification. A CE plan that makes achieving excellence easier than ever. | | |
| | | Master the theoretical and practical aspects of abdominal and chest walls ultrasound with the guidance of Dr. Jean Louis Brasseur! | | |
| | | In this continuing education course, you will review the BI-RADS classification system and the definitions of different benign diseases, including non-proliferative breast lesions, proliferative breast lesions without atypia, atypical hyperplasia, and other anatomical abnormalities of the breast. | | |
| | | This course discusses the clinical uses of ultrasound contrast, as well as the criteria and standards for using contrast agents. It emphasizes the various warnings and precautions for the injection of contrast in ultrasonography, particularly in patients with pulmonary hypertension. | | |
| | | This course addresses the different ultrasound imaging modes, as well as the strengths of ultrasound as compared to CT and MRI, as well as an overview of the anatomy of the liver and its division into segments to facilitate the localization of tumors. | | |
| | | In this course, you'll get a review of the basics of screening mammography and the basic vocabulary and orientation of ultrasound, and revisit where the anatomy lies when looking at the images. | | |
| | | This course covers the basics of ultrasound physics, image formation, and resolution and highlights different ultrasound modes and artifacts imaging with an overview of machine functions and manipulation. In addition, it introduces the Doppler Effect, ultrasonic velocimetry, the physical principle behind harmonic imaging and its advantages. | | |
Ultrasound Technologists Recently Asked
Are your CME courses accepted by the ARDMS ®?

Yes! All of these courses are accepted by the ARDMS ® for CME credit. We are currently in the process of developing more ultrasound CME courses to add to this library to support sonographers holding ARDMS ® certification.
Can I use your ultrasound CME courses for my ARRT® CQR?

Yes! Each course has a CQR distribution table on its individual course page. You can also use our new

CQR Simulator Tool

to find which course best meets your CQR needs. Just put your CQR credit requirements into the Simulator, and it will tell you which courses are the best fit for completing your CQR. Try it out!
I'm a Florida-licensed technologist: do you report my ultrasound CME credits to the state of Florida for me, or do I need to report them on my own?

As a proud Florida-approved CE provider, Medical Professionals submits your CME activities to the Florida DOH on the 1st of every month your behalf. You still need to be sure that you download your certificate for each ultrasound CME course you successfully complete and retain them for your records.
Can I work on these courses offline?

Yes, you can! Each online course in our Ultrasound CME Library (with the exception of Mastering Breast Ultrasound) has a downloadable transcript that you can read offline, whenever and wherever you feel like. But, you'll still have to go online to take the post-test to earn your ultrasound CME credits and download your certificate for your records.
Are all of these courses accepted for ARRT® renewal?

Yes! All of our ultrasound CME courses are approved by an ARRT® Recognized Continuing Education Evaluation Mechanism (RCEEM), and are therefore guaranteed to be accepted for your ARRT® renewal.
What's your refund policy?

Our refund policy is simple, as refund policies ought to be. If you are not satisfied with your course within 30 days of purchase, and you have neither passed a post-test nor issued a certificate for the course, you are entitled to a full refund. Just send us a message requesting a refund, and after a quick check to confirm your eligibility, we'll issue your refund right away. It's that simple.