Ultrasound CME Credits
A growing library of online ultrasound CME courses for your CE credits accepted for ARRT® and ARDMS® renewal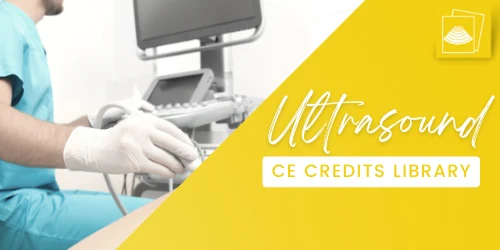 Welcome to the Medical Professionals' Ultrasound CME credits library! This library contains online ultrasound continuing medical education (CME) online courses approved by the ASRT.
We guarantee that all of the ultrasound CME credits will be accepted by state registries in the USA and Canadian territories for all licensed radiologic technologists, as well as for ARRT® renewal. All of the courses in this library are also accepted by the NMTCB®. Those courses that are ASRT-approved are also accepted by the ARDMS®.
BLACK FRIDAY OFFER
50% OFF on all Ultrasound Courses!
| | | | | |
| --- | --- | --- | --- | --- |
| | | Musculoskeletal ultrasound is certainly one of the most difficult ultrasound analyses and this is due to the complexity of the anatomy of the different muscles. | | |
| | | Ultrasound is the best technique to dismember the various pathologies of the rotator cuff and answer the most important question: "what is the cause of the patient's pain?" | | |
| | | The ultrasound of the shoulder is the one of the most commonly performed examinations. By examining the ultrasound images and through reading the outcome reports. | | |
| | | The ultrasound of the shoulder is the one of the most commonly performed examinations. By examining the ultrasound images and through reading the outcome reports. | | |
| | | In the case of a standard X-ray showing no obvious joint pathology, ultrasound is an excellent complement to explain the origin of a patient's pain. The pathologies are very numerous. | | |
| | | Conducting an ultrasound examination for the wrist and the hand is quite difficult, and that's due to the complexity of their anatomy. | | |
| | | Assessing the severity of a muscle lesion is important for professional athletes as well as for people practicing recreational sports for the sake of avoiding a long interruption. | | |
| | | Acquire 1.50 ultrasound CME credits while you learn about breast MRI, its fundamental applications in breast imaging, and how it correlates with ultrasound. This course provides you with case studies and tips to help you be confident in your findings. | | |
Ultrasound Technologists Recently Asked
Are your CME courses accepted by the ARDMS®?

Yes! All of these courses are accepted by the ARDMS® for CME credits. We are currently in the process of developing more ultrasound CME courses to add to this library to support sonographers holding ARDMS® certification.
Can I use your ultrasound CME courses for my ARRT® CQR credits?

Yes! Each course has a CQR distribution table on its individual course page. You can also use our new

CQR Simulator Tool

to find which course best meets your CQR needs. Just put your CQR credit requirements into the Simulator, and it will tell you which courses are the best fit for completing your CQR. Try it out!
I'm a Florida-licensed technologist: do you report my ultrasound CME credits to the state of Florida for me, or do I need to report them on my own?

As a proud Florida-approved CE provider, Medical Professionals submits your CME activities to the Florida DOH on the 1st of every month your behalf. You still need to be sure that you download your certificate for each ultrasound CME course you successfully complete and retain them for your records.
Can I work on these courses offline?

Yes, you can! Each online course in our Ultrasound CME Library (with the exception of Mastering Breast Ultrasound) has a downloadable transcript that you can read offline, whenever and wherever you feel like. But, you'll still have to go online to take the post-test to earn your ultrasound CME credits and download your certificate for your records.
Are all of these courses accepted for ARRT® renewal?

Yes! All of our ultrasound CME courses are approved by an ARRT® Recognized Continuing Education Evaluation Mechanism (RCEEM), and are therefore guaranteed to be accepted for your ARRT® renewal.
What's your refund policy?

Our refund policy is simple, as refund policies ought to be. If you are not satisfied with your course within 30 days of purchase, and you have neither passed a post-test nor issued a certificate for the course, you are entitled to a full refund. Just send us a message requesting a refund, and after a quick check to confirm your eligibility, we'll issue your refund right away. It's that simple.