Continuing Qualifications Requirements (CQR) Simulator
Categories

news

Date

November 7, 2023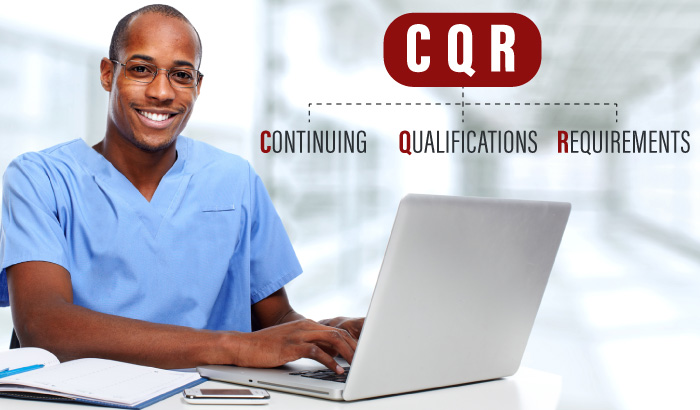 Find the exact courses you need to meet your ARRT ® CQR CE credits requirements, get answers to your CQR questions, and access a complete guide to the CQR process, all in one place.
---


Use our free CQR Simulator tool to find just the right combination of courses to get you all the CQR CE credits you need. Just enter the number of credits you need for each CQR category, and the simulator will do the rest!
CQR TOOL SIMULATOR
---
Whether it's your first time completing your CQR, or whether it's just been so long that you need a refresher on the process, you can check out our complete guide to completing your ARRT® CQR for an in-depth walk-through of the process from start to finish.
Frequently Asked Questions
Are all of your courses accepted for ARRT ® CQR?

Yes! Every single course on our site has been awarded a CQR distribution. You can find the CQR distribution table for each course on the individual course page, or you can use our handy CQR Simulator above to find courses that will give you exactly the CQR CE credits you need.
I need a lot of CE credits for my CQR. Is it better to get the All-Access Pass?

In most cases, yes! Our All-Access Pass includes our full library of courses and

unlimited CE Credits

for ARRT

®

renewal and CQR. With our All-Access Pass, you'll get all the courses you need, and more, for less!
Do you submit my CQR CE credits to the ARRT ® organization, or is that something I have to do myself?

Unfortunately, we are not able to submit your credits to the ARRT

®

organization for you, but submitting them is very easy. Check out our complete guide to

How to Complete Your ARRT® CQR Requirements

for a step-by-step guide!
Can I use the same courses for my CE biennium and my CQR?

Yes! You can apply most of your CQR activities to your ARRT ® biennial CE requirements! With a little planning ahead of time, you can cover both requirements with ease.
How can I track how many CE credits I've earned in each CQR category?

You can easily track the CQR CE credits you've earned through the online ARRT

®

CQR tool. Our complete guide to

How to Complete Your ARRT® CQR Requirements

contains a clear explanation and screenshots to show you how to keep track of your progress.