X-Ray CE Credits
A robust library of interactive X-ray continuing education courses to earn X-ray CE credits for your ARRT ® certification & renewal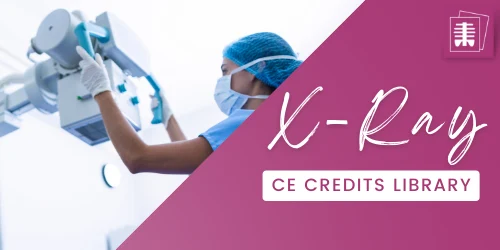 Welcome to Medical Professionals' X-ray continuing education (CE credits) library! Get started on meeting your ARRT ® or state certification renewal requirements today. All of our X-ray CE courses have been approved by the American Society of Radiologic Technologists (ASRT). As such, we confidently guarantee that any and all X-ray CE credits you acquire through us will be accepted:
By state registries in the USA and Canadian territories for all licensed radiologic technologists
By the Nuclear Medicine Technology Certification Board NMTCB®
For the American Registry of Radiologic Technologists ® ARRT ® license renewal
Read more

Just a quick note about terminology: we use the terms X-ray continuing education credits, X-ray CE credits, and X-ray CEUs here interchangeably. We recognize that imaging professionals working in different states or territories may use different continuing education terminology. While these terms vary somewhat from place to place, they all refer to the same concept and unit of measure, and we want to assure all rad techs that our CE courses can meet their CE requirements, no matter what terminology is used.

Note: It is the responsibility of each imaging professional to ensure that topics covered in any given X-ray continuing education course satisfy any specific requirements that may exist for the individual state(s) in which they practice.
| | | | | |
| --- | --- | --- | --- | --- |
| | | Our Patient Care in Mammography course is designed to help mammography technologists better prepare, educate, and communicate and interact with patients before, during, and after a mammogram. | | |
| | | Earn 9.25 CE credits while learning everything you need to know about mammography. This course covers mammography fundamentals, techniques & protocols, interpretation, patient care, and more. | | |
| | | Sharpen your knowledge. In this course you will learn about the breast anatomy, cancer types, how breast density affects breast cancer detection, screening techniques, radiation exposure measurement & dose. | | |
| | | This course covers different topics in radiation safety and protection procedures, along with the standards & international radiation safety applications. Suitable for healthcare providers and patients. | | |
FAQs
I'm an X-ray tech in California. Do your X-ray CE courses meet California's continuing education credits requirements?

Yes! The California Department of Public Health-Radiologic Health Branch (CDPH-RHB) regulations state that any CE course that covers the application of X-rays to the human body and is approved by an ARRT ® credentialing body meets CDPH-RHB continuing education credits' requirements. Our X-ray CE courses are approved by an ARRT ® credentialing body—the American Society of Radiologic Technologists (ASRT)—and are therefore accepted by the CDPH-RHB.
I'm an X-ray tech working in Florida. Do you submit my X-ray CE credits to the Florida Department of Health for me, or do I have to do it myself?

Yes, we do! As Medical Professionals is a Florida-approved CE provider, we submit your CE activity to the Florida DOH on the 1st of every month on your behalf.
Can I use these X-ray continuing education credits for my CQR?

Yes! Each course individual page in our X-ray CE library contains a CQR distribution table. If you need help choosing the right combination of courses to meet your CQR, you can check out our

CQR Simulator!

Just enter your CQR requirements, and the Simulator will tell you which courses best meet them!
I don't see my state in the list of states that accept your X-ray CE programs. Does this mean your courses won't be accepted by my state?

Not necessarily. We list several states (Florida, California, Texas, Oregon, Massachusetts, Kentucky, and New Mexico) only because these states have unique and specific X-ray or radiology CE credits requirements for radiologic technologists. If you're not sure about your state's requirements, you can check out our

list of state CE requirements

or

send us a message

, and we'll be happy to get you started on X-ray continuing education courses accepted by your state's licensing body.