CT Procedures Continuing Education Course
4.25 CE Credits
---
An interactive CE course for CT technologists with a solid grasp of the fundamentals of DXR who want to master a variety of CT applications and protocols for different body systems
---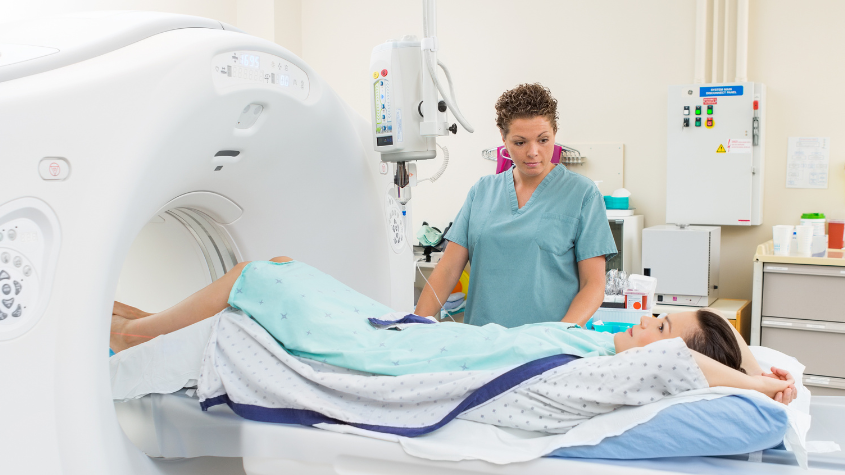 Course description
Expiry date: July 1, 2024
---
CT Procedures is an interactive online CE course designed for technologists with a firm foundation in and understanding of the principles of digital X-ray. This course will cover the protocols and applications of CT for various body systems, along with providing users with a refresher in relevant anatomy and physiology for those body systems.
More specifically, the course will address CT protocols and applications for the head, spine, chest and neck, abdomen and pelvis, and musculoskeletal procedures. In addition, the course covers biopsies, drainages, and aspirations, as well as how to minimize the radiation dose delivered to patients.
This course is suitable for novice and veteran CT technologists alike, as well as for technologists cross-training into CT.
| | |
| --- | --- |
| ✔ | Approved by the ASRT for 4.25 Category A CE Credits |
| ✔ | Subscription duration: one year from purchase date |
| ✔ | Voiceover available |
| ✔ | Downloadable transcript available |
| ✔ | Meets the CE requirements of the following states: California, Texas, Florida, Kentucky, Massachusetts, and New Mexico |
| ✔ | Meets ARRT® CE reporting requirements |
| ✔ | Accepted by the NMTCB® |
| ✔ | Hassle-free 30-day full refund policy* |
| | | |
| --- | --- | --- |
| Discipline | Major content category & subcategories | CE Credits provided |
| CT-2017 | Procedures | |
| | Head, Spine, and Musculoskelatal | 2.25 |
| | Neck and Chest | 1.00 |
| | Abdomen and Pelvis | 1.00 |
| CT-2022 | Procedures | |
| | Head, Spine, and Musculoskelatal | 2.25 |
| | Neck and Chest | 1.00 |
| | Abdomen and Pelvis | 1.00 |
| NMT-2017 | Procedures | |
| | Other Imaging Procedures | 3.00 |
| NMT-2022 | Procedures | |
| | Other Imaging Procedures | 3.00 |
| PTH-2019 | Procedures | |
| | Treatment Sites | 3.00 |
| RA-2017 | Procedures | |
| | Abdominal Section | 0.75 |
| | Thoracic Section | 0.75 |
| | Musculoskelatal and Endocrine Section | 0.75 |
| | Neurological, Vascular, and Lymphatic Sections | 1.00 |
| RA-2018 | Procedures | |
| | Abdominal Section | 0.75 |
| | Thoracic Section | 0.75 |
| | Musculoskelatal and Endocrine Section | 0.75 |
| | Neurological, Vascular, and Lymphatic Sections | 1.00 |
| THR-2017 | Procedures | |
| | Treatment Sites and Tumors | 3.00 |
| THR-2022 | Procedures | |
| | Treatment Sites and Tumors | 3.00 |
Section 1: Anatomy of the Patient

Imaging planes

Pathological considerations/recognition

Protocol considerations

Patient considerations

Landmarks
Section 2: Head Procedures

Introduction

Temporal bones/auditory canal (IAC)

Pituitary fossa

Orbits

Sinuses

Maxillofacial and/or mandible

Base of skull

Brain
Section 3: Spine Procedures

Role of the technologist

Cervical procedures

Thoracic procedures

Lumbar procedures

Sacrum/coccyx procedures

Pelvis procedures
Section 4: Musculoskeletal Procedures

Role of the technologist

Musculoskelatal protocols

Upper extremity

Lower extremity

Bony pelvis

Shoulder/scapula

Sternum

Ribs

Summary
Section 5: Neck and Chest
Section 6: Abdomen and Pelvis
Section 7: Biopsies, Drainages and Aspirations

Introduction

Biopsies

Aspirations

Spinal infiltration

Drainages