How To Complete Your ARRT® CQR Requirements
Categories

news

Date

October 31, 2022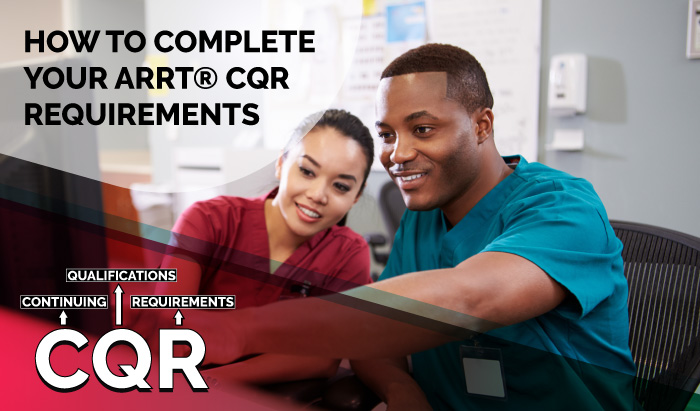 How To Complete Your ARRT CQR Compliance period Requirements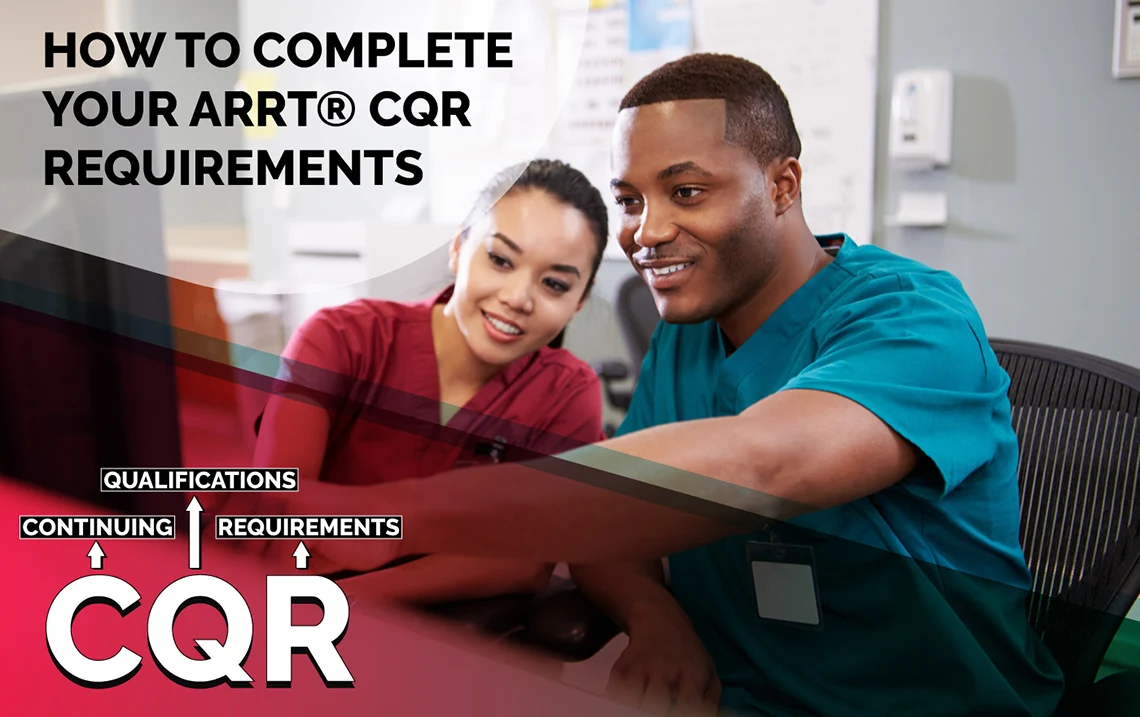 Because best practices and technologies in the field of radiology change rapidly, it is crucial for radiologic technologists to regularly evaluate and improve their knowledge and skills in order to provide the best possible care to their patients. For registered technologists (R.T.®), this is where ARRT ® CQR comes in. CQR stands for Continuing Qualifications Requirements, and it is the ARRT ® organization's long-term requirement or compliance period program for helping technologists identify areas for improvement and refresh their knowledge of current practices. Completing CQR is a requirement for ARRT® recertification.
Table of Contents
In this guide, we'll cover everything you need to know about completing your ARRT® CQR, including your CQR compliance period, how to prepare for the structured self-assessment, and what to do if you didn't get complete your CQR in time.
---
Why is CQR important? Some good reasons
There's a few reasons why CQR is important for radiology techs.
Offers assessment of current skill set


Going through the ARRT ® CQR process is a great way for you to benchmark yourself against other R.T.s® and identify areas for improvement.

Improves knowledge




Once the CQR process helps you identify the gaps in your skills, it provides a guided path to filling those gaps.

Professionalizes practice


Completing the ARRT® CQR program allows you to demonstrate to patients and peers in the medical community you are a skilled medical professional who is up-to-date on the work that you do everyday.

Promises better patient care




Improving your skills and keeping abreast of current best practices significantly improves the quality of care you can provide to patients.
Who has to complete ARRT ® CQR?
R.T.s® with credentials awarded on or after January 1, 2011
Every credential you earned on or after January 1, 2011 is subject to CQR once every 10 years.
For those with R.R.A.® certification
For Registered Radiologist Assistants (R.R.A.® certified), CQR needs to be completed regardless of when they earned their credential.
R.T.s® with credentials awarded before January 1, 2011
For those with credentials awarded before January 1, 2011, CQR does not apply. The ARRT ® organization is in the process of developing procedures for those who are not required to complete CQR, but who would like to participate voluntarily.
Voluntary CQR Participants
Voluntary CQR participants will sign a participation agreement notifying the ARRT® organization of their intent to participate in CQR. For voluntary participants, the 3-year CQR compliance period begins on the first day of their next birth month after the ARRT® has received their signed participation agreement. In other words, for voluntary participants, the first 10-year period is shortened and begins at the 8th year. After that, a new 10-year period will be assigned.
You can't take it back
Once you sign and send the voluntary participation agreement to the ARRT® organization, you will need to complete CQR permanently, just as those who earned their credentials on of after January 1, 2011. You cannot revoke your participation.
But you can choose to participate in some disciplines and not others, since ARRT® CQR requirements apply to the discipline in which you are certified and registered, and not to you the individual.

If you choose to voluntarily participate in CQR and don't complete your CQR requirements for the ARRT ® within your CQR compliance period, you are subject to the same policies as those for whom CQR is mandatory.
Exception
If you hold an ARRT® credential in a discipline that is no longer being offered, then you are not subject to CQR.
---
What is the ARRT ® CQR compliance period? When should I be getting started?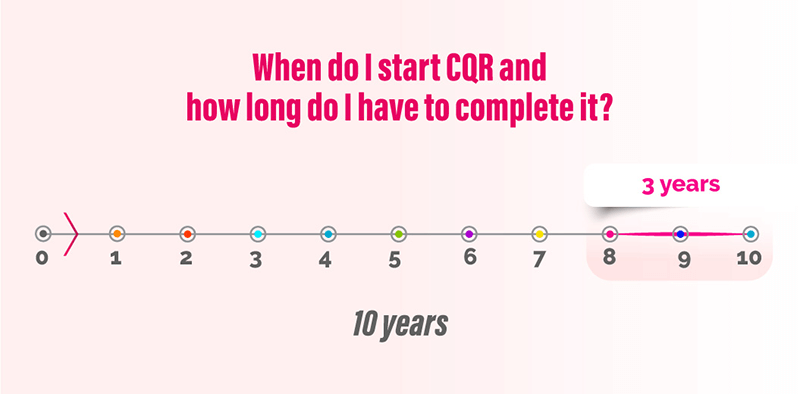 If CQR applies to you, then you need to complete the process once every 10 years for each eligible credential you hold. You must begin the CQR process during the last 3 years of the 10-year CQR period: this is your CQR compliance period.
The ARRT ® CQR (Continuing Qualifications Requirements) compliance period begins in the 8th year on the first day of your birth month and ends three years later, on the last day of the month that precedes your birth month.
In plain speak: you have 3 years to complete the process once your CQR window opens. Depending on your situation, it may take you a couple of weeks or longer to complete the entire process. The ARRT ® organization does a great job of reminding R.T.s® through their online accounts when their CQR compliance period begins.
You'll see all the details you need displayed on your dashboard, as well as a checklist for the CQR process so you don't miss anything. Just click the pencil icon in the upper righthand corner of the screen, and you're off!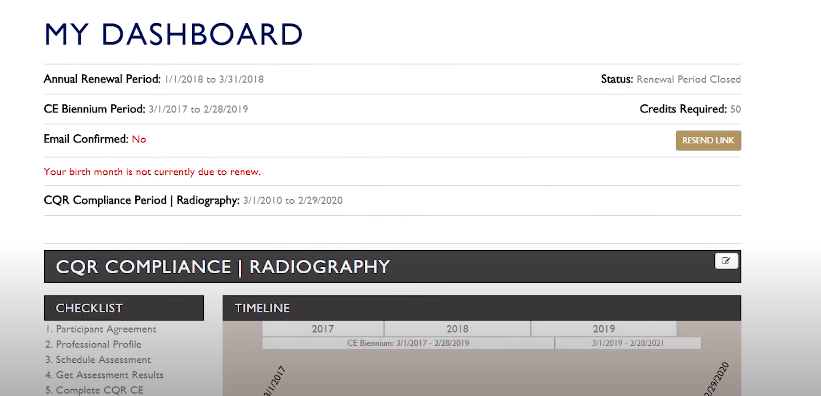 10-year CQR vs. CE biennium vs. Annual license renewal – How are they different?
Let's be very clear: all three requirements must be completed as part of holding a valid ARRT® credential.
CQR is a separate requirement.
CE biennial requirements are to be completed every 2 years during the 10-year period just as you always do. For more details, you can check out our detailed guide on completing CE requirements license renewal for ARRT®.
One noteworthy connection between ARRT ® CQR and CE biennium requirements is that the CE you complete for your CQR can also be used to fulfill your biennial CE requirements. We will talk more about how you can use this overlap to your advantage below.
Annual license renewal is to be completed every year during the 10-year period.
---
What are the different stages of the ARRT ® CQR process?
The ARRT® CQR process has three major steps. We will talk about each of them in detail below.
Professional Profile
Your first step is to complete a professional profile. You do not need to do anything to prepare for this. In this step, you'll answer questions about how often you perform the clinical activities that are common to your discipline. This process will take you about 15 minutes or so.
Once you submit your answers, they are compared to the experience of other R.T.s® in your discipline, and a report is generated. At the end of the report, the profile will summarize your experience and compare them to other practitioners within the same discipline. The data will show the frequency as well as the variety of clinical activities you have performed in the preceding years.
Based on the results of the comparison, the ARRT® organization will suggest to you online learning materials called "Clinical Refreshers." These materials are optional, free to access, and targeted to your individual areas for improvement.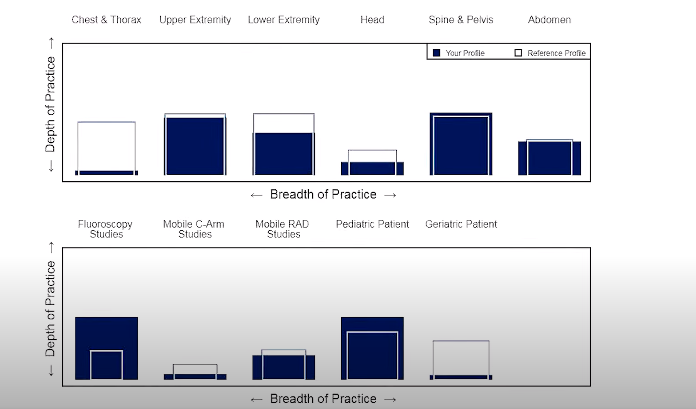 Structured Self-Assessment (SSA)
This is not an exam. You can't fail it. It simply measures your current knowledge. (And it doesn't cost anything; it's free.)
The main objective of this step is to help individuals identify gaps in their knowledge related to their discipline. You will be asked questions related to the knowledge and skills that are expected of those who are newly joining a particular discipline.
The ARRT® organization creates an SSA content outline for each discipline that defines the scope of knowledge that a qualified R.T.® or person with R.R.A.® certification is expected to know. And it is from this body of knowledge that the SSA is drawn.
You will schedule your SSA after you complete your professional profile. There are two options for taking the assessment: (1) going to a physical exam center (like Pearson VUE), or (2) taking it online from your home. You are free to choose either option.
The SSA asks questions in a variety of formats, and the duration of the assessment varies as per the discipline. But on average, the whole exam takes about 2 hours. The results are posted 1-2 weeks after the assessment date. You cannot repeat the SSA.
Your performance is reported as which standards you met. For those standards you did not meet, you will find the number of credits in each content area that you are required to complete during your CQR compliance period.
Prescribed Continuing Education
This is the final step in the ARRT CQR process. Based on the results of your SSA, you will be prescribed continuing education (CE) activities in the content categories for which the standards were not met. The number of CE credits required in each area will be indicated.
Prescribed Continuing Education is not mandatory for everyone going through the CQR process. This step only applies to R.T.s® whose professional profile and SSA revealed the need for reinforcement in specific content areas.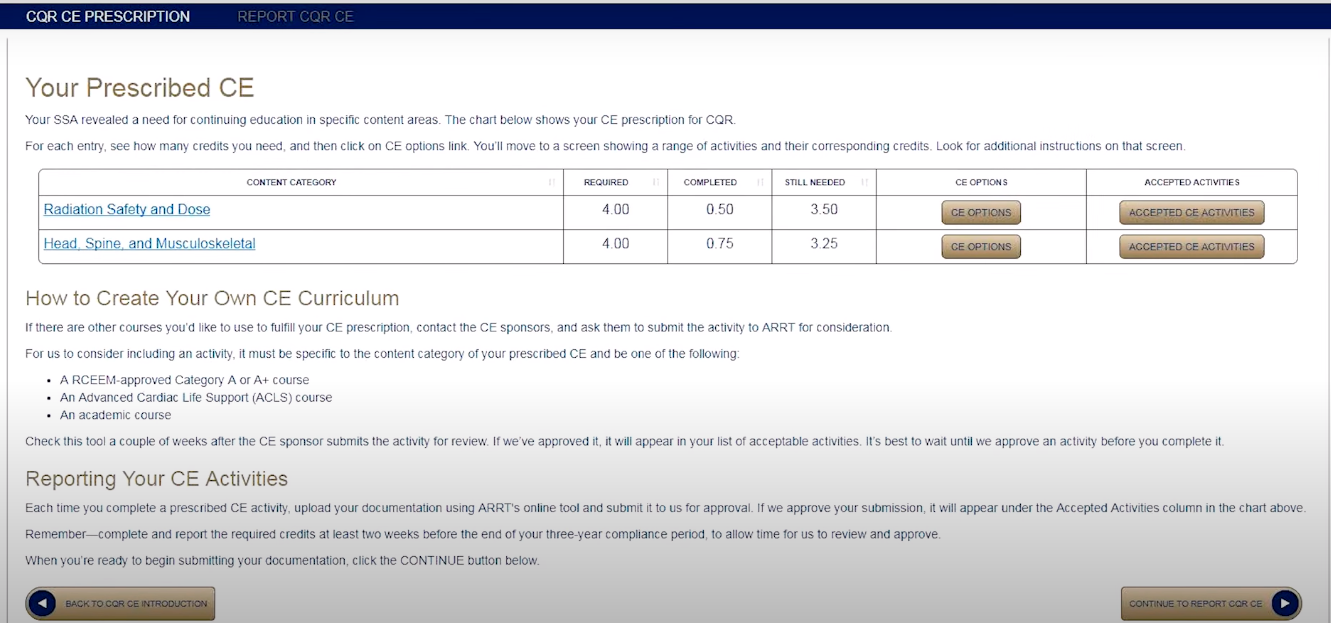 Remember: you can use the CE credits you earned for CQR to fulfill your biennial ARRT ® CQR requirements! So, plan your CE activities in advance and save yourself some money.
---
How to report your CQR CE credits to the ARRT ®
Once you complete a prescribed CQR CE activity, you can easily report it using the ARRT ®> online CQR tool. Just follow the instructions and upload your documentation. The ARRT® organization will run a check for each of your reported activities. You can check the progress by going to the tool.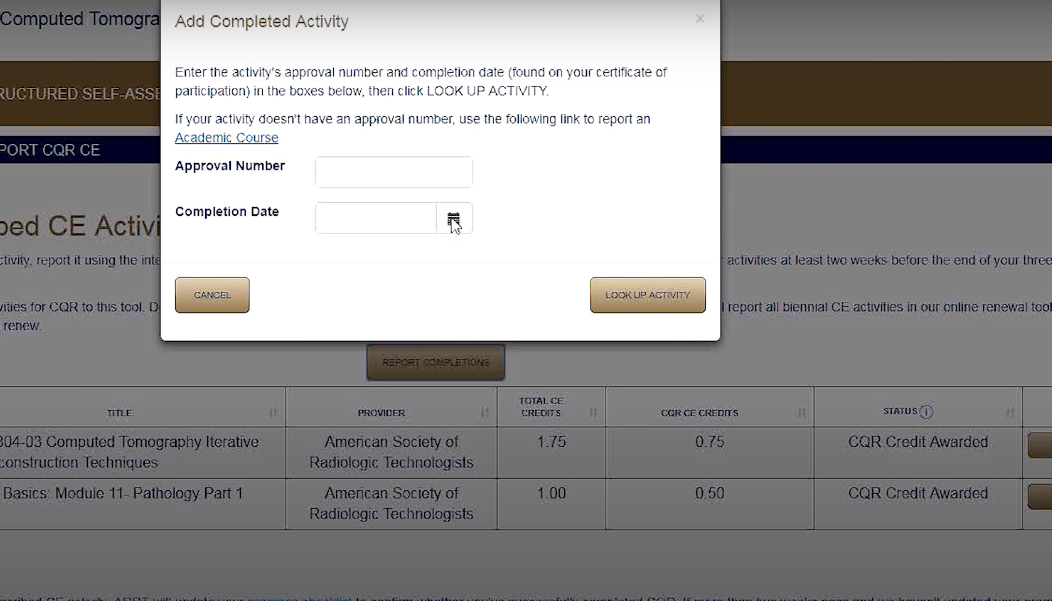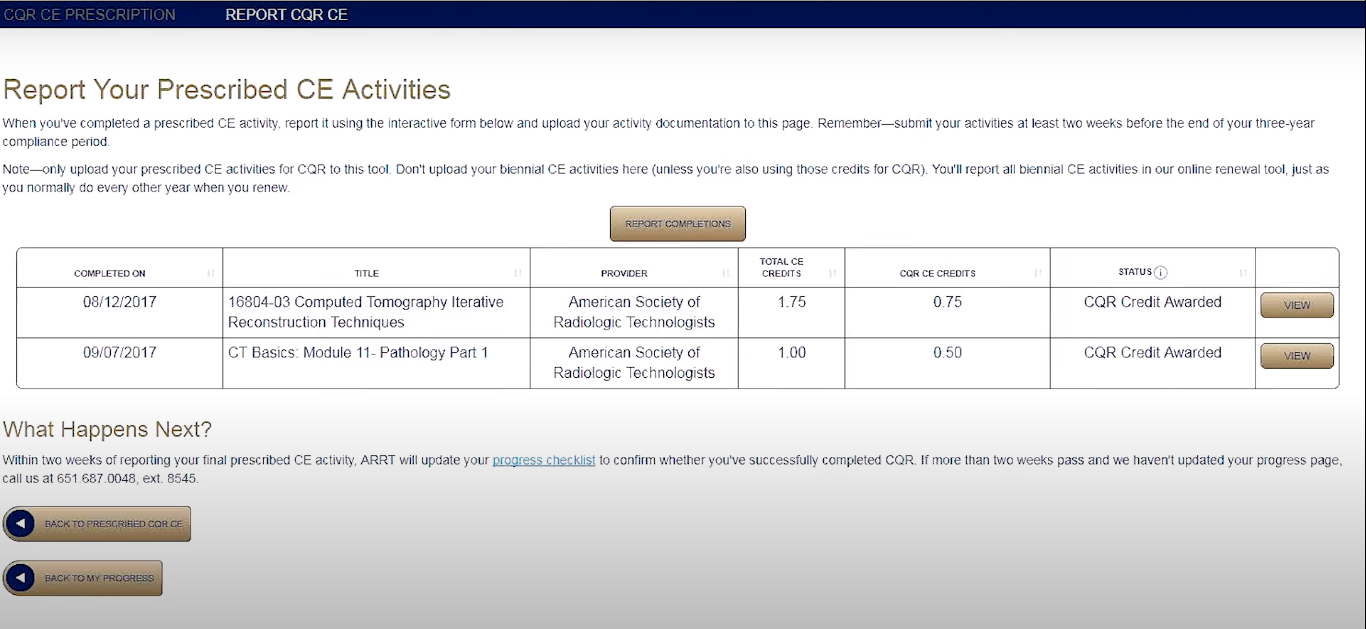 Once you have completed all the prescribed CE activities and the ARRT ® CQR process, you will see a screen like this, indicating that your CQR is complete and recorded with the ARRT ®.
What happens if I don't complete my CQR in time?
If you are unable to complete the CQR process within your CQR compliance period, your certification and registration in that particular discipline will be discontinued.
But! You can still get it done and apply for reinstatement in that particular discipline. Here's how:
You must complete all of the required CQR steps (professional profile, SSA, and prescribed continuing education, if applicable) by the end of the 11th year to become eligible for reinstatement. Be sure that you report all your CQR CE credits before the end of that 11th year, or it won't count.
From there, you simply follow the ARRT® reinstatement procedures and pay the relevant fees to reinstate your certification and registration.
---
How can I study for ARRT ® CQR?
You don't really need to study for CQR, since it is designed only to determine your professional strengths and areas for improvement in a particular discipline.
But, if you want to study to reduce the number of potential prescribed continuing education you'll be assigned to complete, there are some ways you can do that (for free!).
Don't spend your money on CQR study courses or materials! You don't need to. You can study for your CQR simply by reviewing the up to date SSA content outline for the discipline, since the SSA is typically based on that outline. We've provided links to each updated content outline below:
Reviewing these content outlines will provide you with an clear idea of what to expect on the SSA. You can also find the most up to date content outline in the ARRT ® CQR tool on your dashboard under "Content Specification Document."
You can also watch the CQR videos provided by the ARRT® organization to get an idea of what the SSA requires and will look like before you go to take it.
---
Wrapping Up!
At Medical Professionals, we are proud of the work you do as a radiologic technologist and you should be, too. Think of CQR as a way to refresh your knowledge, build new skills, and contribute to your professional pride.
We hope that you found this guide on the ARRT ® CQR process to be helpful.
If you are looking for courses online to fulfill your ARRT ® CQR requirements, we recommend our All-Access Pass, which offers you unlimited CE credits for your ARRT ® CQR, for one low fee. Check it out today, risk-free!
*Images are drawn from an ARRT® tutorial video and may be subject to change.
Disclaimer: The information provided on this website is intended to provide useful information to radiologic technologists. This information should not replace information provided by state, federal, or professional regulatory and authoritative bodies in the radiological technology industry. While Medical Professionals strives to always provide up-to-date and accurate information, laws, regulations, statutes, rules, and requirements may vary from one state to another and may change. Use of this information is entirely voluntary, and users should always refer to official regulatory bodies before acting on information. Users assume the entire risk as to the results of using the information provided, and in no event shall Medical Professionals be held liable for any direct, consequential, incidental or indirect damages suffered in the course of using the information provided. Medical Professionals hereby disclaims any responsibility for the consequences of any action(s) taken by any user as a result of using the information provided. Users hereby agree not to take action against, or seek to hold, or hold liable, Medical Professionals for the user's use of the information provided.
---
RELATED ARTICLES
ARRT® license renewal date coming close? Not sure how to renew your ARRT® license? Need to know the cost of ARRT® license renewal? This easy to understand guide will answer your most commonly asked questions…
Whether your ARRT® license has expired, been put on retired status, or been suspended or revoked, this guide will tell you what you need to do to apply for reinstatement of your ARRT® credentials …