How to Complete Your ARRT CQR (Continuing Qualifications Requirements)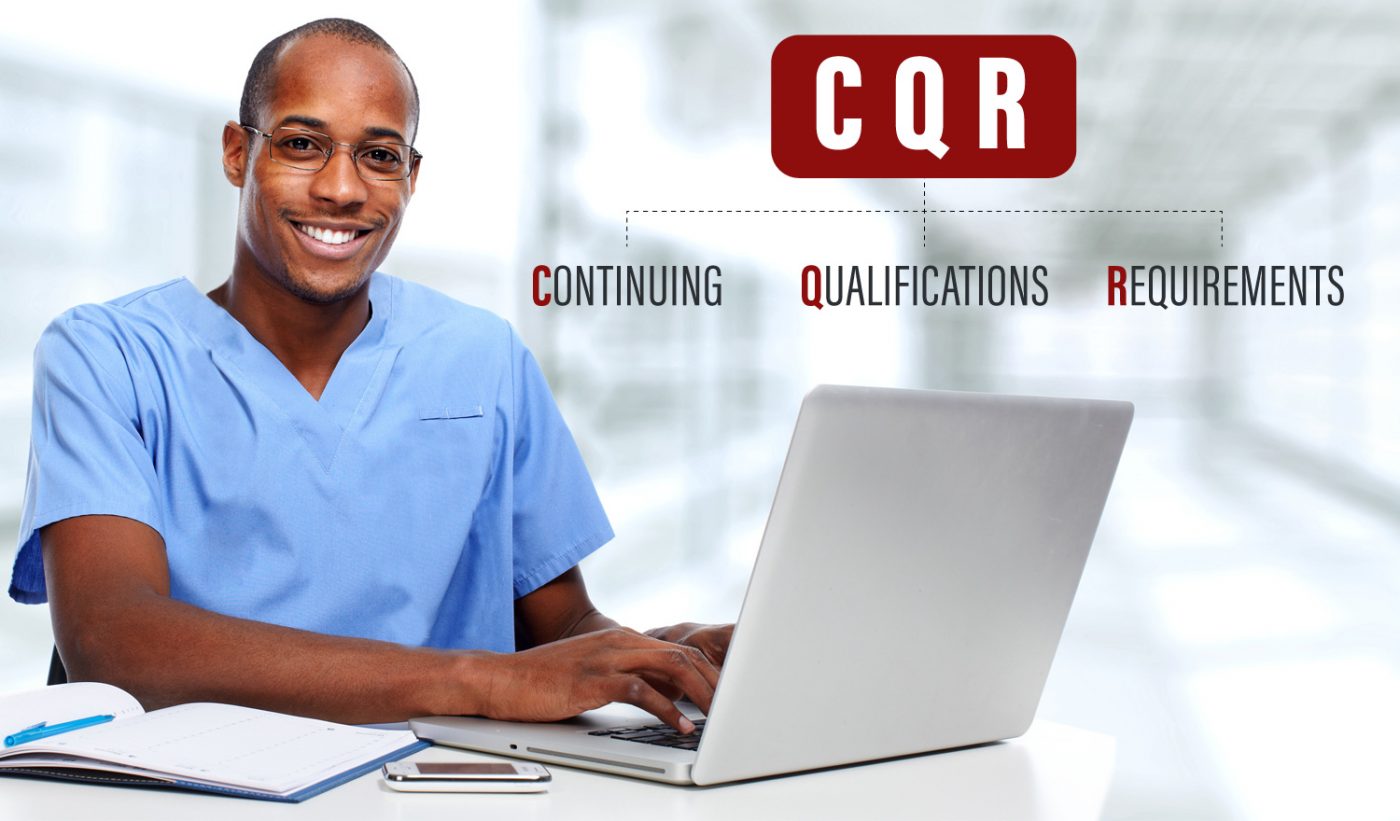 As a radiologic technologist (R.T.), patients are at the heart of everything you do. In order to provide them with the best possible care, it is important to stay on top of new health care technologies and best practices, here is where the ARRT CQR (Continuing Qualifications Requirements) comes in. Even the most experienced technologists need to continually evaluate and enhance their skills.
For this particular reason, ARRT has created a long-term requirement program for maintaining the credentials you've earned known as the Continuing Qualifications Requirements, or CQR for short.
---
Why is CQR important? Some good reasons
Offers assessment of current skill set




Going through the ARRT CQR process is a great way for R.T.s to benchmark themselves against other R.T.s and identify areas for improvement.

Improves knowledge




Once the CQR process helps an R.T. identify the gaps in his or her skills, it provides a guided path to fill those gaps.

Elevates the profession




Completing the ARRT Continuing Qualifications Requirements is a great way for R.T.s to showcase to their peers and the medical community that they are skilled and up-to-date on the work that they do everyday.

Promises better patient care




Improving their skills and keeping abreast of current best practices significantly improves the quality of care an R.T. can provide to patients.
Who does CQR apply to?
R.T.s with credentials awarded on or after January 1, 2011
As a radiologic technologist, every credential you earn on or after January 1, 2011 is subject to CQR once every 10 years.
For R.R.A.s
For Registered Radiologist Assistants (R.R.A.s), CQR needs to be completed regardless of when they earned their credential.
R.T.s with credentials awarded before January 1, 2011
For R.T.s with credentials awarded before January 1, 2011, CQR does not apply. The ARRT is in the process of developing procedures for those who are not required to complete CQR, but who would like to participate voluntarily.
Exception
If you hold a credential in a discipline that is no longer being offered by ARRT, then you are not subject to CQR.
---
What is the ARRT CQR compliance period? When should I be getting started?
If CQR applies to you, then you need to complete the process once every ten years for each eligible credential you hold. You must begin the CQR process during the last 3 years of the 10-year CQR period.
The ARRT Continuing Qualifications Requirements compliance period begins in the 8th year on the first day of your birth month and ends three years later, on the last day of the month that precedes your birth month.
Basically, you have 3 years to complete the process once your CQR window opens. Depending on your situation, it may take you a couple of weeks or longer to complete the entire process.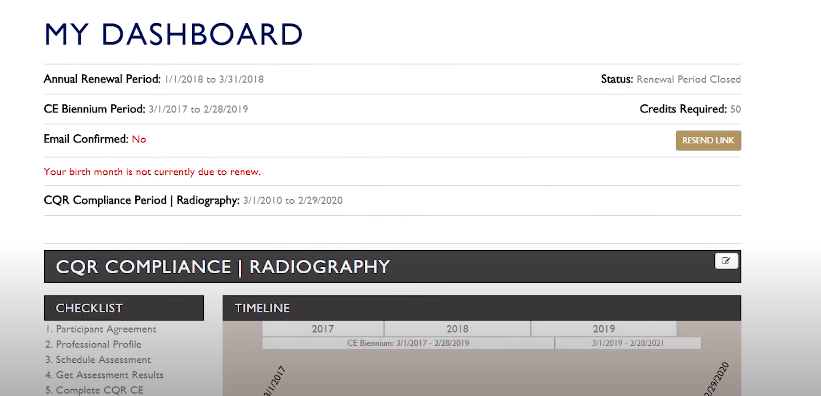 10-year CQR vs. CE biennium vs. annual license renewal – How are they different?
Let's be very clear: all three requirements must be completed as part of holding a valid ARRT credential.
CQR is a separate requirement.
CE biennial requirements are to be completed every 2 years during the 10-year period just as you always do. For more details, you can check out our detailed guide on completing CE requirements for ARRT license renewal.
One noteworthy connection between CQR and CE biennium requirements is that CQR CE can be used to fulfill your biennial CE credits. We will talk more about how you can use this overlap to your advantage below.
Annual license renewal is to be completed every year during the 10-year period.
---
What are the different stages of the CQR process?
The CQR process has three major steps. We will talk about each of them in detail below.
Professional Profile
You do not need to do anything to prepare for this step.
Your first step is to complete a professional profile. In this step, you answer questions about how often you perform the clinical activities that are common to your discipline.
Once you submit your answers, they are compared to the experience of others in your discipline and a report is generated.
Based on the results of the comparison, ARRT will suggest to you online learning materials called "Clinical Refreshers". These materials are optional, free to access, and targeted to your individual areas for improvement.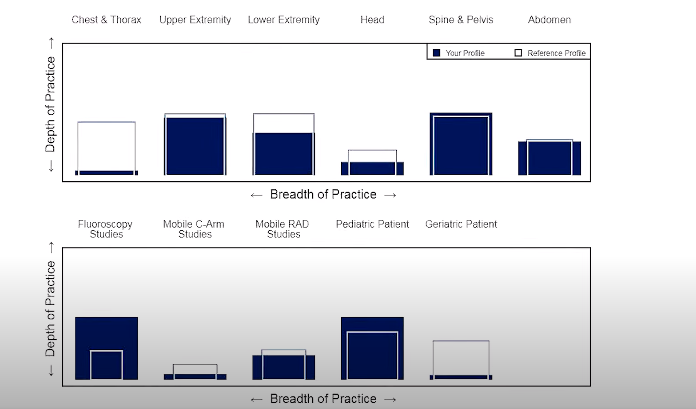 Structured Self-Assessment (SSA)
This is not an exam. You can't fail it. It simply measures your current knowledge.
The main objective of this step is to help individuals identify gaps in their knowledge related to their discipline.
An SSA content outline is created for each discipline to define the scope of knowledge that a qualified R.T. or R.R.A. is expected to know.
You must schedule your SSA after you complete your professional profile. There are two options for taking the assessment: (1) going to a physical exam centre (like Pearson VUE), or (2) taking it online from your home. You are free to choose either option.
The SSA asks questions in a variety of formats and the duration of the assessment varies as per the discipline. The results are posted 1-2 weeks after the assessment date.
Prescribed Continuing Education
This is the final step in the CQR process. Based on the results of your SSA, you will be prescribed continuing education (CE) activities in the content categories for which the standards were not met.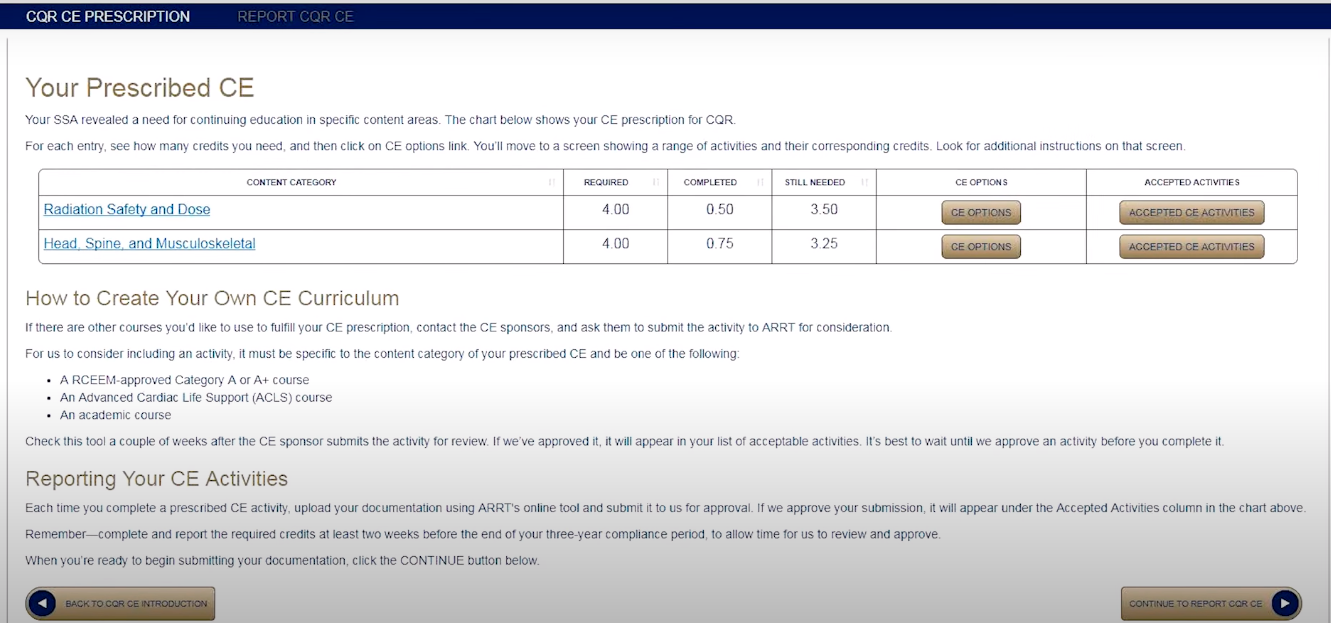 Please note that you can use the earned CE credits for CQR to fulfill your biennial CE requirements. So, plan your CE activities in advance and save on additional costs.
---
ARRT-Approved CQR CE Activities in Various Content Areas from Medical Professionals (Your Trusted CE Sponsor)
---
How to report your prescribed CE credits
Once you complete a prescribed CQR CE activity, you can easily report it using ARRT's online tool for CQR. Just follow the instructions and upload your documentation. ARRT will run a check for each of your reported activities. You can check the progress by going to the tool.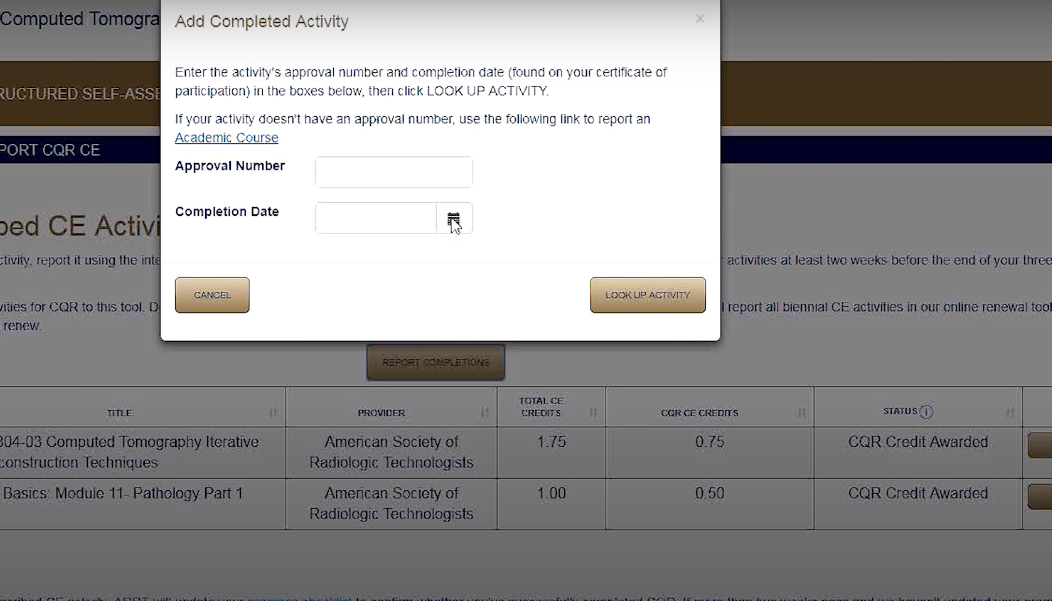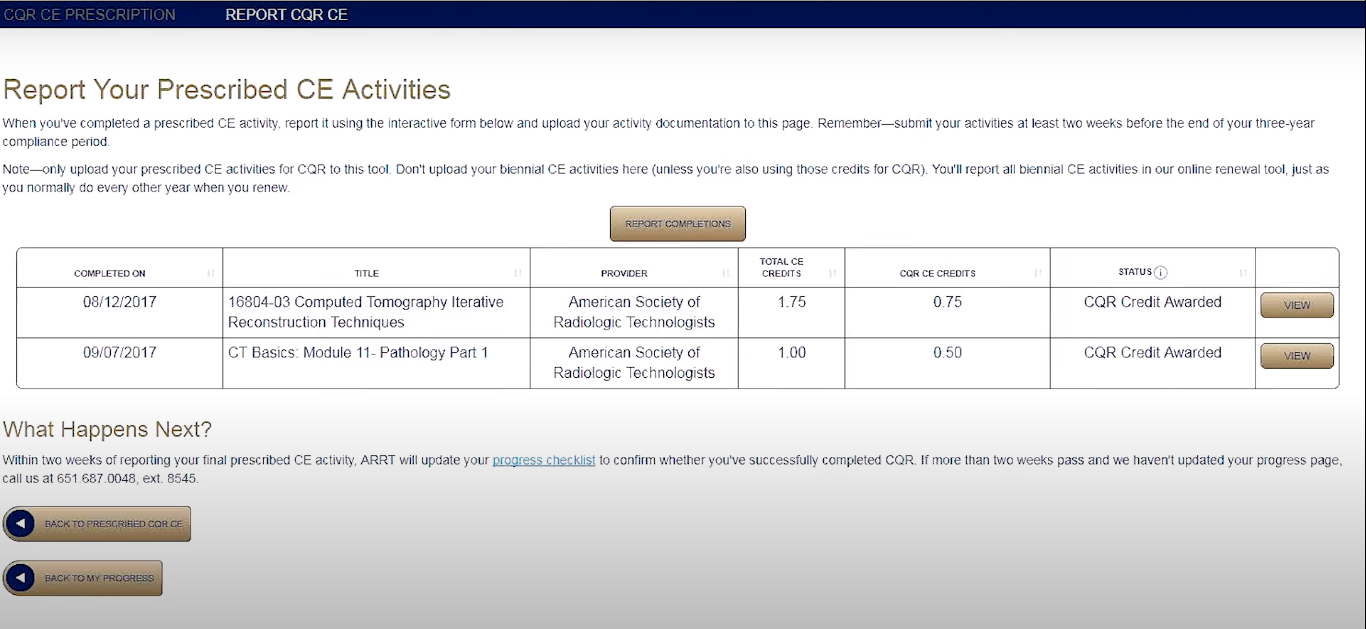 Once you have completed all the prescribed CE activities and the ARRT CQR process, you will see a screen like this, indicating that your CQR is complete and recorded with the ARRT.
What happens if someone is not able to complete the CQR process in time?
If you are unable to complete the CQR process within your CQR compliance period, your certification and registration in that particular discipline will be discontinued.
---
Wrapping Up!
At Medical Professionals, we are proud of the work you do as a radiologic technologist and you should be, too. Think of CQR as a way to refresh your knowledge, build new skills, and contribute to your professional pride.
We hope that you found this guide on the ARRT CQR process to be helpful.
If you are looking for CQR CE credit courses online to fulfill your prescribed CQR CE activity requirements, then Medical Professionals can offer a rich catalog of ARRT-approved CE courses to you.
*Images are drawn from an ARRT tutorial video and may be subject to change.