ARRT® Guidance & COVID-19: Important Updates For RTs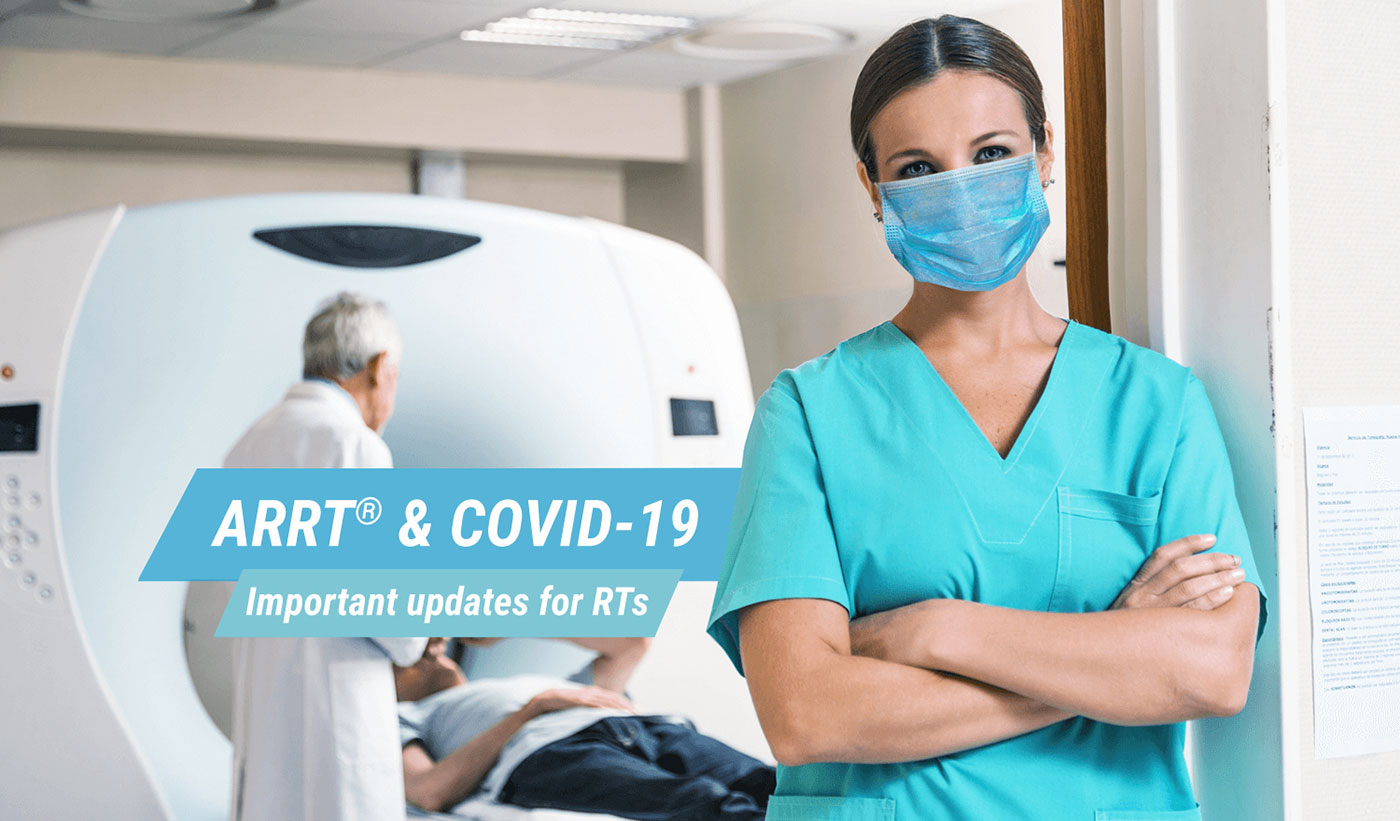 During the COVID-19 pandemic, the American Registry of Radiologic Technologists® (ARRT ®) organization is keeping a close watch on the situation to take measures that would reduce the impact on its community of radiologic technologists (RTs).
As per ARRT ®'s census page, there are 345,450 registered RTs as of July 2020. These medical professionals rely on the ARRT ® website and its social media channels for obtaining reliable information pertaining to registrations, renewals, and more.
In light of the COVID-19 situation, ARRT ® administration has set up a dedicated section on their website – the ARRT ® COVID-19 Update Page at – https://www.arrt.org/COVID-19-Update
The purpose of this page, as highlighted in one of their Facebook posts, is to offer a primary communication vehicle during the coronavirus pandemic.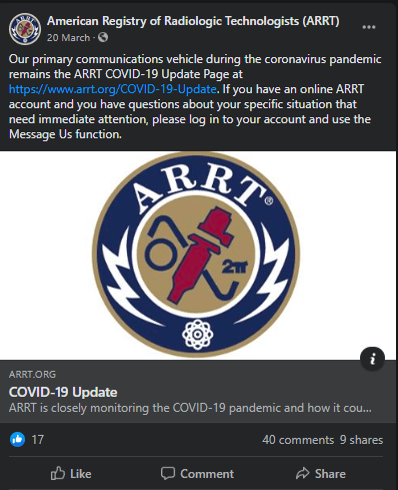 In this article, we will share reliable information on how the ARRT ® organization has responded to the COVID-19 pandemic with regard to license renewal and CE requirements for R.T.® and R.R.A.® certification.
We have broken all the important information on ARRT ® guidance and COVID-19 into an FAQ format. Keep reading to learn more.
---
How do I contact the ARRT
®

organization during the COVID-19 pandemic?

As per the ARRT

®

website, here are the recommended communication options:
Online ARRT

®

Account
This should be the first option for you. As a registered RT, you will have an online account with the ARRT

®

organization. Please log in using your credentials. After that, select "Contact" in the top-right corner and then select "Message Us" from the dropdown. You can expect a response within one business day.
Call at 651-687-0048
If you prefer to get answers over the phone, you can. However, be aware that you may have to wait for longer times for someone to respond as COVID-19 has put more pressure on the support staff's bandwidth.
Will the ARRT
®

organization conduct CE audits during the COVID-19 pandemic?

Yes, you are still required to respond in case you are asked to provide your CE certificates as proof in a random audit.
Is there an extension on renewal or postprimary eligibility pathway requirements?
Temporary deadline extensions have been given to many requirements. However, the best way to confirm your specific case is to visit your ® account online.
For more details on how the ARRT ® license renewal process works, you can visit our detailed guide on the topic.
---
What is the best way to check the validity of someone's license in the COVID-19 situation?
The ARRT ® organization recommends using its Verify Credentials directory. It allows patients, employers, and others to quickly verify the validity of someone's license.
Is it still possible to take the Structured Self Assessment (SSA) for completing CQR requirements in the COVID-19 situation?
Yes. An online proctored option at some Pearson VUE test centers is available to allow you to take the assessment while respecting social distancing and staying safe. However, they are also operating on reduced capacity. You can visit this link to schedule or reschedule an appointment with Pearson VUE.
Check out our complete guide on completing your CQR requirements here.
---
Completing your ARRT
®

CE Requirements During the COVID-19 Pandemic With Medical Professionals

While the ARRT ® organization has extended the deadline for completing the CE requirements to maintain a valid license, you'll still need to do it at some point.

We at Medical Professionals offer high-quality, trustworthy, and affordable radiology CE courses online to help RTs across the country in completing their CE credits successfully from the comfort and safety of their homes.
A Flexible Radiology CE Credit Store
All-Access Pass
Pay Per Course Option
Pay Per Test Option
$39.99 All Inclusive
As low as $2.50/CE Credit
$4/CE Credit
BECOME A MEMBER
SHOP COURSES
SHOP NOW
Additional Resources
---
Wrapping Up!
Reliable and regular information for RTs during this pandemic is essential to avoid inconvenience and confusion regarding their license renewal needs. The ARRT ® organization is doing a job in this regard, and their relaxations on renewal deadlines are a welcome reprieve for those with R.T.® and R.R.A.® certification who are working the frontlines during this crisis.
Through this article, we have tried to bring this information to you in an easy to understand manner. For the latest updates, follow our Facebook page which is regularly updated with news from trusted sources for our RT community.