ARRT® License Renewal Guide: How to Renew Your ARRT® License
ARRT ® license renewal date coming close? Not sure how to renew your ARRT ® license? Need to know the cost of ARRT ® license renewal and how to submit your CE credits to ARRT ®? This easy to understand guide will answer your most commonly asked questions about ARRT ® certification renewal.
As a radiologic technologist (RT), patients are at the core of everything you do. With the advancement in medical imaging technology and changing job responsibilities, it is critical that you continue to grow your knowledge and skills so you can deliver the best possible care to the patients you serve. For this reason, The American Registry of Radiologic Technologists® (ARRT ®) rules requires all registered RTs to fulfill a variety of important requirements periodically. This covers staying compliant with ARRT ® Rules and Regulations and ARRT ® Standards of Ethics.
In addition, an RT with ARRT

®

certification also needs to:
Complete an application for your ARRT

®

certification and registration renewal on an annual basis

Report the Continuing Education (CE) requirements completed every two years along with the renewal application

Registered Radiologist Assistants (R.R.A® certified) are required to complete Continuing Qualifications Requirements (CQR) every 10 years
In this guide, we will focus on how you can complete your continuing education (CE) requirements and ultimately renew your ARRT ® license in a hassle-free manner.
So let's get started.
---
What are the ARRT
®

continuing education (CE) requirements for RTs?

As a registered RT, you are required to complete and report 24 credits' worth of approved CE activities every two years. In case of a person with R.R.A.® certification, it's 50 credits.

The CE requirements have to be documented and reported along with the renewal license application over a two-year period also known as a biennium.
What is an RT's biennium?
A biennium is defined with respect to the RT's birth date. It is a two-year period that ends one month before the RT's birth month.
Let's explain the concept of a biennium with the help of an example.
Example of a Biennium Reporting Period
Assume that your birthday month is April, and you received your ARRT ® credential in February 2020. Your biennium would be April 1, 2020 to March 31, 2022.
Note:
All CE credits must be completed during the biennium period

You can't transfer your earned credits from one biennium to another

The ARRT

®

certification and registration renewal happens every year, with the CE requirements being reported every two years
The ARRT ® website "Verify Credentials" feature allows you to check the biennium for anyone provided you know their first and last names. Here's what it looks like.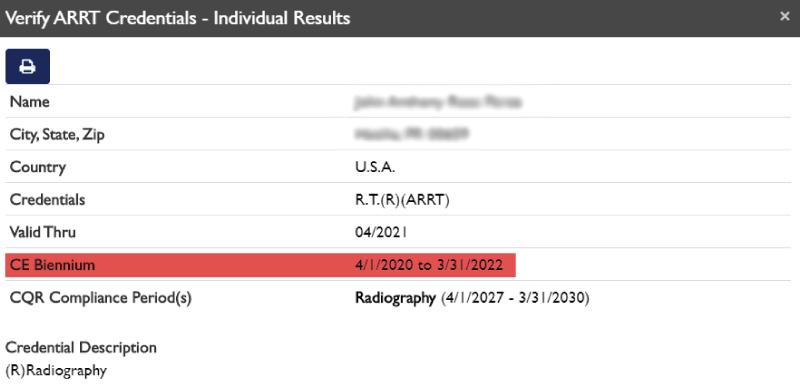 Just to be clear, there are 2 more ways to complete the ARRT

®

CE requirements. These are:
Getting certified in a new discipline that is ARRT

®

recognized for this purpose
Earning a postprimary certification in a new discipline that is also for ARRT

®

certification
However, earning CE credits is the easiest and most common method for RTs to meet their CE requirements. So the rest of this guide will focus on that method.
---
What are the different options to gain CE credits for ARRT
®

license renewal?

CE credits are earned by undertaking a CE activity that has been evaluated and for ARRT ® certification Recognized Continuing Education Evaluation Mechanism (RCEEM) or RCEEM+ or completing approved academic courses during the biennium.

Other important points to understand about CE credits are:
They can be Category A or A+. The activities approved by a RCEEM or are awarded Category A+ credit

Credit activities should be related to radiology sciences and/or patient care and need not be specific to radiology or mammography only
Here are the different types of CE activities:
Online courses (most popular)

Self-study readings

Seminar lectures

Classroom learning
Out of the above CE activities, taking online courses approved by an ARRT ® RCEEM is one of the easiest and most convenient options.
A few good reasons why taking online ARRT

®

CE credit courses makes so much sense.
Easy to access




Online courses have become the new normal for professionals to upskill themselves. With just a smartphone and an internet connection, you can learn new skills anytime, anywhere. There are a lot of quality and authentic CE courses available online for you to pick from.

Affordable




Online education is generally cheaper than other mediums of learning, whether it is classroom learning or attending a seminar. The CE courses available online are much cheaper compared to offline channels and can be bought in multiple ways, too. For example, if you only need 4 credits to complete your CE requirement, you can buy a 4 credit CE course online and get a pass completion certificate for it.

Interactive learning




The quality of online radiology CE courses is quite good. Some courses, such as those provided by Medical Professionals, allow an RT to learn in a much more playful and engaging manner.
---
How do I submit my ce credits to the ARRT
®

organization and report that I have completed my CE requirements?

It is simple and easy to submit the ce credits you have earned to the ARRT ® organization. When you take an online course and pass the related test, you are immediately issued a certificate of completion that you will keep as proof of your CE activity. Keep your certificate handy as it contains the information you'll need to report the credits you've earned.

Log in to your ARRT ® account.

The My Dashboard section of your account will display your personalized information about your CE biennium deadlines. Be sure to complete your CE requirements within the deadlines.

A series of dropdown menus will walk you through how to submit your CE credits to the ARRT ® organization. Enter the required information about your CE activity and submit it. It's just that simple.
Okay, I've submitted my CE credits to the ARRT
®

organization. Now, how do I renew my ARRT

®

license?

The ARRT ® organization has made license renewal quick and easy through providing online renewal services.
Simply login to your account on www.arrt.org and select "Online Renewal"

Your CE landing page should show the credits you have previously uploaded. If any of your credits do not appear on the form, simply list them manually
If you are wondering about the ARRT ® certification and license renewal cost, in addition to the cost of the CE activity, here is more information on that.
The ARRT ® organization documents it well on this page on their website – https://www.arrt.org/news/2017/12/05/renewal-fees-for-2018-increase-slightly
Here's the simplified version of ARRT ® license renewal costs.
One Credential
$30 per year (if you used the ARRT

®

primary pathway)
$45 per year (without a supporting discipline)
Multiple Credentials
$30 or $45 per year (depending on the above scenario) + $15 per additional credential.
What happens if I fail to complete the CE requirements during my biennium period?
If you apply for the renewal but fail to complete your CE requirements, you are put on "Probation Status" and issued a new credential card that highlights your "CE Probation". You will get almost 6 months to complete your pending CE requirements, and then you will have to submit a Probation Report Form together with a $50 fee.
In the worst case, if you fail to complete your CE requirements during your probation period, then your ARRT ® certification and registration renewal and will be cancelled.
To have your license reinstated, you will have to complete the reinstatement requirements as per the ARRT ® Rules and Regulations.
Wrapping Up!
Continuing education is an essential part of every RT's professional career. Not only does it enable them to maintain their ARRT ® license, but, more importantly, it allows them to deliver better care to the patients they serve daily.
We hope this guide was able to answer all the important questions you may have regarding the ARRT ® license renewal cost and process. As highlighted above, taking online ASRT approved CE courses is the simplest method to complete your CE credit requirements.
Medical Professionals is proud to offer RTs like you such online CE courses in a simplified subscription package and contribute to your continuing success as a radiologic technologist.
Keep learning! Keep serving! And keep making us proud!