Your Florida Radiology License Renewal Guide
Categories

news

Date

October 31, 2022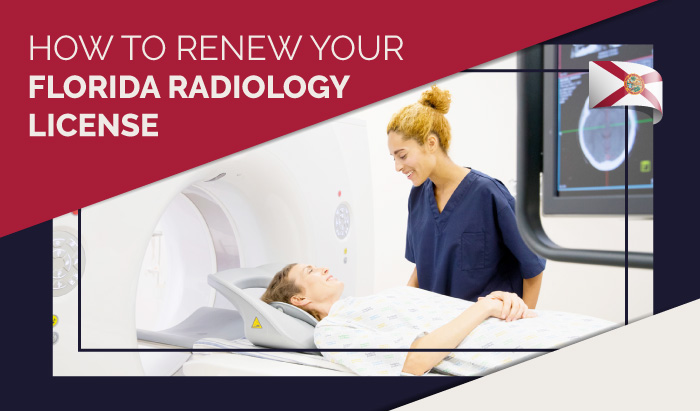 Your Florida Radiology License Renewal Guide – Radiologic Technologist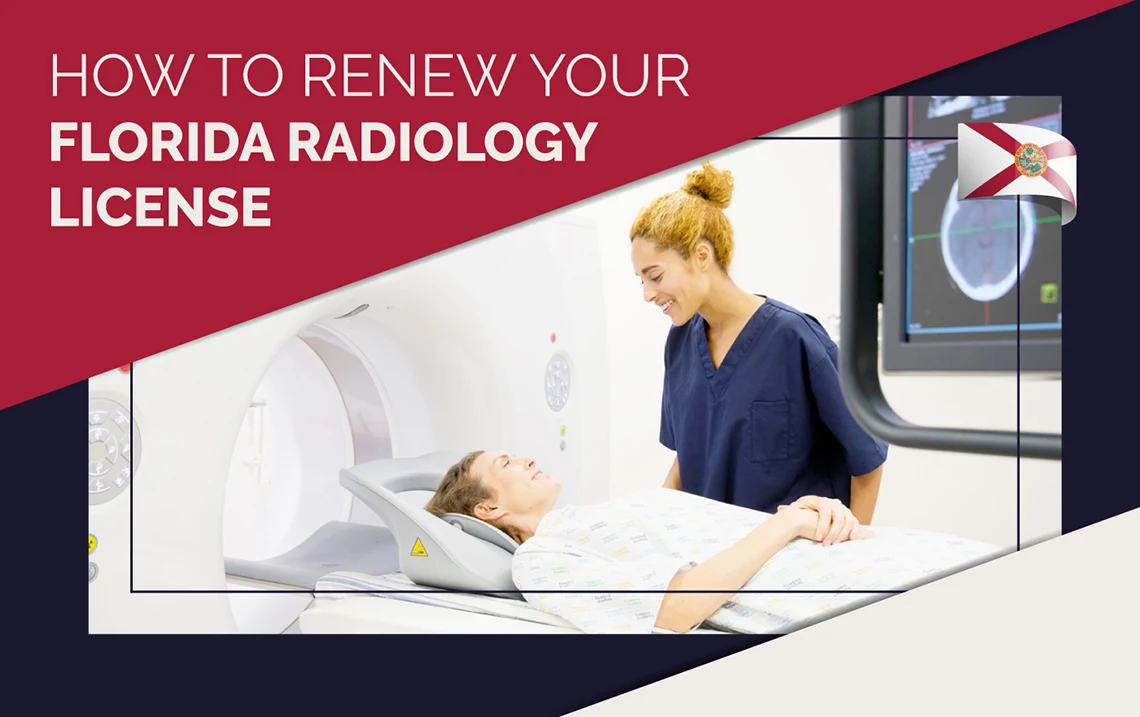 Medical Professionals is proud to announce that it is an approved CE provider for the state of Florida. On the 1st of each month, Medical Professionals reports CE activity to the Florida Department of Health on behalf of our members working in the state.
Practicing as a radiologic technologist (RT) in the state of Florida and not sure what the process to renew your radiology license is? Don't worry. We've got you. This detailed guide to Florida radiology license renewal will give you all the information you need to renew and maintain your license to practice.
Let's get you started!
Table of Contents
---
Florida Radiology License Renewal Overview
The Florida Department of Health's Council on Radiation Protection is the main body responsible for all matters pertaining to licensing of radiology professionals with the objective of ensuring competency and safe practice in the state.
In a process similar to ARRT® license renewal, radiologic technologist licensees in the state of Florida have to renew their licenses biennially, with the deadline dependent on their birth month. In order to renew their license, Florida radiologic technologists must meet specific continuing education requirements and pay the relevant fees.
Let's take a look at the continuing education requirements first.
---
Continuing Education Requirements for Florida Radiology License Renewal
You must complete 12 hours of general continuing education credits

You must complete a Department of Health (DOH)-approved one-hour HIV/AIDS update course
| | |
| --- | --- |
| Required Subject Area | Required Number of Hours |
| General Hours | 12 |
| HIV/AIDS Educational Course | 1 |
Florida State Continuing Education (CE) Requirements For Radiologic Technologists license renewal
Important Notes
Only 3 out of the 12 CE credits can be non-field related and categorized under personal development

The rest of the credits must be classified as technical, such as those related to equipment operation, radiation protection, etc.

You cannot repeat the same course for CE credit in the same renewal cycle
---
How can I complete my 12 CE credits? What are my options?
Option 1 (Most popular): Online CE Courses
Far and away the most popular and convenient method for completing your required CE credits is taking online CE courses from CE providers approved by the state of Florida (like us!). And with CE plans like Medical Professionals' All-Access Pass, which gives you unlimited CE credits for your state (and ARRT®!) renewal for one low fee, this option is often the most affordable way to complete your state requirements. Remember to select your courses carefully, as you can only complete a maximum of 3 CE credits categorized as personal development.
Option 2: ARRT® Postprimary Exam
By passing a post-primary examination approved by the ARRT® organization or by the Nuclear Medicine Technologist Certification Board (NMTCB®), you can earn the full 12 contact hours all in one go—provided you pass the exam during your current renewal cycle.
This is, of course, a more difficult option. But if you intend to earn a new ARRT® credential anyway, remember that it counts toward your CE, so you don't overwork yourself necessarily!
To get CE credit for passing a postprimary exam, you'll need to submit documentation to the Florida DOH that you passed, such as an official board or registry letter stating your name, the date you took the exam, and your passing score. Send it to the following address:
Department of Health
Licensure Support Services
Bin # C – 10
Tallahassee, FL 32399-3285
---
So, how do I renew my license? What's the process?
For Florida radiologic technologists, your license renewal window opens 90 days before the expiration date of your current license. The Florida DOH will send you a renewal notification via both mail and online at least 60 days before your license expiration date.
Once your renewal window opens, there are 3 key steps to renewing your Florida radiology license:
Submit the renewal form (online or offline)

Pay the renewal fees

Submit proof that you completed the required CE credits (This will be done on your behalf if you completed your CE credits with a Florida-approved provider)
How To Renew Your Florida Radiology License Online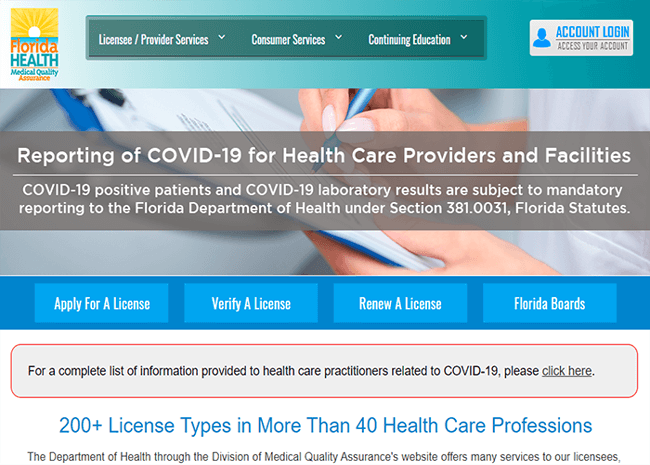 Visit http://www.flhealthsource.gov/ and choose the "Renew A License" option

Log in with your credentials

Once you enter your main dashboard, you will see a "Renew A License" option in the 90-day period from your license expiration date

If you hold more than one license, select the license you want to renew and complete the online form and payment of license renewal fees

During the renewal process, you can upload your completed CE activity certificates yourself if they have not been added automatically by the CE provider
If you want to know the number of CE credits you have completed at any point in time, you can go to the CE tab.
Fees for Florida Radiology License Renewal
It is approximately $55 to renew your Florida radiology license, but the actual cost may vary depending on your current license status.
If renewing BEFORE your license expires, your fees will be:
| | |
| --- | --- |
| Active to Active* | $55.00 |
| Active to Inactive | $40.00 |
| Inactive to Active | $55.00 |
If renewing AFTER your license expires, your fees will be:
| | |
| --- | --- |
| Expired to Active* | $155.00 |
If reactivating OUTSIDE the renewal cycle, your fees will be:
| | |
| --- | --- |
| Inactive to Active* | $55.00 |
*An additional $40.00 will be charged for each certification added after the first.
If you don't have a credit card or debit card to pay your renewal fees online, you can still complete your online renewal. Simply print out a copy of your application summary and mail it and your money order or cashier's check to the following address:
Division of Medical Quality Assurance
P.O. Box 6320
Tallahassee, FL 32314-6320
What do I do if I am not able to renew my license online?
You may be unable to renew your license online for one or more of the following reasons:
Your license is in an inactive state

Either accidentally or intentionally, you answered yes to the question regarding criminal conviction

A technical issue
If you find you are unable to renew your license online, you can contact the department to help you with this query.
Customer Contact Center
(850) 488-0595
Monday through Friday | 8:00 a.m. to 6:00 p.m. ET
What happens if I fail to renew my license by its expiration date?
If you fail to renew your license before its expiration date, it will be put on an expired status. You will need to pay an additional fee to make it active again.
In the unfortunate situation that you are unable to renew your license within 10 years of expiration, it will be rendered null and void by the department.
How to Reactivate Your Florida Radiology License
If your license is expired or inactive, you'll need to contact the Florida DOH to request a reactivation form and instructions on how to complete the reactivation process, which is very similar to the renewal process.
You'll need to complete 3 main steps:
Submit your reactivation form

Pay the relevant fees

Submit documentation that you've completed the required CE credits*
*The number of CE credits you'll be required to complete in order to reactivate your license will depend on how long your license has been inactive or expired. Usually, the department requires you to complete 3 CE credits hours for every 6 months your license has been inactive or expired. You'll need to complete all of them within the 2-year period immediately preceding reactivation.
The Florida DOH will provide the required number of hours and the correct fees when they print your reactivation form for you.
---
Wrapping Up!
Just like our other guides on state-specific license renewal processes (for example, the license renewal process for California), this is meant to be a simple yet accurate guide for how to renew your Florida state radiology license.
The process is very straightforward. The Florida Department of Health has also done a great job of putting information on their website to support you in renewing your radiology license.
With the help of Medical Professional's rich library of Florida-approved online CE courses, you can easily complete your license renewal process over the weekend. And, as a Florida-approved CE provider, we'll even do the tedious work of submitting all your CE activities for you, making renewing your license just that much easier.
Disclaimer: The information provided on this website is intended to provide useful information to radiologic technologists. This information should not replace information provided by state, federal, or professional regulatory and authoritative bodies in the radiological technology industry. While Medical Professionals strives to always provide up-to-date and accurate information, laws, regulations, statutes, rules, and requirements may vary from one state to another and may change. Use of this information is entirely voluntary, and users should always refer to official regulatory bodies before acting on information. Users assume the entire risk as to the results of using the information provided, and in no event shall Medical Professionals be held liable for any direct, consequential, incidental or indirect damages suffered in the course of using the information provided. Medical Professionals hereby disclaims any responsibility for the consequences of any action(s) taken by any user as a result of using the information provided. Users hereby agree not to take action against, or seek to hold, or hold liable, Medical Professionals for the user's use of the information provided.
---
RELATED ARTICLES
ARRT® license renewal date coming close? Not sure how to renew your ARRT® license? Need to know the cost of ARRT® license renewal? This easy to understand guide will answer your most commonly asked questions…