How to Renew Your Florida Radiology License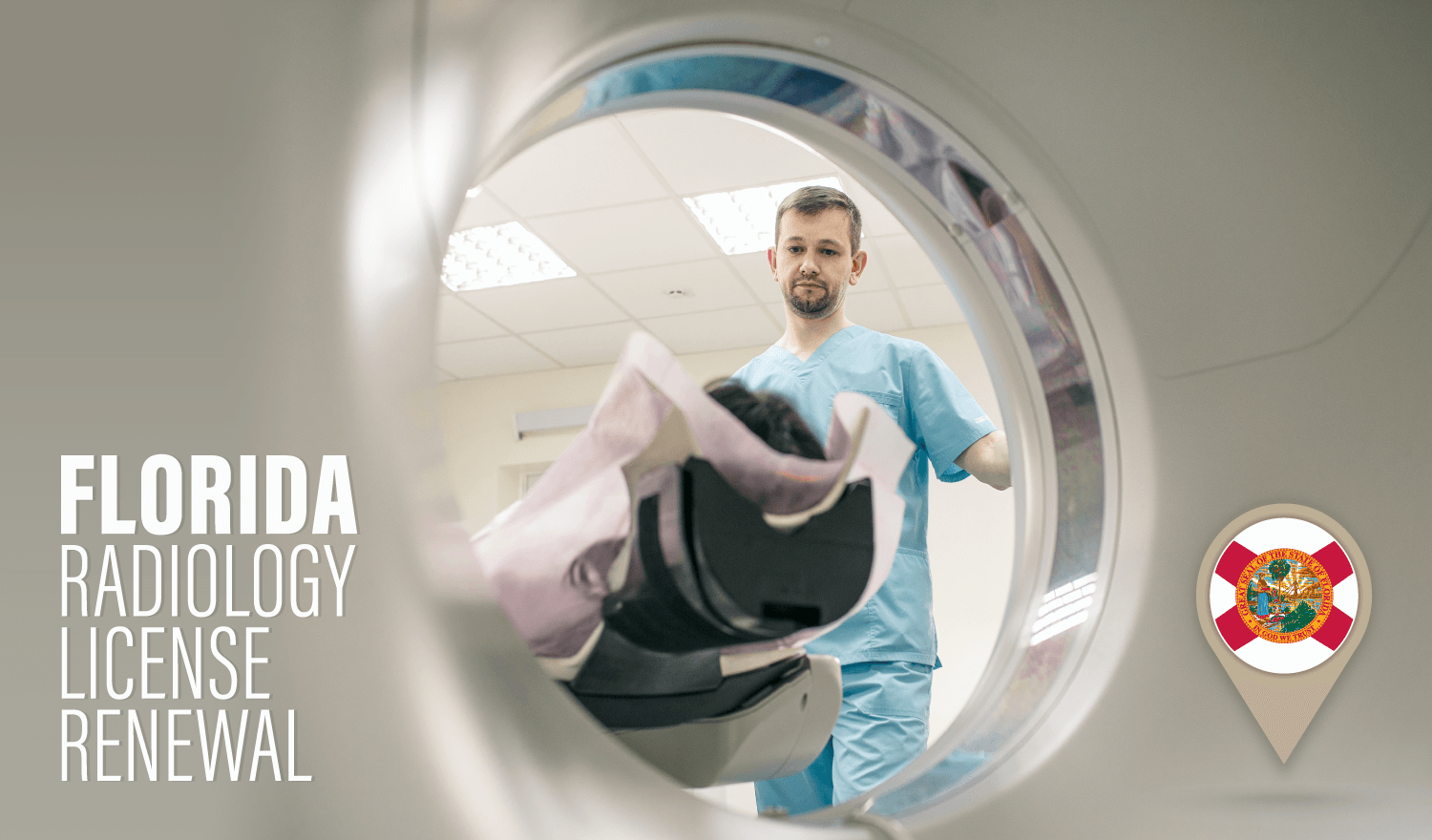 Practicing as a radiologic technologist (RT) in the state of Florida? Not sure what the process to renew your license is? After reading this detailed guide, you will have all the information you need for your radiology license renewal in the state of Florida.
Let's get started.
The Council on Radiation Protection under the Florida Department of Health is the main body responsible for all matters pertaining to licensing of radiology professionals with the objective of ensuring competency and safe practice in the state.
Similar to the ARRT® license renewal process, permit holders have to renew their licenses biennially, with the deadline dependent on their birth month.
---
Continuing Education Requirements for Florida Radiology License Renewal
You must complete 12 contact hours of continuing education credits

You must complete a Department of Health (DOH)-approved one-hour HIV/AIDS update course
| | |
| --- | --- |
| Required Subject Area | Required Number of Hours |
| General Hours | 12 |
| HIV/AIDS Educational Course | 1 |
Florida State Continuing Education (CE) Requirements For Radiologic Technologists
---
What are the options available to complete the 12 General Contact Hours?
Option 1 (Most popular)
Taking online CE courses from state-approved CE providers.
Option 2
By passing a post-primary examination approved by the ARRT ® or (Nuclear Medicine Technologist Certification Board) NMTCB ®, you can earn the complete 12 contact hours all in one go—provided you complete it in the current renewal cycle.
Important Notes
Only 3 out of the 12 CE credits can be non-field related and categorized under personal development

The rest of the credits must be classified as technical equipment operation, radiation protection, etc.

The same course cannot be repeated twice in the same renewal cycle

Proof of completion must be submitted to the department. It should have your name, date of examination, and your score
---
What is the process to renew my license?
3 key steps are involved in the Florida radiology license renewal process:
Submission of renewal form (online or offline)

Payment of renewal fees

Submission of proof of completion of the required CE credits
A renewal notification is issued by the department, via both mail and online, at least 60 days before your license expiration date.
Online renewal instructions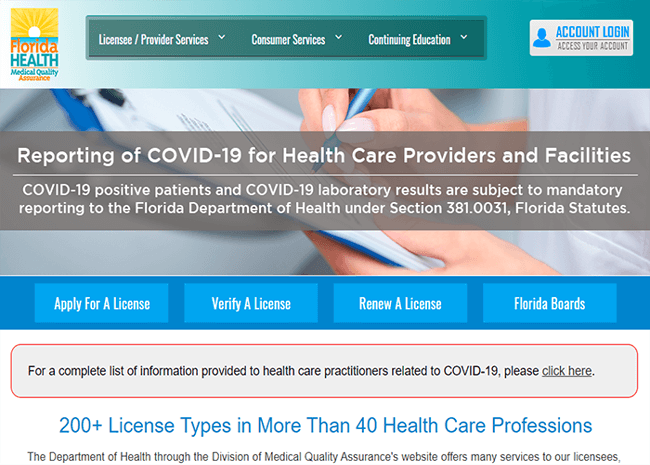 Visit http://www.flhealthsource.gov/ and choose the "Renew A License" option

Log in with your credentials

Once you enter your main dashboard, you will see a "Renew A License" option in the 90-day period from your license expiration date

If you hold more than one license, select the license you want to renew and complete the online form and payment of license renewal fees

During the renewal process, you can upload your completed CE activity certificates yourself if they have not been added automatically by the CE provider
If you want to know the number of CE credits you have completed at any point in time, you can go to the CE tab.
Fees for Florida radiology license renewal
It is approximately $55 to renew your Florida radiology license, but the actual cost may vary depending on your current license status.
If renewing BEFORE your license expires, your fees will be:
| | |
| --- | --- |
| Active to Active* | $55.00 |
| Active to Inactive | $40.00 |
| Inactive to Active | $55.00 |
If renewing AFTER your license expires, your fees will be:
| | |
| --- | --- |
| Expired to Active* | $155.00 |
If reactivating OUTSIDE the renewal cycle, your fees will be:
| | |
| --- | --- |
| Inactive to Active* | $55.00 |
*An additional $40.00 will be charged for each certification added after the first.
What do I do if I am not able to renew my license online?
You may be unable to renew your license online for one or more of the following reasons:
Your license is in an inactive state

Either accidentally or intentionally, you answered yes to the question regarding criminal conviction

A technical issue
If you find you are unable to renew your license online, you can contact the department to help you with this query.
Customer Contact Center
(850) 488-0595
Monday through Friday | 8:00 a.m. to 6:00 p.m. ET
What happens if I fail to renew my license by its expiration date?
If you fail to renew your license before its expiration date, it will be put on an expired status. You will need to pay an additional fee to make it active again.
In the unfortunate situation that you are unable to renew your license within 10 years of expiration, it will be rendered null and void by the department.
---
Wrapping Up!
Just like other guides on state-specific license renewal processes (for example, license renewal process for California), this is meant to be a simple yet accurate guide for how to renew your Florida state radiology license.
The process is very straightforward. The Florida Department of Health has also done a good job of putting information on their website to support you in renewing your radiology license.
With the help of Medical Professional's rich library of approved online CE courses, you can easily complete your license renewal process over the weekend.