Your Guide to NMTCB® Certification and Renewal
Posted by

Categories

news

Date

June 28, 2021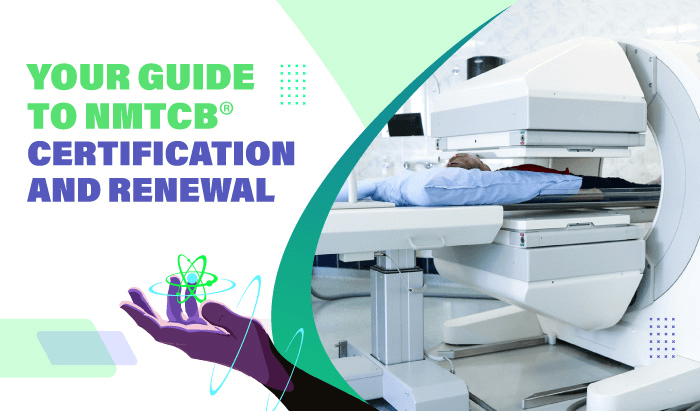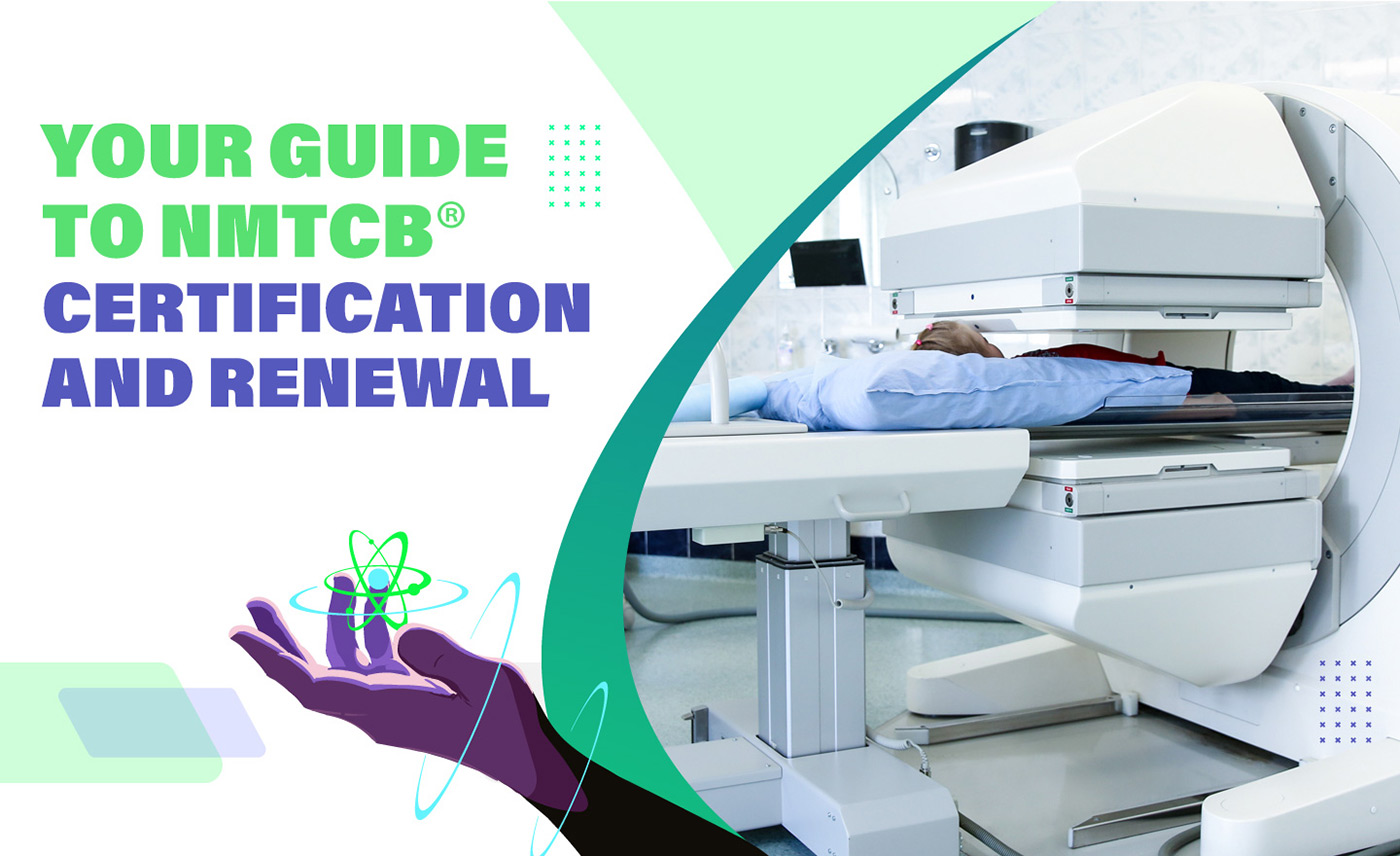 Today, there are at least 30 states that require nuclear medicine technologists to hold a license to practice. Most of those states will accept a certification from the Nuclear Medicine Technology Certification Board (NMTCB ®) as equivalent to having passed the state nuclear medicine exam. But even if your state doesn't require nuclear medicine technologists to be licensed, being NMTCB ® certified has its advantages, not the least of which is gaining an edge over the competition when it comes to job hunting. In this guide, we'll cover everything you need to know about NMTCB ® CNMT certification, including the application process, the exam, the NMTCB ® renewal process, deadlines, and fees.
Let's get you started!
Table of Contents
---
What is NMTCB ® certification?
NMTCB ® certification is the top tier in nuclear medicine certification for nuclear medicine technologists. It conveys to the public, other healthcare professionals, employers, and patients that the certificate holder has achieved a mastery of knowledge and best practices in nuclear medicine technology.
Only 25,527 nuclear medicine technologists in the United States hold active NMTCB ® CNMT certification, according to the NTCMB ®'s June census. To join those ranks, you'll need to meet the organization's eligibility and ethics requirements, pass a rigorous exam, and engage in continuing education on a regular basis.
Below, we break down the NMTCB ® certification and renewal process, so you can get all the nitty gritty details you need to get that CNMT certification and keep it active.
---
How do you get certified in nuclear medicine through the NMTCB ®?
The procedures for applying for NMTCB ® certification are pretty simple and straightforward. Here are the broad strokes: You need to check your eligibility and then fill out and submit the application along with the $175 application fee. Once your application has been processed, if you are found eligible, you'll take the NMTCB ® general nuclear medicine exam (no sweat, right?). If you pass, you'll receive your certification and can start using that coveted CNMT credential.
Eligibility
There are a few standards you'll need to meet in order to be eligible to sit for the exam. One deals with academic eligibility, the other with ethical conduct. You have to show that you meet both requirements within 5 years of completing your program in nuclear medicine technology.
Academic Eligibility
In order to be eligible for NMTCB® certification, you must have within the last 5 years:
completed a nuclear medicine technology program recognized by the NMTCB ®
OR

earned a certificate or degree (associate's, bachelor's, or master's) from a program accredited by the Joint Review Committee on Educational Programs in Nuclear Medicine Technology (JRCNMT), the Armed Forces Military Training Commands, the Canadian Association of Medical Radiation Technologists (CAMR T), or the Australian and New Zealand Society of Nuclear Medicine (ANZSNM) that includes structured clinical training in clinical procedures, radiopharmacy, instrumentation, and radiation safety.
Ethics Requirement
The NMTCB ® also requires applicants to meet ethical standards in order to be eligible for the examination. When completing your application to sit for the NMTCB ® exam, you are required to answer the 4 ethics questions reproduced below.
been charged with or convicted of a misdemeanor (other than a minor traffic offense) or felony or general court martial in military service, and/or are any such charges currently pending against you?

had any professional license, registration, or certification application denied, or any issued license, registration, or certification revoked, suspended, placed on probation, or subject to any type of discipline by a regulatory authority or certification board?

been found by any court or administrative body, including but not limited to employers, to have committed negligence (simple or willful), malpractice, recklessness, or engaged in misconduct in the practice of any profession?

been terminated or resigned to avoid being terminated from an employment position involving the use of NMTCB credentials and where the conduct leading to such termination has involved: child or elder abuse, sexual abuse, substance abuse, job-related crimes, violent crimes against persons?
Answering "Yes" to any of these questions won't necessarily disqualify you, but it might, depending on the circumstances unique to your situation. Regardless, you should answer these truthfully, because lying on your application could result in you being permanently disqualified from taking any NMTCB ® exam.
If you answer "Yes" to any of the 4 questions above, you'll need to provide a statement of explanation about the incident. If you have a felony conviction, you need to attach copies of the court documents related to it.
Pre-Application Review Process
If you answer "Yes" to any of the ethics questions above, you may choose to submit an ethics Pre-Application Review request in order to find out if you're likely to be approved or denied eligibility to take the NMTCB ® exam. Keep in mind, this is not the same thing as the standard application. It addressed just the ethics eligibility standard.
You'll need to fill out and and submit electronically or by mail a Pre-Application Review Request form and pay the non-refundable $75 fee. You'll also need to include the required documentation for your specific incident. You can find the required documentation checklist, as well as an overview of the whole process here.
It usually takes about a week for Pre-Application Reviews to be completed.
The Application
There are several applications for NMTCB ® exam candidates. If you're a recent graduate, and you don't already hold the entry-level NMTCB ® certification, you'll use the Nuclear Medicine Program Graduate Application.
The NMTCB ® exam is offered all year round, so you can plan to submit your application to coincide with when you want to take the exam. Mark your calendar! Applications and application fees have to be submitted at least 2 months prior to the time when you want to take the exam.
You'll fill in your personal information, the details about your educational program, and indicate your agreement to several conditions (e.g., that you authorize the NMTCB ® to confirm the validity of the information you have provided), and sign the application. You can submit the applicant online as soon as you finish filling it out (just hit the submit button) and pay the $175 application fee. Or you can print it and mail it and your $175 application fee (check or money order) to the following address:
NMTCB
3558 Habersham at Northlake
Building I
Tucker, GA 30084
Once your application and fees have been received by the NMTCB ®, and all is in order, you'll receive an email letting you know that they've received your application. This is just an acknowledgement, not authorization to schedule your exam. That will come later.
If your application is incomplete, you will receive a written notice telling you what you need to provide into order to complete your application file. Be sure to send the required items along quickly, or the NMTCB ® will find you ineligible. You will not receive a refund of your application fee. You may also be found ineligible for another reason. In any case of ineligibility, the NMTCB ® will inform you about what led to your being determined ineligible. Applicants who have been found ineligible will not be refunded for the application fee.
---
Scheduling Your NMTCB ® Exam
If you are found eligible for the exam, the NMTCB ® will send you a confirmation email. Hang on to that email and print it out! You'll need to take it with you to your testing site. If you do lose it, you can login on IQT and print another. You'll also receive a username, password, instructions for scheduling your exam, and a link to IQT where you'll login and schedule your exam.
You'll have 3 months to schedule and take your exam. Be sure to keep track, because if you don't make an exam appointment within your 3-month window, you'll have to pay an additional $87.50 to re-activate your authorization and receive another 3-month testing window.
After you scheduled your exam date and time, print your admission letter. You'll need to take it with you to the test site, along with a valid photo ID (e.g., driver's license).
If you pass, you'll receive your NMTCB ® certification packet. In it, you'll receive an NMTCB ® pocket card valid for 3 months following your exam date and an NMTCB ® renewal. After you complete the renewal and return it to the NMTCB ®, your certification will be valid through through your next birth month. We'll cover the NMTCB ® renewal process in more detail below.
---
The NMTCB ® Exam
The NMTCB's ® nuclear medicine certification exam aims to distinguish technologists who have mastered the knowledge required to perform the tasks and procedures required of entry-level nuclear medicine technologists.
Don't let the phrase "entry-level" mislead you. The exam is still rigorous and based around the application of knowledge, not simply the memorization of it (e.g., what you would need to do for a given patient undergoing a specific procedure within specific parameters).
Important things to know about the exam
The test is multiple choice questions only. Each question has 5 options.

You can't skip questions, and you cannot return to questions you previously answered. You can change your answer before moving on, but once you proceed to the next question, that's it: your answer is locked in.

The exam is taken on a computer.
How long is the exam?
The exam has 90 questions, and you get 1 hour and 55 minutes to complete it.
What's on the NMTCB ® exam? How can I study for it?
The exam was developed, and is regularly revised, through extensive nuclear medicine technologist job analysis. In other words, the NMTCB ® researches the actual tasks and skills required of nuclear medicine technologists on the job across the nation in order to develop an appropriate exam. It covers the following major content areas in their respective proportions:
Radiation Physics & Detection – 7%

Radiation Safety & Regulations – 13%

Pharmaceutical & Radiopharmaceutical Agents – 25%

Instrument Operations & Quality Control – 15%

Clinical Procedures – 40%
You can use the NMTCB ® Components of Preparedness as a guide to the job-related tasks that the exam may address. The NMTCB ® does not endorse any specific book, course, or materials to study for the examination, but they do recommend applicants do the following to prepare:
Compare your practical experience to the tasks in the Task Analysis to identify your areas of strength and weakness
Check out the Components of Preparedness related to the tasks

Look through an up-to-date textbook on nuclear medicine technology and read through some recent issues of nuclear medicine technology journals (don't worry: you won't be tested on research topics. Just focus on current clinical practices).

Review all the tasks that comprise the NMTCB ® Examination Matrix.
How soon do I get my results?
You'll get your preliminary pass/fail results immediately after the exam while you're at the testing site. Your final score will be sent to you by mail within approximately 3 weeks.
Can I reschedule my exam appointment?
Yes, you can. You'll just be charged a $25 fee to do it. Be sure to reschedule no fewer than 5 business days before your scheduled exam date. Log into your account, reschedule, and pay the fee. If there are fewer than 5 business days left until your exam date and you need to reschedule, you'll have to pay additional fees.
What if I miss my exam date?
If you miss your exam date, you'll have to pay $175 to reactivate your eligibility.
---
How many times can I take the NMTCB ® exam?
| | |
| --- | --- |
| Times Failed | Procedure for retaking |
| Failed once | Wait at least two weeks and reapply to take the exam. |
| Failed twice | Wait at least two weeks and reapply to take the exam. |
| Failed three times | Complete and document 15 contact hours of coursework from an accredited institution, accredited nuclear medicine program, or NMTCB ®-accepted continuing education credits. This earns you 3 more chances to take the exam. |
| Failed four times | Wait at least two weeks and reapply to take the exam. |
| Failed five times | Wait at least two weeks and reapply to take the exam. |
| Failed six times | Complete an approved program in nuclear medicine technology in order to regain eligibility. Then submit a new application within 5 years of completing the program. |
---
Other NMTCB ® Exams
The NMTCB ® offers other exams for certification, as well. To date, these are:
NMTCB(CT) ® Postprimary Exam

NCT Specialty Exam

PET Specialty Exam

Nuclear Medicine Advance Associate (NMAA) examination
You can check out the related documents, including applications and content outlines for all NMTCB ® exams here.
---
NMTCB ® Renewal Process
Once you receive your NMTCB ® certification, you must maintain it. This requires that you complete the NMTCB ® renewal process, which has three major parts:
Complete the annual NMTCB ® renewal statement—this includes answering the ethics questions mentioned above

Demonstrate compliance with the NMTCB ® Continuing Competence policy, including earning 24 continuing education credits every 2 years

Pay the annual renewal fee.
Renewal Procedure for New NMTCB ® Certificants
If you just got your initial NMTCB ® certification, your certification will have active status until third full month after the date of your exam. Let's say you passed the exam on April 24, 2021. Your certification will then be active until July 31, 2021.
Upon passing your exam, you will have received a packet (mentioned above) that includes the dates your certification became active and when active status will expire. Mark it on your calendar, because you'll need to complete your NMTCB ® renewal before that date. In the packet, you also will have received a renewal application. Fill out and sign the renewal application, include the renewal fee stated on the form, and send the whole lot back to the NMTCB ® before the expiration date of your certification.
NMTCB
3558 Habersham at Northlake
Building I
Tucker, GA 30084
If you don't return the renewal application before your active status expires, your certification will become inactive. Inactive status requires you to follow a different set of procedures (and more fees) to renew.
Once your renewal application is processed and approved, your certification will be active until the end of your next birth month.
Renewal for Active NMTCB ® Certificants
You will receive a renewal notice in the mail about 2 months before your certification expires. You can renew by return mail—just fill out the form and include the indicated renewal fee and mail it off—or you can renew online, paying the indicated renewal fee by card or electronic check.
You can renew online until midnight EST on the last day of your certification is active.
Complying with the Continuing Competence Policy
Because nuclear medicine technology is always advancing, technologists holding an NMTCB ® CNMT certification are required to participate in regular continuing education in order to keep their knowledge current and improve their clinical practice throughout their career.
The NMTCB ® requires certificate holders to earn 24 continuing education (CE) credits every two years. As part of your annual NMTCB ® renewal, you must report your current CE status to the NMTCB ®.
Your 2-year cycle (biennium) is anchored to your birth month. You'll need to keep track of the CE activities you've completed in order to report them and in case you are selected for a random audit.
Biennial CE Cycles for New Certificants
For new NMTCB ® certificants, the first CE cycle is a bit different. It begins on the first day you received certification and ends two years later on the last day of the month before your birth month. During this first cycle, you need to earn the equivalent of 1 CE credit per month of the cycle.
Biennial CE Cycles for Active Certificants
After your first CE cycle, your biennium will remain tied to your birth month, with your cycle beginning on the first day of your birth month and ending on the last day of month before your birth month two years later. So, for example, if you were born October 12, your biennium dates are October 1, 2021-September 30, 2023. During your CE cycle, you are required meet your continuing education requirements.
Continuing Education Credits Requirements
Below is a summary of the CE credits requirements for those holding an NMTCB® CNMT certification. Remember, you must complete these in order to complete your NMTCB ® renewal
Nuclear Medicine Technologists (CNMT)
24 CE credits related to nuclear medicine from an NMTCB ®-approved CE organization
The required CE credits can be earned by taking online CE courses approved by one of the organizations accepted by the NMTCB ®
Passing an additional NMTCB ® exam or the ARRT ® MRI, CT, or Quality Management exam or the AHRA will count for the full 24 CE credits

Getting a C or higher in a radiological science, management, education, patient care, or technology course approved by an accredited institution. You'll earn 16 CE credits for one credit, or 12 for each quarter credit.

Completing Advanced Cardiac Life Support (6 CE credits) or Pediatric Advanced Life Support (6 CE credits). If you take both courses in the same 2 year cycle, you get 9 CE credits.
You can check out the CE requirements for additional NMTCB ® certifications here.
Again, be sure to keep a running record of your CE activities. Below is a list of the documentation you'll need to keep for your records.
For CE activities offered by NMTCB ®-approved organizations, record the date, title, reference number, and number of CE credits

For an accredited academic course, you'll need to provide a transcript that includes the name of the course, the number of credits, and the grade you earned

If you got your ACLS and/or PALS certification, you'll need a copy of the dated and signed card(s)
---
Wrapping Up!
Much like the ARRT ® certification and ARRT ® renewal process, the NMTCB ® certification and renewal process is designed to distinguish technologists who possess a high standard of knowledge, competence, ethics, and trustworthiness at the time of certification and to ensure that their knowledge base and competencies grow and develop as the field of nuclear medicine technology advances. Medical Professionals is proud to support technologists holding a CNMT certification by offering a wide variety of interactive continuing education courses that are approved for NMTCB ® renewal. We even offer an All-Access Pass, which gives you access to unlimited CE credits for your NMTCB (and ARRT®!) renewal, for one low fee of only $39.99. Let us help you keep your knowledge and skills current and your credential active!