How To Get ARRT® Certification and Registration: Your Complete Guide
Categories

news

Date

October 6, 2020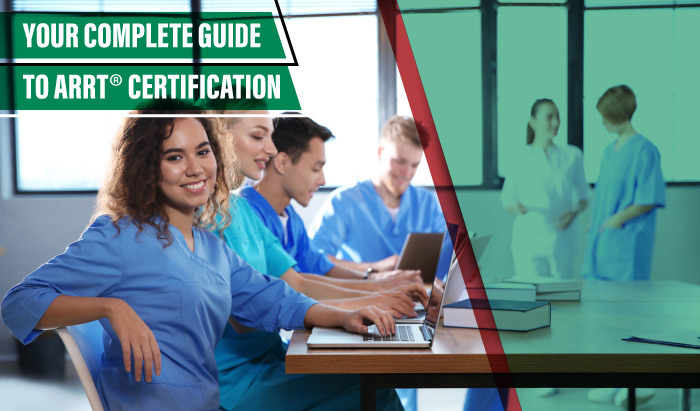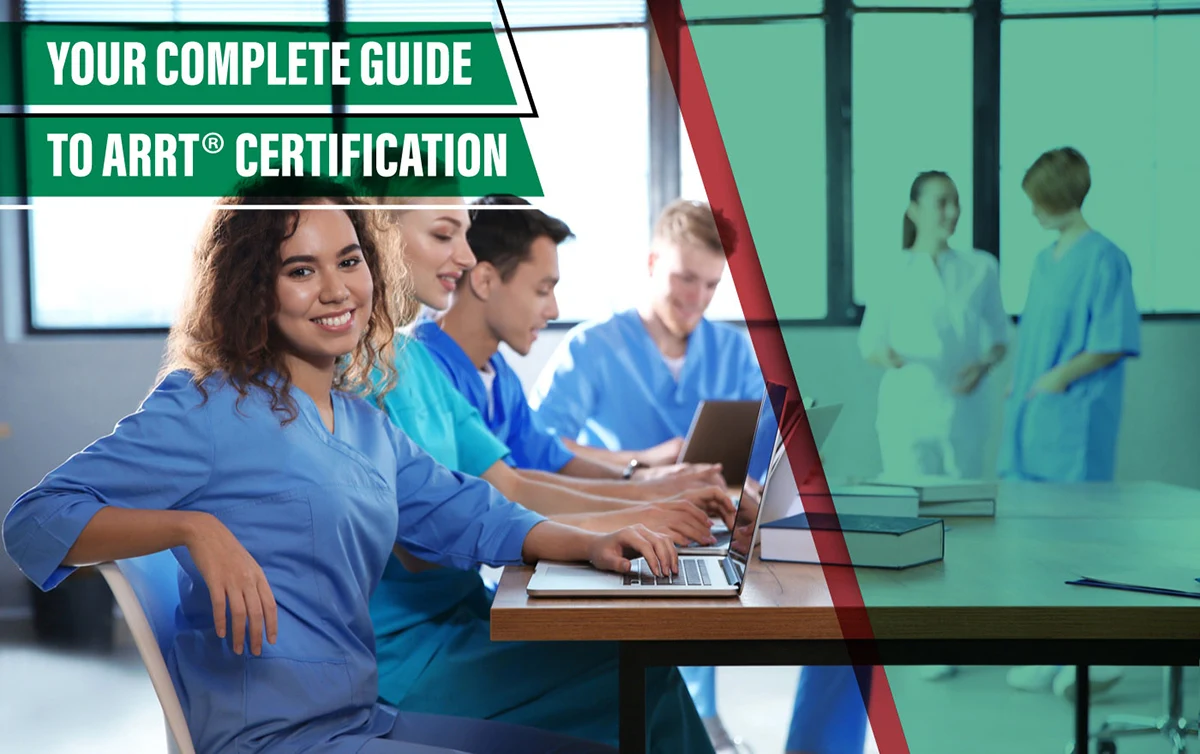 If you are a radiologic technologist without an ARRT ® certification or if you want to become a radiologic technologist, getting ARRT ® certified should be a top priority for you. In this detailed guide, we cover everything you need to know about obtaining ARRT ® certification and answer your big questions, such as: What is ARRT ® certification and registration? How much does an ARRT ® certification cost? Why is it important to hold an ARRT® credential? How do I get an ARRT® certification?
Let's get you started!
Table of Contents
---
What Is ARRT ® Certification and Registration?
The American Registry of Radiologic Technologists® (ARRT®) organization is a national credentialing body in the United States that recognizes qualified professionals in the field of medical imaging. It issues certifications to individuals in different disciplines and through different pathways once they meet the qualification criteria. We will talk about the requirements for ARRT® certification in more detail below.
The Benefits of Being ARRT®-certified
Being ARRT® certified and registered can significantly boost your medical imaging career. Here are some of the key benefits of holding an ARRT ® credential.
Stand out to prospective employers
An ARRT ® certification offers solid proof of your ability to meet the highest professional standards for a radiologic technologist. Being ARRT®-certified greatly improves your chances of being hired by hospitals and medical organizations, for many of whom ARRT® certification is a requirement for selection. Even if your state or prospective employer doesn't require it, having an ARRT® certification and registration will help you outshine your competition.
Highlights your commitment and credibility
While you can technically practice without being ARRT®-certified, getting an ARRT® credential is a no-brainer. There are already 345,000+ ARRT® registered technologists as per the ARRT® organization's May 2021 census data.
By getting ARRT® certification, you become part of a community of highly-qualified R.T.s® and showcase that you are serious about your career as a medical imaging professional.
---
What are the different ARRT® credential options?
There are as many as 15 ARRT® credentials in a range of medical imaging disciplines and multiple pathways to certification. The ethics and examination requirements are common for all pathways, but the education requirements differ.
Find below the list of different ARRT ® disciplines.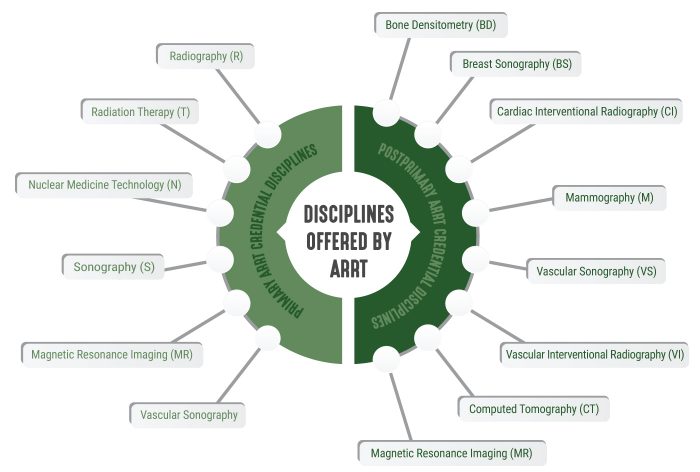 Primary ARRT ® credential disciplines
Radiography (R)

Radiation Therapy (T)

Nuclear Medicine Technology (N)

Sonography (S)

Magnetic Resonance Imaging (MR)**

Vascular Sonography**
Postprimary ARRT ® credential disciplines
Bone Densitometry (BD)

Breast Sonography (BS)

Cardiac Interventional Radiography (CI)

Mammography (M)

Vascular Sonography (VS)*

Vascular Interventional Radiography (VI)

Computed Tomography (CT)

Magnetic Resonance Imaging (MR)*

Registered Radiologist Assistant (R.R.A.®)
Discontinued disciplines
Cardiovascular Interventional Radiography (CV)**

Quality Management (QM)**
*Magnetic Resonance Imaging (MR) and Vascular Sonography credentials can be obtained through both primary and postprimary pathways.
**Credentials for Quality Management and Cardiovascular Interventional Radiography are no longer issued. Individuals who already hold either of these credentials can maintain it for life, provided they meet the ARRT ® ethical standards and other requirements.
---
So, how do I get my ARRT® certification and registration?
You must meet several requirements before applying for ARRT® certification. These requirements are challenging, but certainly achievable.
Here's how to get started with your ARRT® certification and registration journey:
Pick one of the disciplines in which you would like to earn a credential

Identify your eligibility pathway — Primary, Postprimary, or R.R.A.® (see below for descriptions of each pathway)

Meet the 3 requirements for your chosen discipline and pathway

Education

Ethics

Examination
Requirements for all 3 eligibility pathways
Primary eligibility pathway requirements
The primary eligibility pathway is the most common way to earn your first ARRT ® credential. It has the following requirements:
Education requirement

Earn an associate's degree or higher from an ARRT ®-recognized institute
Complete an ARRT ®-approved educational program in the discipline for which you seek a credential
Once you complete your program, you have 3 years to establish your eligibility and apply for ARRT® certification and registration. This is referred to as the three-year rule. You can check the details of the three-year rule here.

Ethics requirement

Demonstrate great moral character as per ARRT ® Standards of Ethics

Examination requirement

Pass the ARRT ®-conducted exam in the selected discipline

This can only be done after you have completed education and ethics requirements
Postprimary eligibility pathway requirements
If you want to get an additional ARRT® certification, you go through the postprimary pathway. ARDMS ®– or NMTCB ®-certified professionals can also use this pathway. It has the following requirements:
Education requirements

Ethics requirement

This requirement is the same as that for the primary pathway

Examination requirement

Just like in the primary pathway, you also need to pass the ARRT ®-conducted exam in your chosen discipline
R.R.A.® (Registered Radiologist Assistant) eligibility pathway requirements
Education requirements

Hold a bachelor's degree

Obtain ARRT® certification and registration in Radiography

Have completed a minimum of one year of permissible clinical experience in radiography

Complete an ARRT®-approved radiologist assistant educational program
The Ethics and Exam requirements are similar to the other 2 pathways.
---
How to apply for ARRT ® certification and registration
Your ARRT ® application process will depend on your pathway. All pathways require you to submit an application that has to be reviewed and approved by ARRT ® organization before you can schedule your exam.
Primary pathway application process: For a detailed description of the primary pathway application process, refer to this link.

Some important notes about deadlines:

You can submit your application no earlier than 3 months before the expected completion date of your educational program

You have 3 years (the three-year rule mentioned above) after finishing your educational program to submit your application and for the ARRT® organization to determine your eligibility

Postprimary pathway application process: You must login to your ARRT ® account first and then access the application page
The application process for an R.R.A.® credential is similar to that of the postprimary pathway
Once the ARRT® organization has processed your application, you will have 1 year (365 days) to schedule and take your exam. Rules differ a bit if you're a state licensing candidate and ARRT® organization is administering the exam, and your exam window will depend on your state.
After you take the exam, you'll receive your score by mail within 30 days of the exam date.
How long does it take to get ARRT® certification?
The short answer: it depends.
If you submit a paper application, the ARRT® organization needs a minimum of 30 days to process your application once they receive it. It will take longer if they need to do an ethics review or if you have request ADA accommodations.
If you submit an online application, you'll receive your status in your online ARRT® account within 2 days (more, if they need to conduct an ethics if you requested ADA accommodations).
After that, it depends on how long you wait to schedule your exam. Remember, you have 365 days to schedule it and take it. Once you take the exam, you typically get your official final score within 30 days, but you can check for your ARRT ® certification and registration status in 2-3 weeks using the ARRT® Verify Credentials tool.
How much does ARRT ® certification cost?
You can refer to the this table below to understand the cost for ARRT ® certification and registration.
Application
ARRT

®

certification cost
Primary: (R, N, T, MR, S)
$200
Postprimary: (M, CT, MR, BD, CI, VI, S, VS, BS, R.R.A.)
$200
Postprimary: CT, MR, BD, S*, or VS — using NMTCB

®

as supporting category)
$400
Postprimary: (MR, S, VS, or BS — using ARDMS

®

as supporting category)
$400
Reinstate certification and registration by re-examination
$200
Online reinstatement (for those who don't have to re-examine)

$75
Source
What happens if I fail the ARRT® exam 3 times?
The ARRT® organization allows you to attempt the exam 3 times within the span of 3 years. The three-year window begins on the first day of your first exam window. If you fail all three attempts, you are no longer eligible and you must reapply for ARRT ® certification and registration.
How to maintain your ARRT ® certification and registration
The ARRT ® organization requires all registered technologists (R.T.® certification) to renew their license every year and complete a certain number of continuing education (CE) credits every two years.
You can check out our in-depth guide on the topic of ARRT® license renewal.
---
Wrapping Up!
All medical imaging professionals who want to have a successful career should get certified by and registered with the ARRT ® organization. It confers upon them a lot of credibility, professionalism, and trust.
In this article, we have broken down for you the process of getting an ARRT ® credential, so you can pursue your certification with confidence. With the right guidance, focus, and process, you can become a part of the 345,000+ professionals who are ARRT ®-certified and are confidently serving patients countrywide.
Medical Professionals supports many registered R.T.s® in maintaining their ARRT® certifications by offering high-quality online CE courses. Let us help you, too.
---
RELATED ARTICLES